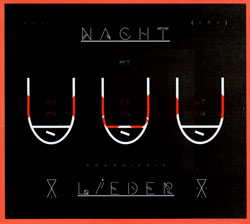 Based jointly in Berlin and Rome, Dusseldorf-born clarinettist Michael Thieke is possibly best known for his work alongside fellow clarinettist Kai Fagaschinski in The Magic I.D. and their duo The International Nothing, both made distinctive by the sound of the two clarinets. However, the success of those groups has rather overshadowed another group led by Thieke, one in which he is the only clarinettist — Unununium. That is also partly due to the scarcity of Unununium recordings; Nachtlieder is only the second release by the group, following Where Shall I Fly Not To Be Sad, My Dear? (Charhizma, 2005) — a gap of eight years, even though the follow-up was recorded in June 2009. In the years between the two recordings, the group changed significantly, the original quartet of Thieke on clarinets, alto saxophone and zither, Luca Venitucci on accordion and prepared piano, bassist Derek Shirley and drummer Eric Schaefer having been made up to seven by the addition of Martin Siewert on guitar, lap steel and electronics, second bassist Christian Weber and second drummer Steve Heather.
As well as the personnel, the music has also changed since the Charhizma album. Where that recording focussed on the front line of Thieke and Venitucci as soloists, on Nachtlieder the addition of Siewert's guitar is crucial, broadening and deepening the soundscape, thus affording the group more options and greater variety. The guitarist is able to single-handedly colour and shape a piece, as he eloquently demonstrates on the album's closer, "Paroles Sans Papiers", where his subtle chorded accompaniment completely defines its eerie atmosphere. Siewert does not dominate the album, but is crucial even when playing a support role as with his languid glissandi on "Silent Bob" or crashing chords opening "The Joy, Joy, Joy of Meeting Somebody New (Für Guy Maddin)". Despite Siewert's role, the Thieke-Venitucci combination has retained its power to enchant; the combination of clarinet and accordion produces a haunting sound, best demonstrated here by their melodic refrain on Mayo Thompson's "Dear Betty Baby".
The inclusion of that Thompson composition gives an indication of the group's eclecticism. Although Unununium contains three highly distinctive players, it does not have a signature sound or consistently play in one style. From one track to another, it is unpredictable what they will come up with next. For example, "Dear Betty Baby" is preceded by "Insonnia A Termini", a four-minute field recording of street noise with a hint of musical sounds gradually fading in during its latter stages, and is followed by "And Smile", which features a mix of sustained guitar tones, drums and electronic noises. Yes, just like Michael Thieke himself, this album is not consistent or predictable, but never dull either. Altogether, this enlarged version of Unununium is a potent and fascinating group. We must hope that we do not have another eight-year wait for their third album.
Comments and Feedback: