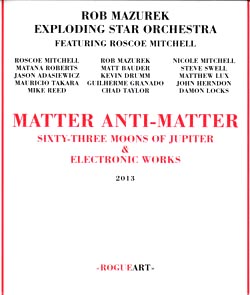 Matter/Anti-Matter is a masterful collection of Rob Mazurek's music contained on two discs. The first disc is a sonic play of sorts told in the language of Jazz and the second disc features Mazurek's solo electronic compositions.
Disc 1
"Sixty Three Moons of Jupiter" is a massive suite that runs the gamut of free blowing, Latin rhythms, and meditative jazz, executed with flawless precision by the Exploding Star Orchestra. This group is comprised of a multi-national pool of musicians, including Chad Taylor, Matana Roberts, Mauricio Tanaka, and in this instance special guest Roscoe Mitchell. Each member acts as celestial body unto itself whose gravity pushes and pulls the others in and out of their respective/collective orbits. It all flows seamlessly from mood to mood with astonishing ease for a band this size. The sound is impeccable as well, especially for a live recording. "Lo and Volcanic" opens with a slow moving brass and reeds fanfare that explodes into free rhythm before re-organzing itself into Latin-tinged vamp "Europa". Next "Ganymede and the Ice Parade" is sunny and festive while "Callisto the Bear" is contemplative modal jazz with a monolithic melody a la McCoy Tyner's late 60's offerings. "Pasiphae gives birth to the Minotaur" ends this set with an insistent bass ostinato over which Damon Locks (of Trenchmouth fame) offers a comment on individuality before the song resolves on a flurried horn motif.
Disc 2
Mazurek displays his skill at electro-acoustic composition with pieces that traverse a broad spectrum of sonorities and styles. "Cryogenics..." begins with burbling and fizzing modules not too far removed from Subotnik territory before slipping into Raymond Scott-esque arpeggios. "Pondering the Hidden Light"seems to reference more recently pioneering groups such as Oval with its muted, melodic tones existing in soft focus. "Stalking the Spectrum of Inevitable" is an atonal assemblage via Boehmer and Xenakis, featuring sensory overload clusters of whirring electronics punctuated by solar-fried pulses. Brief refrains keep it from crushing the listener under its density and perfectly set up new movements within the piece. "Last Breath of the Forgotten Planet" is aptly titled, as this piece could be a final transmission from a distant world, reaching earth long after it has expired. Finally "Ascension Dream Phoenix" closes with an onslaught of noise that upon closer examination reveals immense depth of field. Each of these pieces are fascinating sonic journeys and leave this listener wanting more.
Together these discs add up to a perfect desert isle record to my ear with loads of stylistic variation, the perfect balance of melody and dissonance, and a wealth of musicianship. This is some seriously inspiring music. A++
Comments and Feedback: