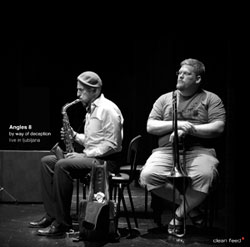 This powerful live recording from the Swedish group Angles is a welcome addition to the fine tradition of protest music. The "deception" in the title can be interpreted many ways, but surely it refers in part to the Western leaders who live at an emotional distance from the wars they wage abroad. Yet despite the machinations of the leaders, the people of the world can always find mutual ground, particularly through the common denominator of music. With Angles' latest release, they face the deception head-on: this is music by the people for the people, with the hope of waking up the people.
Angles normally has six members, but for their 2011 performance at the 52nd Ljubljana Jazz Festival they added a second saxophonist and a pianist. The extra sax lends vigor to their already potent front line of trombone, trumpet, and sax, and the piano finds a cousin in the group's vibraphone, that beautifully resonant instrument so woefully underrepresented in avant-free groups. The audience is also a member of the group, energizing the band through their receptivity and appreciation, and adding a lift to the music that can be felt even via a recording.
The CD starts off with the twenty-minute "By Way of Deception," an urgent song that sweeps up the listener with its vitality and jubilant energy. The song is full of shifting interludes with threads of folk music, displaying the group's mighty front line as well as exquisite interplay between different instrumental combinations. "Dactyloscopy" is a wild and woolly dance, a mighty burst of chaos that highlights the musicians' mobility and great freedom of expression. "Today Is Better than Tomorrow" is a tuneful, stately piece that's deeply heartfelt, and "Let's Speak about the Weather (and Not about the War)" is full of playful rhythms, including some shining vibraphone work. The performance closes with the thirty-minute tour de force "Don't Ruin Me / Let's Tear the Threads of Trust," a grand exploration that includes full-on cacophony with all hands on deck, plus sparer interludes with splendid bass and piano solos.
This music is on fire — it's full of passion and purpose, and it brings to the fore the talents of these eight excellent musicians as they speak their truth through sound. A world without deception is surely possible, but for true change to occur, everyone will need to summon up their highest abilities and deepest aspirations. By creating music that is simultaneously a call to arms and a joyful celebration, Angles 8 is certainly doing their part.
Comments and Feedback: