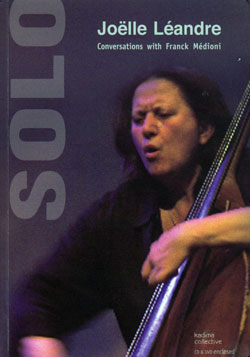 There are certain musicians who so seem to embody their work, for whom playing their instrument seems as much a basic function (to the outsider, at least) as breathing, so much so that one can imagine the whole of their work as a single piece, each concert or recording session picking up where the last one left off. Derek Bailey, Evan Parker, Keith Rowe and Cecil Taylor all possess such purity of voice, and among them should also be counted the French bassist Joëlle Léandre, an ambassador for spontaneity.
Léandre's music — dominated by her arco bass, powerful singing voice and utter commitment to the moment of creation — is not easily unpacked. We can expound upon what makes an Ella Fitzgerald interpretation of a Billy Strayhorn melody so perfect, or consider how David Murray can absorb a style while retaining his distinctive voice, but isolating the particular qualities of such instrospective performers as Léandre is far more difficult. Fortunately, at least in her case, she does it herself. She often expounds from the stage about her work, in particularly how the size of the contrabass presents challenges in transporting and playing. Her expositions and ruminations are given more room to roam in Solos, a book of interviews with the French journalist and radio host Franck Médioni.
Solos serves as an autobiography of sorts, but it's also a one-woman oral history of free improvisation and a philosophy text on aesthetics. In it we learn that the subject's first music lessons were conducted on a piece of paper with a keyboard drawn on it as her family couldn't afford a piano (she soon took up her brother's bass viol); that early in her career as a symphony member she was taken with Lorin Maazel's conducting the Berlioz Requieum with the usual section of ten basses upped to twenty; and of subsequent and even more influential meetings with Bailey and John Cage. She relates being encouraged to explore her singing voice by the composer Giacinto Scelsi, developing a style which she describes as being like "innuendos, citations. Then sometimes I really go berserk: come out with an operatic aria, kill myself, really go over the top, uncontrolled. I see those moments as a kind of 'de-santification.'" Of her playing she says, "I no longer feel the way I did when I was twenty, excited about velocity, virtuosity. ... Velocity, virtuosity is one of the parameters of music, but it's not all, there are three thousand other things, if not more, that are important."
The book also comes with a pair of documented performances: a 40-minute audio disc recorded in 2005 and a 30-minute DVD taken from a concert at the Guelph Jazz Festival in Canada in 2009. Both show her in top form, although for some reason the concert DVD was edited to about half its original length. The text, on the other hand, seems unedited. It has the feel of a transcribed conversation, impassioned and unscripted. It could probably have been tidied up but to be true to Léandre's spirit the off-the-cuff the directness is for the best.
Comments and Feedback: