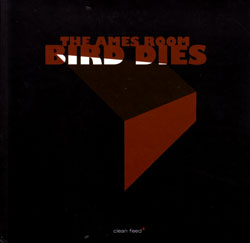 How do they do it? How does the Ames Room continue to wring substantial blood from that ancient stone? The stone in question being the moldering carcass of no-holds-barred free jazz, a lamented beast that has regularly suffered indignities these past couple of decades by well-meaning folk who insist on CPR maneuvers long after the entity has flat-lined. At least part of the answer has to do with discerning musicians who have wide experience in other genres honing in on the seriously vital sources of the music and dealing with the essences found there, not the superficialities. I recall talking with drummer Will Guthrie several years ago, exchanging our deep enthusiasm and love for the music of Roscoe Mitchell and this is certainly one of the foundation points in the music of the Ames Room.
This single track (46 minute) live performance from March, 2010 owes a good portion of its success to Guthrie, who creates waves of relentless rhythm, sounding liked an updated version of Ed Blackwell (perhaps with a trace of Ronald Shannon Jackson as well), never randomly thrashing always dead on point, not just prodding his band mates but thwacking them. His compatriots, Jean-Luc Guionnet on alto and Clayton Thomas on bass, are superb as well. Guionnet has also investigated that nexus between contemporary noise and free jazz (when he's not conjuring unearthly sounds from old organs) and here just lays into the music in a manner reminiscent of Mitchell at his most ferocious ("Tkhke", anyone?). The trio rages virtually non-stop, rarely flagging, seldom reiterating ideas, winging from one notion to another. Well, there are a few minutes about halfway in when one suspects they're about to collapse from exhaustion but they soon enough pick things up and return with renewed vigor.
As fine a free jazz album as I can imagine being produced this second decade of the 21st century.
Comments and Feedback: