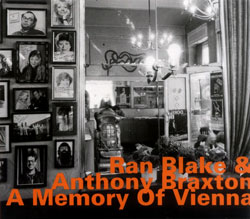 The various approaches to the standards repertoire make up one of the strangest sectors within the colossal work of Anthony Braxton. From a wide-open 1974 session with Tete Montolu, Niels-Henning Orsted Pedersen and Albert Tootie Heath (What's New: In the Tradition) where he takes Mingus's dedication to Lester Young ("Goodbye Porkpie Hat") on contrabass clarinet; to his disarmingly geometric and occasionally pounding piano playing on Piano Quartet, Yoshi's 1994; to this impassioned and daresay straight-ahead 1988 duet with Ran Blake: no matter what a jazz musician does, playing standards is going to end up some sort of proving ground, and in the case of Braxton it can be as puzzling as his simultaneous orchestras.
There is, at times, something academic about Braxton's approach to the tradition. It's a claim that has dogged him his whole career, with people somehow finding fault in the fact that he is smart about music that's supposed to be about heart. (There's a deeply racist underpinning here as well, that the black musician should be "soulful," which keeps innovative work by African American composers restricted largely to venues where alcohol is served.) But like it or lump it, Anthony Braxton is very, very, very smart. And sometimes he is led to treat a Benny Golson or Thelonious Monk tune as information, as a structure to be worked with.
In his excellent new book Time and Anthony Braxton (Mercury Press), Stuart Broomer discusses Braxton's "standards quartet," in a passage that could be applied to much of Braxton's repertoire work:
If a great artist reinvents the tradition, then a conservative ideologue merely echoes it, diminishes it, making it less than its extant record. What Braxton is doing here is "making known," a phrase chosen carefully to avoid the failed metaphor of "saying." If Braxton wanted to "say" something, he's quite capable of doing it using words. But this music makes meaning in a way that is extra-linguistic or meta-linguistic, something that may be analogous to language, but which is fundamentally different in the way it imprints its messages. What this music does is to make its own assembled views of the music and messages of jazz history; it makes known the social, moral, historical imperatives that drive this music and are imbedded in the tradition: it makes known/felt — in ways deeper than words ever might — the spirit of spontaneity, community, change, freedom, life and creation.
In other words, where Braxton's interpretations of jazz standards might be radical, they are not (as some would have it) disrespectful. In fact, they are deeply respectful. This is not a punk band playing a Monkees song. This is contextual, analytic and loving.
All of this, however, is preamble to consideration of Braxton and Blake's A Memory of Vienna, recently reissued by hatOLOGY. For this is one for the purists (and within all his complexities, Braxton can be counted as a purist as well). The piano duo might be the most insistent pairing for the saxophonist. The player is unavoidably, more than ever, cast as vocalist, must deal with being Ella Fitzgerald alone with Oscar Peterson or deal with rejecting that role. Braxton embraces the setting, turning in a sweet, informed and, yes, soulful performance. The session was cut quickly and suddenly, using the remaining studio time after wrapping a session by Franz Koglmann's Pipetet. Braxton and Blake were both on that session, and the decision to record a set of standards was spontaneously made and executed. Blake, of course, is the perfect partner for such a project. Some of his earliest work was a vocal duo, with the outre traditionalist Jeanne Lee and he has recorded an acclaimed tribute to Sarah Vaughn. He came up under the tutelage of George Schuller and has worked with Jaki Byard and Steve Lacy. Like Braxton, he knows there's more than one chair you can sit in while inhabiting the tradition.
The relaxed immediacy of the session is apparent, as is the mastery of the players. The explorations run deep at times, as on "Alone Together" or "I'm Getting Sentimental Over You," but never do they stray so far as to upset the apple cart. If indeed Braxton needs to prove something to the guardians of genre, Memories of Vienna covers it.
Comments and Feedback: