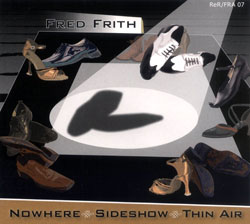 The acquired status of "serious" composer has done no harm to Fred Frith, who — contrary to many former avant-garde artists aroused by the growing quantity of commissions and, consequently, money — to this day maintains a core innocence in his sonic environments, be it during sets for solo guitar or in situations where a veritable compositional scheme is required. Frith's sounds have often been associated with theater and dance — The Technology Of Tears being an absolute masterpiece in that sense; in such circumstances he appears at his best in bringing out an emotional response by using relatively uncomplicated elements that, once connected, generate a music that is ironic, mournful and alarming.
An archetypical case in point is constituted by the first two thirds of this outstanding CD. "Nowhere", from 2000's "Proxy Trilogy" — a choreography by Paul Selwyn Norton — is purely and simply marvelous in its modular structure, consisting of simple melodic cells and superimposed rhythms that shape a whole world of feelings as time elapses, absorbing acoustic scenarios and barely-completed themes introducing a state of tense grace whose deceptive frailty comprises instead the very essence of a positive magnetism on the listener. On a parallel level, "Sideshow" (from 2001) was conceived for Peggy Piacenza's namesake performance, originally including animation, which in turn was a segment of a longer work named "For Whom Am I". The fundamental characters of this soundtrack remain approximately the same as the previous episode — perhaps with a slight addition of technical difficulty — and indeed it's not surprising to learn that the fantastic violin playing of Carla Kihlstedt informs both pieces considerably. "Thin Air", composed in 2007 for another choreography (by Donna Uchizono), might be inferior in terms of poignancy and contemplative values but remains equally interesting in virtue of a rather schismatic approach to the Terpsichorean matter, a fragmentary piece with less breathing space and a little more irrational nerve-twitching. Sufficiently stimulating, yet not comparable to the amazingly evocative suspended chords and incisive bass lines played by Frith in "Nowhere", Kihlstedt literally handwriting a modern type of instrumental sentiment through her arco.
Either treasured or criticized, the Yorkshire-born, California-based multi-instrumentalist is a highly reputable inhabitant of the scene of contemporary art. The large majority of this album is enough to let us affirm that, in the age of polluted silence, we still need this man's unsurpassed intuitions like oxygen.
Comments and Feedback: