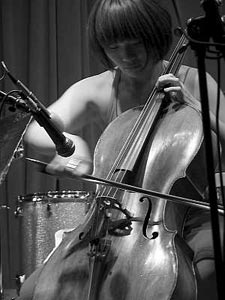 [Photo: Peter Gannushkin]

before you go on reading this long travelogue, i have to warn you that you are not going to find out so much about music or other stuff as you might expect... this is about one person's journey who happens to be a working musician and encountered lots of unexpected dramas... also you see, this trip was going to be really special one for me since a part of the trip was going to be my very first gig in europe... but it turned out to be even more than that and a really unforgettable one...

for your better understanding of the whole situation, let me explain a couple of things beforehand... sometime in may this year, it was finalized that i would go to venice, italy in september with lawrence d. "butch" morris as a member of his sheng/skyscraper group to perform at venice biennale... so i had to have my visa revalidated outside the country so i could come back to the states after the performance... yes, i do not have a green card or citizenship... i have something called o-1 visa status, known also as an artist visa... which i didn't get to take care of until mid august, see... meanwhile pianist/composer/friend vijay iyer invited me to go to portland, OR to perform his "in what language" project written with poet mike ladd at time based arts festival in september, right before butch's gig... so being how i am with lots of things, i really thought i could take care of all of this within 11 days... so, i was to leave new york to portland on the 13th of september, then come back to new york on the 17th... then the same day, go to toronto to take care of my visa and come back on the 18th... then finally off to venice on the 19th, do the gig on the 20th and come back on the 21st...

i knew it was a pretty insane schedule but it had to be that way because i put off taking care of things until the very last minute...

so here is how it all really went...

september 12, friday - day minus 1, new york

7:30 am - alright, alright... i'm up... have to be in upper east side by 9... alright...

8:15 am - well, i think i am going to reward myself with a doughnut plant doughnut for getting up so early... some sugar will help me get going...

8:20 am - jesus, how many doughnuts is this guy buying? 24? fine... let's not lose it yet... but then what about this japanese mother & daughter team...? they sure are taking their time... let me take a deep breath... i think I'm going to have both cashew and fresh white peach... yeah, what the hell...

8:32 am - i think i'll be pretty much on time... these doughnuts are good... cannot finish them now though...

9:03 am - where is this italian consulate...? is this the door? looks like it's for, uh-hum, short people...

9:10 am - oops, i forgot to take my box cutter out of my bag this morning... security guard is giving me a funny look... i smile back...

10:32 am - i'm sick of waiting... i have a rehearsal in midtown from 11...

10:43 am - alright... let's not panic... why didn't i think about bringing that goddam INS letter? the one that's been making my life hell... well, nobody told me in advance... why would the italian consulate need to see my INS documentation anyway... this italian lady behind this glass thingy looks tough... she's not going to give me a break, is she... the place closes at 11:30! she tells me to come back by noon... i have about an hour to drop off my cello at the rehearsal place, go home, and come back! great! right... i shove in what was left of the doughnuts...

11:03 am - at carroll studio, told vijay it's an emergency situation... thank god, he is understanding...

11:55 am - i'm at grand central... is it really 11:55 already? ok... next stop, get off and transfer to 6... ah, god...

11:58 am - where the hell is the 6? should i run? should i wait? should i run? ah...

12:06 pm - out of the 68th street station... i'm running, running... fuck...i hope they will let me in... out of breath... today is the only day i can get this done... otherwise... ah, bye bye venice... it has to work! press the buzzer and this voice says it's closed! i yell out "patricia told me to come back!"

12:27 pm - alright... now i have to get somebody to pick up my passport on tuesday because i need it by wednesday when i come back from portland... and of course the consulate has to be closed on wednesdays... ah, erica!

3:30 pm - back home... ah... at least i could do half an hour of the rehearsal for vijay... thank god, he's not pissed... ok... time to go and pick up a flight case from david gage string shop in chinatown...

4:02 pm - noah? what's he doing here...? a friend from NEC... [FOOTNOTE 1: The New England Conservatory of Music in Boston] the first time in 3 years... he says he's doing an internship here... after all he is a bass player...

4:13 pm - i was just told that i need a soft case to use their flight case... i don't have a soft case... i haven't had one for last 15 years... what the hell... they don't have any left at the shop... midtown...? ah... sick of running around the day before i'm leaving...

4:28 pm - what an asshole! this cabbie wouldn't let me put the case in the back of the cab! fine... i gave him a finger... i'll take the subway... this thing weighs about... 40 lbs... and it's big... almost as tall as i am... down the stairs... arg...

4:40 pm - i'm out of breath... this thing is so awkward... how am i going to get home...? i live in a 5th floor walk up...

4:42 pm - maybe jason (viseltear) from the violin shop (viseltear & young) around the corner has a soft case i can borrow! he's an angel... always saves my ass...

4:44 pm - alright... jason is not in but this guy on the phone will trade me a soft case for a cup of tea...! ha!

5:17 pm - ah... i'm dead... cannot believe i schlepped this shit up 5 floors... now i gotta go to mode (records, my part time job) for a second... cannot believe this guy who lend me this soft case didn't even ask my name...

5:58 pm - at mode... have to buy plane tickets to go to toronto next wednesday... the last time i checked, orbitz.com has the best price... should i spend extra $60. to go direct? nah... i choose the one that flies to washington dc first... sounds dumb but hey, i save $60...

7:15 pm - back home... hungry... what should i eat?

9:46 pm - at tonic, talked to erik (friedlander) a little bit... i asked him for advice for flying with my cello for the first time... his advise was get to the airport early and be nice! it's a bit tough for me to be "nice"... but i will do it if i really have to... hope they are not such jerks at the airport...

10:28 pm - zorn's bar kokhba is happening... even though i am quite distracted... see zeena (parkins) in spunky outfit... she looks better and better each time... want to be cool like zeena...

11:32 pm - walking toward to tim (barnes) & erica (bricking)'s house... i have to give erica this letter of permission so she can pick up my passport for me this tuesday...

11:35 pm - forgot to send this deposit slip to motria (sabat) in toronto... i think i must use the one i received from the consulate... i'll fed ex it to her tomorrow morning... yikes...

12:45 am - it's always good to see them... i'm lucky to have them as friends... where is this F train?

1:15 am - i ended up not seeing any of elliott (sharp)'s show... oh, well...

2:10 am - looking for some travel size stuff... a 24-hour rite aid on grand... they don't have the shampoo i want... this one looks alright...

3:30 am - i think i'm pretty much packed... i'm bringing only 2 small bags since i have to carry that giant shit... maybe i can sleep for a few hours... set the alarm for 7:30 again...

september 13th, saturday, day 1, new york to portland, OR

i woke up at 7:40 and went to kinko's on houston... thankfully it was open at 8 and did have a fed ex drop off box... i filled out a fed ex envelop and when just about to drop it off, i saw this sign saying that there's a fed ex location open on saturdays at newark airport... so i thought, great! i can do it at the airport and even make it sure it'll get there by wednesday...

taking a car service from delancey was a good idea... the driver was a lot cooler than that stupid cabbie from the day before... i got there plenty of time ahead as erik suggested... and this lady at check in didn't even charge me anything! wow, i got lucky... it was kinda weird seeing someone else carrying my cello off to somewhere though... i got scared for a second... see, since i was a kid, i have carried my cello...

then i had about an hour to kill so tried to find this fed ex location... nobody seemed to know... i called the fed ex main office and they told me it was in building 155... so...

i asked for the building 155 to this woman in a uniform who told me to go outside and take P5 bus... outside, huh...? then on P5 bus, the driver told me that it's on the other side of his route... ah... he let me get off and told me that about 15-minute walk should get me to the building 155... it was looking pretty gray out... like it was going to rain any minute... but i really had to get this sent... i felt like such an idiot for not dropping it off earlier but what else could i do... so i started to walk... wearing these mesh slippers and carrying two bags... not too heavy but still... after 5 minutes, i realized it was not going to be a 15-minute walk... i do walk slowly and the map i found didn't look that promising... but once i started to walk, it was hard to turn back... i am known to be stubborn... i tried to catch a bus or something but nobody seemed to want to stop for me... then it started to rain a bit... then it started to rain some more... then it really started pouring down and i was getting... soaked... i felt like a real idiot... my feet were all wet... bottom of my pants were getting wet... my fed ex envelop was wet... my bags were wet... i was miserable... finally after almost 30 minutes of walking in rain, i made it to fed ex... dropped it off... the lady at the counter said it would get to toronto by monday... then this nice fed ex truck driver gave me a ride back to the terminal... it took about 5 minutes by truck... ah... i do really walk slowly...

flights went pretty smooth... changed flight at denver... as soon as i got my cello case back from oversized baggage claim area at portland, i opened it up and she was fine! i was so relieved... it was really beautiful out when we finally got outside of portland airport...

i was with 3 other musicians... trevor (shaun holder), drummer, rudresh (mahanthappa), saxophonist and ambrose (akinmusire), trumpeter... we had enough stuff with us... with my flight case and trevor's drum stuff... we were supposed to be picked up by someone from the festival... so... there was this guy showed up with... a jetta... even my regular cello case doesn't fit in the trunk of a jetta! it's a really very nice car but doesn't do me any good! so... there i was... waiting for a van for another 45 minutes... sick of waiting... thank god, trevor waited with me...

finally got to our hotel called mark spencer... a small charming place... and i got to share a room with latasha... i like latasha... we got to relax a bit then went to see donna uchizono, a choreographer from new york... i saw her work some time last year in new york and liked it a lot... i got to the theater a bit late but caught most of it...

stopped by at a whole foods store to pick up some stuff... and it was big! clean! bright! food, food, food everywhere... i felt like a moth drawn to a bright light... got back to the hotel... watched my beloved trading spaces on TLC channel... hadn't seen it since i moved to my recent pad... i love it! they are still doing it... after watching an episode of their new show, clean sweep, i went to sleep...

september 14th, sunday, day 2, portland, OR

woke up at 7... got hungry... went to the whole foods... it's only a couple of blocks away from the hotel... how convenient! i had a feeling i'd be coming there a lot for the rest of the stay... and i was right... walked around for a couple of hours to explore the city... went to this open market where lots of food trucks were... i didn't really get to taste anything but everything looked great... sun was bright and warm... and very dry... after a 7-hour rehearsal, we all went to this amazing thai restaurant called thai peacock... they had tasty spicy papaya salad, great seafood curry... really huge portion... then we went to this nightly party the festival threw to see mike (ladd) performing with tracey morris... also there was this guy selling this fish-shaped bread thingy i grew up with in korea! but instead of sweet red bean filling we have, he filled it up with some odd stuff... like cheese and veggies and ham... phooey... i talked to the guy and he apparently lived in korea for a year... he said he had to alternate the filling to "accommodate" people's taste here in portland... mike decided to get some... wished him luck... he said it wasn't that good... i cannot believe people are not into red bean stuff...! we walked back to our hotel... portland is a really intriguing little town... interesting architecture and some of it is bizarre... this apartment or condo thing we saw had some weird totem pole thingy outside with jagged shaped balconies... then there was this bank that looked like a starbucks or something... lots of windows on all the buildings and it sure gets damn quiet!

we went to the roxy, 24-hour diner a block away from our hotel... where lots of runaway kids hang out outside... inside i noticed this guy with a really awful long blond wig... and the waiter we had was such a jerk... when mike told the guy he wanted to order fast so he could go to bed since he slept only a couple of hours the night before... then the waiter said "oh, well, I got only 4 hours of sleep myself"... and when vijay ordered a piece of double chocolate cake, his response was "you cannot have it because it's too late"... weirdo... not cool... we left him a penny for his lovely service...

september 15th, monday, day 3, portland, OR

got up around 8 again... hung out with latasha a bit... watched some tv... they were talking about this possible hurricane coming toward the new york area... and also this horrible hurricane that hit korea... gotta call my parents... and of course went to the whole foods for breakfast... what can i say... they had good shit! their pumpkin coffee cake rocked... i even ran back there for my lunch... after the sound check, i had a couple hours to kill... went downtown by myself and found a couple of cool vintage stores... for some reason lots of people were buying elvis outfits... found some good deals for myself though... then i was off to find this chocolate place that was on food tv called moonstruck... it was really easy to find... portland is really easy to get around... and they have this area called "fareless square" where you don't have to pay any fare... at the chocolate place, i tried hazelnut and earl gray truffle... well, i was not so convinced... they were expensive and looked good... 2 bucks per piece... but i couldn't stop thinking about jacques torres back in dumbo [FOOTNOTE 2: a section of Brooklyn] ... i got a mocha one just to be sure... and still wasn't happy... oh well... i found this vintage store called magpie... and that was fabulous...!

the concert went pretty well... i liked vijay's music a lot... when we started to rehearse i was a bit intimidated by its rhythmic complexity and juxtapositions but once i got it, it became very enjoyable... working with people who have complete vision in their compositions yet leave enough room for people like me to be able to find a way to add something to it is always great... and all the musicians/actors were great to perform with... and the audience response was great... everything went by so fast...

afterward we all went to this jake's famous crawfish place right behind our hotel... also shelley (hirsch) joined us as well... she had performed a couple nights before... the restaurant was a recommendation of our cab driver from the airport... while following the hostess to our table, i saw this crazy looking desert i absolutely had to have... it was called chocolate bag, dark chocolate shell literally shaped like a rectangular bag, filled with white chocolate, whipped cream and all different kinds of berries... woo... looked fucking awesome... but before i had to have real food... i ordered salmon cake appetizer which was absolutely fabulous... it had such an interesting tasting sauce... with apple and fried leeks... great combination... it's really amazing how creative these chefs can get with mixing up flavors... then ambrose and i ordered a full order of crawfish... yeah, baby... my first crawfish ever... felt like a bit stupid wearing that white bib thingy around my neck but it had to be done...crawfish was good! even though at first it felt weird breaking the crawfish in half with my hands... lots of work to eat such little amounts of meat but it was worth it... ah... how can it go wrong when there is a great food... then the chocolate bag... oh my god...

september 16th, tuesday, day 4, portland, OR

finally, i got to go to this bakery, pearl bakery...in pearl district, respectably... little print out we got from the festival said this bakery won the third place in national baking competition or something... of course i had to go... i had their lemon danish and carrot cake... yes, carrot cake... it was great... ciabatta bread they put out for sampling was fabulous too! crusty and flavorful... then with latasha, we checked out some vintage shops... at buffalo exchange latasha scored this awesome looking coat... beautiful red brick color coat with furry things on its neck and sleeves... and went to powell's bookstore cross the street... the biggest bookstore in the west of mississippi they said... it was overwhelming... i didn't know what to do other than standing in the middle of the store... oh, earlier we saw this young couple on the street... they started a fight... she slapped his face then he grabbed her hair... then she started to kick him... calling names... and it was going pretty violent for a minute... then as this woman approached them from behind, they broke off and gave this person kiss saying hi... as nothing ever happened... out... i also saw the guy from the roxy with the bad blond wig... he was wearing another awful red wig this time... then we went to... huh-hum, the whole foods for the last time... awesome salad section... i loved their roasted carrots... and noodle salad... and mango salsa...

the gig went really well... went by even quicker... then i had to pack and run to the airport... trevor and alison (easter), one of the actors were flying back to new york that night with me...

at the airport, i could sense that i wasn't going to be so lucky with my cello case this time, as soon as i saw those two women at the check in... they looked uptight... you know what i mean... and of course, even though they couldn't find the code to put in to see how much they had to charge my case for oversize, they insisted on charging me something... so i got charged 75 bucks... ah, yah... bitches... then i had to give my cello to a guy at the security so he could scan it... then as soon as he put it through, i heard my cello case tumbling down... ah... ran back to the guy and he said; "don't worry. It just sounded worse than what it was..." jerk... i gave him a look... anyway... trevor and i got some sushi, don't ask me why... people at the counter were a bit off... looked too perky to be at the airport around midnight... hey, people are different... then went through the security area... had to open my bags, emptied my pockets... you know the deal... and right before boarding... i realized my boarding pass had disappeared... so i ran to the security area where i saw it for the last time... but couldn't find it... so rushed back to the gate... then trevor realized that the security people had given my ticket to him by mistake...

ha ha ha... some security...

september 17, wednesday, day 5, new york to toronto, canada

got to newark airport around 10 am... trevor and lisala were generous to give me a ride back... otherwise i would have had to schlep my flight case all the way to lower east side... anyway... got back home around 11:30... took a short break... gathered my papers for my visa stuff... then called tim to get my passport... tim is great... nothing else i can say about this guy... the best thing is that he doesn't freak out like i do... he calms me down... then went to mode to print out some stuff... i decided to return my flight case when i come back the day after... i was ready to be at the newark again by 5:30 pm... then when i checked my email around 4, there was an email saying that my flight to canada got canceled due to the hurricane... i panicked... then the woman on the phone from orbitz.com told me to get to the airport as soon as possible and get on the standby for another flight... i was getting freaked out since my appointment was at 9 in the morning the next day... you have to have an appointment to get in... if i missed the appointment, it meant i could not get my visa revalidated in time to go to italy and come back... ah... it felt like the sky collapsed in front of my eyes (korean expression)...

i took delancey car service again to the airport... another 45 bucks down the drain... traffic going to holland tunnel was nasty... after standing in line to check in at the airport, feeling almost sick, i learned that there was a direct flight i could get on... thank god... it turned out for the better...

i was relieved... even though the plane was delayed for almost an hour and a half, i was happy... it felt a bit weird leaving the airport though... it was the first time I left this country in more than 5 years... i was a bit scared... what if anything goes wrong...

i arrived at toronto airport around 10... and caught a bus to take subway... here all the signs on the highways are in kilometers... all of sudden i got homesick... and somehow started to think in korean... which is really rare for me... their subway looked pretty much like the subway here in new york... but a bit cleaner and wider... then got outside to catch a street car... it was so interesting to see that everything pretty much looked the same in toronto as in new york... but definitely things felt more relaxed... one thing i noticed was their crosswalk sign... the ones they have are the graphic ones... you know, like the ones we started to get more in new york that have graphics of little people, even though i liked letter ones better... anyway the ones they have more details... i mean the figuring had actual feet and hands...



continued...