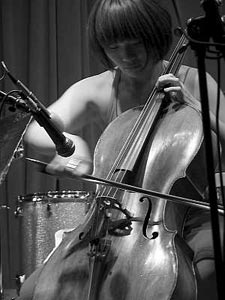 [Photo: Peter Gannushkin]

before you go on reading this long travelogue, i have to warn you that you are not going to find out so much about music or other stuff as you might expect... this is about one person's journey who happens to be a working musician and encountered lots of unexpected dramas... also you see, this trip was going to be really special one for me since a part of the trip was going to be my very first gig in europe... but it turned out to be even more than that and a really unforgettable one...

for your better understanding of the whole situation, let me explain a couple of things beforehand... sometime in may this year, it was finalized that i would go to venice, italy in september with lawrence d. "butch" morris as a member of his sheng/skyscraper group to perform at venice biennale... so i had to have my visa revalidated outside the country so i could come back to the states after the performance... yes, i do not have a green card or citizenship... i have something called o-1 visa status, known also as an artist visa... which i didn't get to take care of until mid august, see... meanwhile pianist/composer/friend vijay iyer invited me to go to portland, OR to perform his "in what language" project written with poet mike ladd at time based arts festival in september, right before butch's gig... so being how i am with lots of things, i really thought i could take care of all of this within 11 days... so, i was to leave new york to portland on the 13th of september, then come back to new york on the 17th... then the same day, go to toronto to take care of my visa and come back on the 18th... then finally off to venice on the 19th, do the gig on the 20th and come back on the 21st...

i knew it was a pretty insane schedule but it had to be that way because i put off taking care of things until the very last minute...

so here is how it all really went...

september 12, friday - day minus 1, new york

7:30 am - alright, alright... i'm up... have to be in upper east side by 9... alright...

8:15 am - well, i think i am going to reward myself with a doughnut plant doughnut for getting up so early... some sugar will help me get going...

8:20 am - jesus, how many doughnuts is this guy buying? 24? fine... let's not lose it yet... but then what about this japanese mother & daughter team...? they sure are taking their time... let me take a deep breath... i think I'm going to have both cashew and fresh white peach... yeah, what the hell...

8:32 am - i think i'll be pretty much on time... these doughnuts are good... cannot finish them now though...

9:03 am - where is this italian consulate...? is this the door? looks like it's for, uh-hum, short people...

9:10 am - oops, i forgot to take my box cutter out of my bag this morning... security guard is giving me a funny look... i smile back...

10:32 am - i'm sick of waiting... i have a rehearsal in midtown from 11...

10:43 am - alright... let's not panic... why didn't i think about bringing that goddam INS letter? the one that's been making my life hell... well, nobody told me in advance... why would the italian consulate need to see my INS documentation anyway... this italian lady behind this glass thingy looks tough... she's not going to give me a break, is she... the place closes at 11:30! she tells me to come back by noon... i have about an hour to drop off my cello at the rehearsal place, go home, and come back! great! right... i shove in what was left of the doughnuts...

11:03 am - at carroll studio, told vijay it's an emergency situation... thank god, he is understanding...

11:55 am - i'm at grand central... is it really 11:55 already? ok... next stop, get off and transfer to 6... ah, god...

11:58 am - where the hell is the 6? should i run? should i wait? should i run? ah...

12:06 pm - out of the 68th street station... i'm running, running... fuck...i hope they will let me in... out of breath... today is the only day i can get this done... otherwise... ah, bye bye venice... it has to work! press the buzzer and this voice says it's closed! i yell out "patricia told me to come back!"

12:27 pm - alright... now i have to get somebody to pick up my passport on tuesday because i need it by wednesday when i come back from portland... and of course the consulate has to be closed on wednesdays... ah, erica!

3:30 pm - back home... ah... at least i could do half an hour of the rehearsal for vijay... thank god, he's not pissed... ok... time to go and pick up a flight case from david gage string shop in chinatown...

4:02 pm - noah? what's he doing here...? a friend from NEC... [FOOTNOTE 1: The New England Conservatory of Music in Boston] the first time in 3 years... he says he's doing an internship here... after all he is a bass player...

4:13 pm - i was just told that i need a soft case to use their flight case... i don't have a soft case... i haven't had one for last 15 years... what the hell... they don't have any left at the shop... midtown...? ah... sick of running around the day before i'm leaving...

4:28 pm - what an asshole! this cabbie wouldn't let me put the case in the back of the cab! fine... i gave him a finger... i'll take the subway... this thing weighs about... 40 lbs... and it's big... almost as tall as i am... down the stairs... arg...

4:40 pm - i'm out of breath... this thing is so awkward... how am i going to get home...? i live in a 5th floor walk up...

4:42 pm - maybe jason (viseltear) from the violin shop (viseltear & young) around the corner has a soft case i can borrow! he's an angel... always saves my ass...

4:44 pm - alright... jason is not in but this guy on the phone will trade me a soft case for a cup of tea...! ha!

5:17 pm - ah... i'm dead... cannot believe i schlepped this shit up 5 floors... now i gotta go to mode (records, my part time job) for a second... cannot believe this guy who lend me this soft case didn't even ask my name...

5:58 pm - at mode... have to buy plane tickets to go to toronto next wednesday... the last time i checked, orbitz.com has the best price... should i spend extra $60. to go direct? nah... i choose the one that flies to washington dc first... sounds dumb but hey, i save $60...

7:15 pm - back home... hungry... what should i eat?

9:46 pm - at tonic, talked to erik (friedlander) a little bit... i asked him for advice for flying with my cello for the first time... his advise was get to the airport early and be nice! it's a bit tough for me to be "nice"... but i will do it if i really have to... hope they are not such jerks at the airport...

10:28 pm - zorn's bar kokhba is happening... even though i am quite distracted... see zeena (parkins) in spunky outfit... she looks better and better each time... want to be cool like zeena...

11:32 pm - walking toward to tim (barnes) & erica (bricking)'s house... i have to give erica this letter of permission so she can pick up my passport for me this tuesday...

11:35 pm - forgot to send this deposit slip to motria (sabat) in toronto... i think i must use the one i received from the consulate... i'll fed ex it to her tomorrow morning... yikes...

12:45 am - it's always good to see them... i'm lucky to have them as friends... where is this F train?

1:15 am - i ended up not seeing any of elliott (sharp)'s show... oh, well...

2:10 am - looking for some travel size stuff... a 24-hour rite aid on grand... they don't have the shampoo i want... this one looks alright...

3:30 am - i think i'm pretty much packed... i'm bringing only 2 small bags since i have to carry that giant shit... maybe i can sleep for a few hours... set the alarm for 7:30 again...

september 13th, saturday, day 1, new york to portland, OR

i woke up at 7:40 and went to kinko's on houston... thankfully it was open at 8 and did have a fed ex drop off box... i filled out a fed ex envelop and when just about to drop it off, i saw this sign saying that there's a fed ex location open on saturdays at newark airport... so i thought, great! i can do it at the airport and even make it sure it'll get there by wednesday...

taking a car service from delancey was a good idea... the driver was a lot cooler than that stupid cabbie from the day before... i got there plenty of time ahead as erik suggested... and this lady at check in didn't even charge me anything! wow, i got lucky... it was kinda weird seeing someone else carrying my cello off to somewhere though... i got scared for a second... see, since i was a kid, i have carried my cello...

then i had about an hour to kill so tried to find this fed ex location... nobody seemed to know... i called the fed ex main office and they told me it was in building 155... so...

i asked for the building 155 to this woman in a uniform who told me to go outside and take P5 bus... outside, huh...? then on P5 bus, the driver told me that it's on the other side of his route... ah... he let me get off and told me that about 15-minute walk should get me to the building 155... it was looking pretty gray out... like it was going to rain any minute... but i really had to get this sent... i felt like such an idiot for not dropping it off earlier but what else could i do... so i started to walk... wearing these mesh slippers and carrying two bags... not too heavy but still... after 5 minutes, i realized it was not going to be a 15-minute walk... i do walk slowly and the map i found didn't look that promising... but once i started to walk, it was hard to turn back... i am known to be stubborn... i tried to catch a bus or something but nobody seemed to want to stop for me... then it started to rain a bit... then it started to rain some more... then it really started pouring down and i was getting... soaked... i felt like a real idiot... my feet were all wet... bottom of my pants were getting wet... my fed ex envelop was wet... my bags were wet... i was miserable... finally after almost 30 minutes of walking in rain, i made it to fed ex... dropped it off... the lady at the counter said it would get to toronto by monday... then this nice fed ex truck driver gave me a ride back to the terminal... it took about 5 minutes by truck... ah... i do really walk slowly...

flights went pretty smooth... changed flight at denver... as soon as i got my cello case back from oversized baggage claim area at portland, i opened it up and she was fine! i was so relieved... it was really beautiful out when we finally got outside of portland airport...

i was with 3 other musicians... trevor (shaun holder), drummer, rudresh (mahanthappa), saxophonist and ambrose (akinmusire), trumpeter... we had enough stuff with us... with my flight case and trevor's drum stuff... we were supposed to be picked up by someone from the festival... so... there was this guy showed up with... a jetta... even my regular cello case doesn't fit in the trunk of a jetta! it's a really very nice car but doesn't do me any good! so... there i was... waiting for a van for another 45 minutes... sick of waiting... thank god, trevor waited with me...

finally got to our hotel called mark spencer... a small charming place... and i got to share a room with latasha... i like latasha... we got to relax a bit then went to see donna uchizono, a choreographer from new york... i saw her work some time last year in new york and liked it a lot... i got to the theater a bit late but caught most of it...



continued...