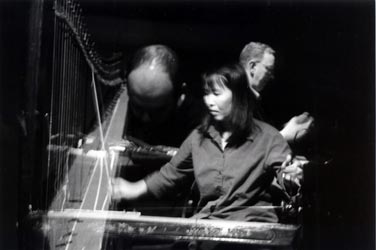 [Photo: (c) Brad Winter]

The sun shone all week on the bare, clean streets of Vancouver, glinting against the brilliant silver and glass of the new towers and the brick and wood of the late 19th century buildings in this recently prosperous city. The western ridge of the Rocky Mountains, snowcapped in the distance, and a slight arctic chill were the only signs of a Canadian winter. With a steady offering of mainstream jazz and classical music in the city's clubs and concert halls, February was a rather ordinary month, but from the 18th to the 21st, the musical doldrums were stirred by the sound waves raised by eight musicians from different parts of the world who got together for four days of free improvisation.

It was fitting that the 16th annual presentation of Time Flies, a highlight of Vancouver's thriving creative music scene, took place at the concert hall of The Western Front on East 8th Street, a block away from the busy triangular intersection of Broadway, Kingsway and Main that is crisscrossed by electric buses, their antennae gliding under the wire webbing overhead. The Western Front, an artist-run center housed in a quaint old blue wood frame building, has, since 1973, served as a vital venue for an eclectic range of creative work of the quietly eccentric artistic community of this temperate west coast metropolis.

Curated by bassist Torsten Muller and Ken Pickering, artistic director of the Coastal Jazz and Blues Society (the organization that also presents the city's international jazz festival), Time Flies provides a unique setting for the interaction of creative improvisers. This year, the artistic goal of the event, which is loosely modeled on Derek Bailey's Company Week, was to "shift away from the more typical free jazz style of hard blowing…toward a distinctly contemporary improvisational chamber setting that allows for nuance, texture, and subtlety," so the press release informed us; the festival itself definitely delivered.

The sounds created by the eight musicians in various permutations were indeed nuanced, textured and subtle. The first evening began with all the musicians on stage and from there they broke up into different groupings over the four nights (two sets a night). The audience, about 30 to 50 people per night in the intimate concert hall, was treated to solos, duos and trios and, finally, on the last set of the last night, a reunion of all eight musicians.

The pieces of the creative puzzle were varied: Steve Beresford, an Englishman best known for his work with the group Alterations; Norwegian guitarist Ivar Grydeland and his fellow Osloite, drummer Ingar Zach; English harpist Rhodri Davies; Montreal trombonist, keyboardist and composer Tom Walsh; Vietnamese master musician Bic Hoang; Vancouver trumpeter J.P. Carter; and Muller himself.

Steve Beresford performed on a wide array of electronic and acoustic gadgets and gismos with the carefree aplomb of a particularly playful schoolboy given free range over the band room's instruments who chooses instead to pluck at elastic bands and a kazoo in a Wallace Stevens-like eloquent funk. A transformation to a more demure prankster occurred when Beresford, in a dark suit and white shirt, accented by a simple bow tie, sat at the grand piano where he plunked, elbowed, pizzicatoed, rubbed, banged and flowingly fingered his way through the evolving pieces.

A tad more solemn was Ivar Grydeland, a musician who has collaborated with such creative luminaries as Derek Bailey and Susie Ibarra and who works in trio formation with sound poet Jaap Blonk and drummer Ingar Zach. The guitarist's focused search for new sounds had him using violin bows, e-bows, propellers and prepared settings for his six-stringed expressions. His guitar is set at an E-A-D-G-C-F tuning, because "it's more logical." It is the same kind of logic perhaps that had him flashing the dial of a cheap crank-up transistor radio which he had picked up at the Kingsgate mall Radio Shack the afternoon of the last concert and proceed to explore the possibilities of its waves of noise.

Ingar Zach's role through the four nights in Vancouver was like that of a well-calibrated, freshly oiled machine. The drummer played with a furious and intense rhythmic sense, arms and hands in constant motion, picking up bells, chimes, cups, clashing and thrashing, using skins as resonators for all kinds of percussive timbres imaginable, making audience members crane necks to figure out the source of that particular mysterious sound of the moment. Zach and Grydeland run SOFA, a Norwegian label of improvised music, and the drummer also shares a collaborative past with the fourth member of the musical personalities brought together for this Time Flies band: Rhodri Davies.

To call Rhodri Davies a harpist would be like calling the Pacific a pond. Like the Pacific, Davies - a regular in the London improvised music scene - is calm and deep. Sounds seem to well up from silence and flow out of his multiple manipulations: fingers, wooden blocks, bows, balls, pins, tambourine and sundry other sonic preparations. Almost as often, Davies sits in monkish contemplation. He is a meditative player who creates sound experiences that leave a lasting imprint.

Humour, brash gutturals and keyboard samplings were provided by Tom Walsh, a jocular gentlemanly trombonist from Newfoundland who now makes Montreal home where he leads a group called NOMA. Walsh brings an earthy, resonant presence to the music, developing, building, producing all kinds of sounds, from Ellingtonian suave, to full-bodied blaring, to buzzing, horse flapping, and vocal outbursts. As well as waxing expressive on the trombone, Walsh voiced a number of sampled passages from the digital keyboard that decontextualized and deconstructed familiar sounds such as pop radio grooves, advertising jingles and ambient sounds.

Bic Hoang is a Vancouver resident who brought her Vietnamese background and instruments to the collective creation. With graceful motions, and always concentrated intention she produced some surprising sounds from the dan bau (a one-stringed zither), bells, bamboo flute and the totally fascinating Ko ni, a two-stringed stick fiddle played with a bow, whose strings are held by means of a disc in the player's mouth which serves as resonating chamber. Movements of lips and tongue provide the means of inflections in colour and tone, uncannily like the human voice. Hoang's musical career is mostly spent performing traditional Vietnamese music, but this kind of setting, she said, is quite a stimulating change. "Doing this I feel fresh and when I return to my ensemble, I have a new perspective." Coming to this music requires open ears, and Hoang does certainly have those. "I just listen, and I play what I hear will sound right, depending on what's happening at the moment."

The youngest of the group, trumpeter J.P. Carter, was also the newcomer. Squeezing out sound threads (with the help of electronics), the Vancouver musician played with restrained intensity and excellent control. He avoided the open harmonic resonance that is the trumpet cliché and, instead, explored the more breathy and lippy timbres of the instrument.

Towering over his instrument at center stage stood Torsten Muller, commanding the double bass, mustering enormous forces of sound - deep rumblings, cello lyricism, violinistic extremes and unusually articulated glissandi. Muller is the very personification of creative intensity. A Vancouver resident for the last three years, the German-born Muller is co-founder of the Europeans ten-piece ensemble King Ubu Orchestra, and he has worked with John Zorn, Evan Parker and Ken Vandermark.

The event also featured afternoon workshops facilitated by Davies on Thursday, Beresford on Friday and Grydeland and Zach on Saturday. These practical sessions were attended by flute players, singers, guitarists, a pianist, a harpist, trumpet players, a violinist, a drummer, a saxophonist and one contralto clarinet player. At Thursday's session, Davies had attendees explore sustained tones, pointillism, and white noise in solos, duos, trios, and full ensemble and discuss the results. Grydeland and Zach, on a very sunny Saturday, were a little more formal, asking for introductions and statements of poetics from participants. When the playing began, however, the Norwegian improvisers offered some insightful and enlightening interactions and feedback on the efforts. They stressed the importance of sounds that are non-idiomatic or referential, non-programmatic and encouraged an investigation of the concrete phenomenon of sound without preconceived context and meaning - a message almost identical to Davies' approach.

The basic but all-important lesson learned was the need for musicians to use their ears, the difficulty of the art of playing with intention, concentrating, limiting the ideas and developing them without laying it on thick. From that realization to being able to create on the level that the Times Flies musicians function at is no easy trek, but it is well worth the effort. The reward is some creative music that resonates on a very profound level.




---
To discuss this article click here