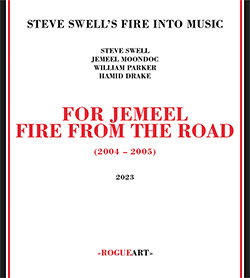 Several years ago, the New York Art Quartet received a lavish box set treatment, considerably augmenting their slim discography with hours of live material. It was a revelatory release, and I'm reminded of it by this new three-disc set from Steve Swell's wonderful group Fire Into Music. Saxophonist Jemeel Moondoc's 2021 passing stalled the long-awaited sequel to the group's sole studio album, Swimming in a Galaxy of Good Will and Sorrow, also on Rogue Art and released in 2007. These unfortunate circumstances make the release of such beautifully recorded performances all the more poignant.
Fire into Music was a nexus of sorts, a cross-fertilization of intersecting free music scenes that can be heard on these lengthy tracks anticipating that 2007 studio effort. The opening melody of "Improvised Music at the El Dorato" is both linear and fragmented, conjoining New York and Chicago aesthetics in a winning blend that continues as William Parker and Hamid Drake augment Swell and Moondoc's effortless counterpoint. That melodic interplay also graces the two versions of Moondoc's "Junka Nu." The second, recorded at the Guelph Jazz Festival in 2005, unfolds with a slow-burning affect that works particularly well, from the horns' hushed entrance via a slowly climbing dynamic leading into the simmering and then boiling groove laid down by Parker and Drake.
This is where things get tricky for the poor scribe. Anything I describe would entail the encapsulation of a moment, an absolute injustice to music whose entire existence hinges on the minute in the infinite and vice versa. How is it possible to depict in mere verbiage the joy, the celebration of freedom in glorious fragments unified by gradually shifting tempo and volume, pervading each track? It would be easy to posit that there's a load of room for soloing, as with Drake's blistering solo in that second version of "Junka Nu," which emerges from and returns to a funky groove only that drum-and-bass pair could master. Rather than attempt description of how Drake manages to maintain it while stretching it nearly beyond recognition, it may be best simply to cite the audience reaction as evidence of serious swing in pan-genre celebration. While each solo is wonderful, memory keeps tossing back to me those moments in which the players achieve a terrifying synchronicity, like the tail-chasing elucidation in "Swimming in a Galaxy of Good Will and sorrow." About 8:53 in, Moondoc and Swell are hovering around the middle register, buzzing around it as around something inexpressibly sweet, when Drake lets go on kick and cymbals, anchoring the whole thing and blasting Moondoc into the sinewy upper registers of time, memory and line so far beyond cliché! Listeners to this music wait for moments like that, coveting their transcendence and anticipating the next infiltration of infinity into a fully charged moment of shared creation, but how does Moondoc get that sound? It penetrates, but it's smooth and sweet, as if eras of history converged to imbue each note with immortality.
The set is full of similar relationships, and, as previously stated, even the second disc's mono recording is very clear and present. Swell's "Space Cowboys" benefits from that clarity as its loping groove gains drive and intensity. More than anything, even beyond any moment, peak or valley, the sense of a group having fun is palpable. The chains of beat and meter are in continual stretch as Moondoc and Swell pull at them. It's difficult to know quite how to feel upon the set's completion. On the one hand, I couldn't help wishing for more and lamenting that there will be no more, but on the other, each gesture and interplay calls for the listener to celebrate in kind. It may be best to revel in the music and especially those contributions from the superb musician to whom this indispensable set is dedicated.
Comments and Feedback: