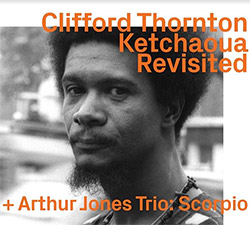 Collating exploratory music on two sessions by an underrecognized brass player and an obscure saxophonist, Ketchaoua/Scorpio reissues sounds from Paris' summer of 1969 when there were more expatriate American free jazz musicians in the city then there were US writers there during the 1920s. Ketchaoua features compositions by cornetist Clifford Thornton (1936-1989), known for his Black Nationalist views and who recorded only four discs as leader. Scorpio is one of the two discs alto saxophonist Arthur Jones (1940-1998) recorded as leader before vanishing from the scene.
Jones' four full-blown improvisations feature sympathetic locals, bassist Beb Guérin and drummer Claude Delcloo. The three also play on two of Thornton's carefully arranged tracks along with trombonist Grachan Moncur III, saxophonist Archie Shepp, pianist Dave Burrell, drummer Sunny Murray and Earl Freeman on percussion or bass. Thornton, Jones, Guérin and Delcloo are on one track, with "Speak With Your Echo" a trialogue among Thornton, Guérin and Delcloo. The last is the most descriptive since it allows the cornetist to match his stretched half-valve work and rippling triplets against one bassist playing pizzicato and the other arco, resulting in a theme both rounded and resourceful. The octet numbers follow a disparate path with one moving in and out between exaggerated percussion whumps and Africanized chants as the undulating horns wiggle and trill. More fully realized, the title track creates expressive textures by matching Shepp's nasal soprano sax tones with Moncur's gutbucket pressure and Thornton's swelling squeaks, as Guérin maintains an unvarying pulse, Murray clangs and Burrell doubles horn parts with measured comping.
On his own Jones has a unique, but unfocused style which drifts from long-lined flutter tonguing, altissimo screams and flattened cries to using a wide vibrato for straight-ahead tune expression. During this session he allots plenty of space for Guérin's stentorian string pops and Delcloo paradiddles and stomps to hold down the bottom and intersect with his expositions. Characteristically "Sad Eyes", the longest piece, outlines Jones' tone deflection from ballad to ballistic and back.
Overall Ketchaoua/Scorpio is a penetrating reminder of the invention expressed in 1969 Paris.
Comments and Feedback: