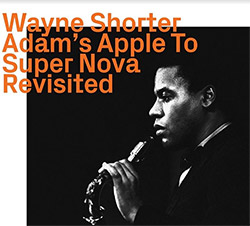 Given the number of re-releases that some musicians have had on the ezz-thetics label (for example, Albert Ayler has ten) it is somewhat surprising that this is Wayne Shorter's first on the label. Nonetheless, the release of Adam's Apple To Super Nova Revisited in the wake of Shorter's death, on March 2nd 2023, gives it a certain poignancy and is an opportunity to celebrate him. Having left Art Blakey's Jazz Messengers in 1963 after four years which enhanced his reputation, Shorter recorded his first Blue Note album, Night Dreamer, in April 1964; he was recruited to join Miles Davis' Second Great Quintet in September 1964, his first recording with them being live in Berlin that month. Thereafter, Shorter's recordings with Davis and his own on Blue Note ran in parallel, with occasional overlapping.
Adam's Apple was Shorter's fourth Blue Note album, following Juju and Speak No Evil which were both recorded in 1964, while Adam's Apple was recorded in February 1966. On both of the earlier releases, all the compositions were Shorter originals. On Adam's Apple, five of the six pieces were by Shorter, while the sixth was a version of Jimmy Rowles' "502 Blues (Drinkin' and Drivin')". The tenor saxophonist was joined by Herbie Hancock on piano, Reginald Workman on bass and Joe Chambers on drums. While Hancock took an occasional piano solo, on most tracks Shorter's sax was predominant, no bad thing as his playing was uniformly melodic and fluent. While the album had variety, as the Latin-tinged "El Gaucho" illustrates, it is Shorter's "Footprints" which commands attention; through its later appearance on Davis' 1966 album Miles Smiles, the piece was to become Shorter's best-known composition.
Recorded in August and September 1969, Super Nova is very different to Adam's Apple, reflecting the changes that jazz had gone through. Miles' quintet had disbanded and, with an assortment of musicians including Shorter, Davis was recording the music which would become Bitches Bre w and radically change the face of jazz. With a nine-strong ensemble including John McLaughlin, Sonny Sharock and Walter Booker on guitars, Mirislav Vitous on bass, Jack DeJohnette and Chick Corea on drums plus Airto Moreira on percussion, and Maria Booker on vocals for one track, Jobim's "Dindl", Super Nova had a far fuller soundscape than Adam's Apple. Three of the album's six tracks, "Swee Pea", "Water Babies" and "Capricorn", all Shorter compositions, had been recorded by the Davis quintet in 1967; as they had not been released, Shorter re-recorded them here (the Davis versions did not appear until they comprised side one of Water Babies, issued in 1976). On Super Nova Shorter played soprano sax rather than tenor; the higher pitch of his soprano can be heard clearly while the tenor might have been lost in the crowd.
Adam's Apple To Super Nova Revisited showcases two contrasting albums which are of historical interest and far more. While the release of this album will be warmly welcomed by devotees of Wayne Shorter and Miles Davis, we must hope that reissues of more Blue Note albums by Shorter are planned.
Comments and Feedback: