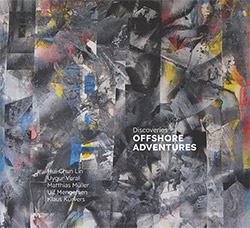 An adventure all right, but in a Berlin studio rather than offshore, the Discoveries quintet aims to replicate through improvised minimalism the pressure, ocean floor textures and darkness of an aquatic environment. The unusually constituted crew includes cellists Hui-Chun Lin from Taiwan and Uygur Vural from Turkey and three Germans: trombonist Matthias Müller and dual bassists Klaus Kurvers and Ulf Mengersen. All are experienced in the musical gestalt of the German capital.
Throughout, the quintet subtly replicates sea bottom currents with undulating double bass drones: flora and fauna distinguished by strained spiccato cello rubs and jiggles; and squeaking slides and propelled watery blasts from the trombonist. Tonal ambiguity leads to gradual transference as musical currents wash in and out. "Sea Pen" for instance begins with Müller's portamento smears abutting lyrical thrusts from the cellos. But before the tune climaxes with a replication of calm waters, contrapuntal bass string thumps muddy the flow. The five are also able to maintain fluidity at a funereal pace on "Giant Squid" where fragmented marine life currents from string stops and vibrations are finally concentrated with a brass burr. Still other tracks glide through the moist program with a continuous melodious line from the group leading to expositions which bubble and burble with broken chords and tonal ambiguity contrasting half-valve pumps and whistling air from the trombonist with built up thrusts and sul poticello squeaks from the strings.
The most extended instance of this meld of consonant harmony and creative disruption is the concluding "Rem Cycles". Over a continuum of mallet-slapped strings the Discoveries members cycle through a theme that salvages chunks of double bass pressure, mellow cello swipes and gutbucket brass scoops while keeping the narrative afloat.
The band may not exactly have reached its musical safe harbor of sonically reflecting the deep sea, but its expanded improvisations are certainly shipshape.
Comments and Feedback: