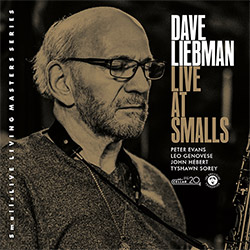 I have some fond associations with the Manhattan jazz club Smalls. As a college student, some friends and I used to attend shows there periodically on the weekend. It was BYOB (a real treat for someone on the cusp of adulthood) and smokey, the cover was $10 and the music was engaging bebop and hard bop, with some other standards and original compositions peppered in. I say this because much has changed since then. The price has gone up. Last I visited, the club also has a bar and is now smoke free. (Cheers on the last point.) It seems it has also opened its stage to musicians working in more outre, or at least freer vernaculars.
That brings us to Dave Liebman's Live at Smalls, part of the SmallsLive Living Masters Series. On the one hand, it is decidedly not the bop that Smalls had been known for in the mid-2000s. There are no written compositions, and no heads or recurring melodies. On the other hand, the energy and dynamism is similar, even as it dips its toes deeply into the last couple decades of the NY avant-garde.
Especially in his work with Mostly Other People Do the Killing, we already know Peter Evans is a multi-faceted trumpeter. He can ride a melody and hit those toe-tapping strides. As we know from his solo and other work, he can also coax the strangest sounds out of his horn, and swing between quiet, contemplative hushes to machine gun blasts. His athleticism never ceases to amaze me. Nor does Tyshawn Sorey's. He implies steady rhythms, while dancing circles around them. Somehow, however, he keeps time. I try, but I cannot shake the inevitable Sunny Murray comparison. John Hébert plays a steady, pulsing bass for much of this. He has a few passages where he stretches out, but, for the most part, he hangs back and reinforces the foundation. Leo Geovese sits in at the ivory. I am least familiar with his work, but he quickly shows a real virtuosity, laying chords and riding atop them, providing the most rooted (read: melodic and chordal) of the bunch.
This, however, is a Dave Liebman outing. He might be the unifying force, the living great who convoked the proceedings, but he is not physically the driving force. He's the elder among a mature, yet vibrant group of some of the premier improvisors of their generation. Most importantly, he knows when to pursue a melody, when to lay it out thick and heavy and when to step into the background and take in the music whirling around him. In short, he is often reserved and responsive, and all for the better. That approach avoids crowding, or overbearing frontsmanship, and opens space for the group to establish its sound.
This is an exciting album of immaculately synergistic improvisation. I can only imagine what it was like to have seen it live in such a classic space.
Comments and Feedback: