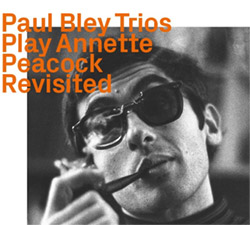 Touching & Blood Revisited (ezz-thetics, 2021), by Paul Bley Trios, featured a selection of pieces written by Paul Bley, Carla Bley or Annette Peacock, but for Play Annette Peacock Revisited only compositions by Peacock were included, with no track appearing on both albums. Before this album, the only previous interest that the Swiss label had shown in Peacock's music was the 1992 hatART album Annette which (apart from the title piece by the album's trio) comprised nine Peacock compositions played by pianist Paul Bley, bassist Gary Peacock and trumpeter & flugelhornist Franz Koglmann. As that recording was reissued twice by hatOLOGY, in 2001 and 2010, it may not be issued again.
Of the fourteen tracks on Play Annette Peacock Revisited, three are from the six tracks on Ramblin' (BYG, 1969), five from the ten on the album Blood (Fontana, 1966), and six from the eight on Mr. Joy (Limelight, 1968). Recorded in Rome in July 1966, Ramblin' featured Bley on piano, Mark Levinson on bass and Barry Altschul on drums; the same line-up recorded Blood in Baarn, Holland, in September and October 1966. The trio of Bley on piano, Peacock on bass and Billy Elgart on drums recorded Mr. Joy in Seattle, Washington, in May 1968. Inevitably, with different line-ups and recording sessions, some compositions are heard more than once on Play Annette Peacock Revisited, including two versions of "Touching", "Blood", "El Cordobes", "Nothing Ever Was, Anyway", "Mister Joy", "Kid Dynamite", one version by each line-up.
Such duplication of compositions highlights the differences between the versions of the Paul Bley Trio but also demonstrates the versatility of Peacock's compositions and their flexibility to interpretation or improvisation. For example, the 1966 Bley-Levinson-Altschul version of "Blood" here runs for just under four-and-a-half minutes while the 1968 Bley-Peacock-Elgart one is nearly six-and-a-quarter minutes; evidently Bley took the change of bassist and drummer as an opportunity to re-examine the trio's approach to Peacock's songs. Even greater is the difference between those two versions and another Bley-Levinson-Altschul live version on Touching & Blood Revisited which runs for eighteen-and-three-quarter minutes. While Peacock's compositions could be stark, sparse or minimal, they never had complicated heads before the improvising began; they led to music which flowed smoothly and is still very easy on the ear, particularly in the hands of Bley and his trios.
Comments and Feedback: