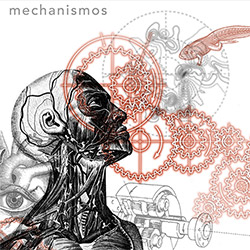 Dating back to the 1988 Engines of Myth, David Lee Myers' Arcane Device emerged from the influence of Robert Fripp's Frippertronics, something that inspired Myers' to build his own "feedback machine" ("an electronic system of long delays and other effects with the intent of using it for guitar looping"). Long washes of reverb-soaked strums swell, buffering single notes, and higher register feedback sculpted into roles filled by electric cello and waterphone fill this side of Myers' ambient world. However, his sounds take him in various directions (see also the Merzbow/AD split from April 2022), and Mechanismos is Myers' exploration of groove as a texture.
Too beat-heavy for academia and not messy enough for Gristle style Industrial (also too whimsical for the Ministry style industrial), Mechanismos sonically flits around a world begun by the likes of Cabaret Voltaire and now populated by latter-day IDM artists such as Yves de May where the D(ance) is very much downplayed in favor of cerebral stimulation; wafts of generative modern electronica (recent Oval, Mark Fell) also permeate.
Though each track hinges on a breathing, continuous pulse realized in a variety of ways — most being a brand of synthetic thumps, digital bells, crackles, and ragged breakbeats (i.e. "The Deconstructionist") — some parts one expects in a rhythmic ostinato are often removed and left to the listener's imagination. Meyers' characters are pleasant and stay inside the lines without one element trying to overthrow the mix; most are presented fully-formed and favor simple forward movement over wild development or complete role swaps.
That said, Mechanismos is disarming due to this continual sense of tension without arriving. As mentioned, these are self-contained (longish) sonic sculptures seemingly not concerned with augmentation through significant addition, climax or harmonic shifts. My opinion on whether that is problematic or wonderful has been guided by the last months of listening in various scenarios. Over morning affairs, the album is a peaceful, ticking companion droid. On headphones, the delicate pieces line up, fire up, but pile up stuck at the exit, so to speak. Ultimately, the record feels suitable for (stay with me) a hybrid zoo tour art gallery where one is physically moved through the space (preferably in a tiny train), pausing to briefly admire each presented item until pushed to the next mini adventure. There is no concern for beginning or end on a micro level, just appreciation of the neat thing happening right now. Very mindful.
Comments and Feedback: