A Month of Zorndays
John Zorn's 50th Birthday Celebration at Tonic
Updated througout the month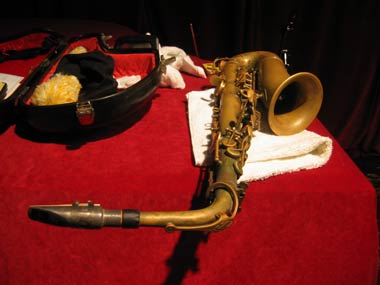 ---
John Zorn Improv Night (Tonic)
September 29, 2003



With Derek Bailey unable to make it to town for his scheduled night in the monthlong Zornfest, John Zorn pulled together an old-fashioned improv night (although having drummer Joey Baron still in town certainly made it something more than an ordinary night). It was the first nonevent of the month, which almost carried with it a tinge of relief.

Two opening pieces by Baron, pianist Sylvie Courvoisier and cellist Erik Friedlander achieved the often-claimed-but-usually boring improvised classical. Violinest Mark Feldman and laptop percussionist Ikue Mori followed in a similar vein, Feldman playing bold, heavy notes, leaving Mori's laptop as the melody instrument. Their second piece took a very different path, with Feldman playing fast lines and scratches over Mori's busy backing. Feldman and Friedlander also carried the high-art torch for a piece, and were joined by Courvoiser (making the group into Courvoisier's Abaton trio) for an equally stunning piece.

Baron and Zorn had of course already shared the stage during the month - two weeks prior had been the Masada quartet's first gig in over a year - but seeing them in duet was just good. Starting and stopping, completing each other's sentences until they built to a roar, only Baron to stop and play a quiet, slowly metered rim roll while Zorn carried on full throttle. Later Baron backed Zorn with licked-finger drum-head rubs, not just for effect but really playing with Zorn's saxophone.

Better yet was Baron sitting in the Susie Ibarra seat with the Mephista line-up. He's a faster, busier player than Ibarra, it's not really fair to call it Mephista at all, but they played wonderfully, although he ultimately overpowered Courvoisier and Mori. A second, quieter piece where Baron rode cymbals worked better. The piano, drums and laptop created torrents of rhythm together, and Courvoisier and Mori now have the shared pleasure of playing with the two happiest drummers in the world.

The final group piece opened with Baron, Friedlander and Mori, then Zorn coming in, suggesting combinations that hadn't been heard, and built slowly to a gorgeous sextet, Zorn blowing a slow lament, Feldman complementing him while Friedlander carried a deep bass, the rest melding into a beautiful, thick blanket.

Perhaps it wasn't quite like old times, not just in Zorn's calling consecutive pieces by the same ensembles, but in the near-formal virtuosity exhibited throughout. Certainly it was a different sort of Improv Nite than he would have presented 10 years ago. And if anything really stands as a testament to the growth of John Zorn and the scene he embraces, it's what they do for fun.

- Kurt Gottschalk
---
Bezique (Tonic)
September 24, 2003



Bezique is the last game piece Zorn conceived, and by his own admission in introducing the piece, "it's very strange." It differs from other pieces in that the players - the musicians involved - create the settings ahead of time rather than while they are playing. As a result, more coherent musical statements are made without losing the structured improvisations that can make the game pieces so rewarding.

The game pieces in general are interesting not just because of the music that's made, the characters they bring out or the mystery in which they're kept. They predate what could be called Zorn's "index card" period, and seem to have informed it. After creating a series of situations where he could hear styles, genres and moods crashing into each other, he began to use it as a formula for composing and arranging, most notably on the album The Big Gundown and the piece Spillane. Beziques was written in 1989, just two years before Spillane was recorded, and combines the tools of the game pieces with a compositional approach.

Each of the 11 players (Trevor Dunn, 5-string electric bass; Anthony Coleman, Farfisa organ; Sylvie Courvoisier, piano; Marc Ribot, guitar; Jim Publiese and William Winant, percussion; Jim Staley, trombone; Mark Dresser, bass; Okkyung Lee, cello; Mark Feldman, violin; and Jamie Saft, Fender Rhodes, synthesizer and effects) got a turn creating a piece, calling out a series of directives ("EP1, Ribot; M7, Courvoisier, Lee, Winant; EP3-1...") while a "gaffer" played interlude music. It was reminiscent of Duke Ellington's idea that he writes for individual musicians, except purely that, without scores. Zorn would write down the directives that he would then guide them through by holding up his familiar cue cards, and reminding the arranger of rules and trying to keep an overall cohesion between pieces. "The hardest thing is coming out of Ts," he reminded the group more than once. "You can't just write a whole piece and think it's gonna work," he told them later. "You gotta think about the piece that came before it. You gotta think about the pieces in order."

While pieces like Cobra show player's proclivities in what they want to hear at the moment, it was fascinating to watch entire pieces borne of one player's musical sense. Dresser created a beautiful suite. Lee jumped back and forth between styles, relying heavily on a Ribot/Saft/Dunn trio. Coleman injected humor, which in itself is impressive when you're only able to suggest with genre, tempo and volume. But "M4 and 9 for Dresser and Sylvie" got a good laugh from the bandstand. (When they got to that point in the piece, Zorn showed the two cards "Quiet" and "Rock" to the audience.) Likewise, it was interesting to watch players run the pieces through their heads as they were being called.

The performance lasted 80 minutes, and it's a shame that Bezique has been forgotten over the years. While the other game pieces make for great theater and a fun night of in-the-moment creation, Bezique resulted in some truly memorable music.

- Kurt Gottschalk
---
John Zorn's Lacrosse, Hockey, Rugby (Tonic)
September 24, 2003



In the progression of game pieces that led John Zorn to create the magnificent Cobra and Xu Feng structures, several earlier games were devised. Lacrosse was developed in 1977, originally performed in the days of Studio Henry in lower Manhattan where, as Zorn recalled at the beginning of the performace, the music competed with the sounds of crickets in the building. This rendering of the game had Anthony Coleman on keys, Marc Ribot on guitar, William Winant and Jim Pugliese on percussion and Zorn on alto. The game was very interactive, the players motioning amongst themselves and using a sparse set of rules, each calling segments and directing the game while in motion - unlike most of Zorn's game pieces there was no prompter. They used extended techniques on their instruments, and the piece was enjoyable if for no other reason than the mastery each showed: Zorn and Ribot played off each other, Coleman working inside the grand piano, and both Pugliese and Winant seeming to utilize every inch of their percussive sources. The ensuing music was not particularly coherent, a series of stop-starting quotations that were often punctuated but rarely lyrical.

Following was Hockey, a piece from 1978 that Zorn described as "exotic aquatics." He displayed the score for the game, explaining that at the time of its writing he believed that "all you really needed for an evening of music is one sheet of paper." Hockey limits each player's language to five sounds, which are carried out through a series of solos, duos and trios. Two versions of Hockey were presented, the first which Zorn referred to as the "dry version" with Okkyung Lee on cello, Jim Pugliese on percussion and Zorn on duck calls. This version was tremendous fun, particularly in seeing Zorn playing the duck calls again, a fistful of varying bird and buzzer sounds that are clearly enjoyable to play. Lee provided an excellent foil to Zorn as she scraped, sawed and zipped around her cello while Pugliese provided often rollicking outbursts. The music frequently shifted, Zorn sometimes calling off directives to change the rhythm. More sophisticated than Lacrosse, the piece still paled to later game pieces in its sometimes spastic results. The second rendering of Hockey was presented by Anthony Coleman, Marc Ribot and Mark Dresser on bass. Zorn described this as the "wet version,", and the difference between the two renditions was remarkable. Coleman here stuck to his heavily effected Farfisa organ. Ribot as well played heavily effected and downright alien guitar, while Dresser was a monster on the bass, sometimes playing with a stick, plucking around the neck or bowing below the bridge. Zorn prompted from the front as the three played with clear enjoyment. The results were, once again, fun to watch, somewhat dubious in their music results, but inspiring and important in their ability present new possiblities in improvisational playing.

The last piece, Rugby, was written several years later, in 1983, and was more like his later pieces. Sylvie Courvoisier was on piano, Trevor Dunn on bass, Mark Feldman on vioin, Jim Staley on trombone, William Winant on percussion, with Zorn prompting using a card system. The interplay this time was much more obvious, players pointing to each other to suggest musical direction to Zorn. The cards instructed the players with phrases like "Intercut," "Trans," "1 Clock Changes" or "4 Trades," and the piece seemed to work at time similar to Butch Morris' conductions. A series of escapades and interludes, the structure provided much more lyric and expressive opportunities to the musicians, adding a quirky and playful air to the resulting music. Zorn once again showed the single sheet that defined the game, but this time it was clear that the direction he was to take game pieces in 20 years ago held great potential for making excellent and unpredictable music.

- Phil Zampino
---
September 12, 18, 25 2003
Bar Kokhba - (Tonic)
September 12, 2003, 8:00 set
Masada - (Tonic)
September 18, 2003, 8:00 set
Electric Masada - (Tonic)
September 25, 2003, 8:00 set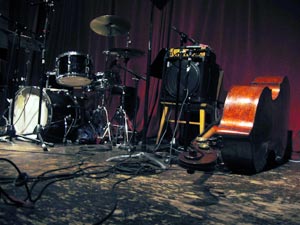 One of the wonderful things about Zorn's 50th birthday month was the opportunity it presented to hear the various Masada permutations on successive or nearly-successive nights, the chance to compare the way the different voicings and personnel shaped the music (sometimes even the same charts), and the air around us, the actual feel of the world, or as much of it as you can fit inside the little Tonic warehouse. This is evocative music, music that reaches down into the limbic system and plants fleeting images of places that, for a few moments, I have a terrible longing to visit.
The strongest voice in the run was Marc Ribot's. His playing during these weeks was spectacular, full of unpredictable but seamless jumps between subtlety and lunacy, riffs dropped in behind the beat at just the right spots and pared down in a way that suggested single notes plucked out and silenced at the moment of creation. Even in a short solo, he had a way of creating a bubble, a little musical world with its own harmonics, rhythm, and atmosphere, a thing that was internally perfectly consistent, and yet he'd still surprise you on multiple levels from one moment to the next. He could do this by himself, but when the whole band was together in creating that bubble world, he had a lot more room to play, and when he has room, he takes incredible flights. With this cast of characters, of course, so does everyone else.
Before the event, the two most exciting casts were Bar Kokhba and the Masada quartet, but in the middles of solos on those nights it was impossible not to think about related and contrasting performances by the Masada String Trio, Masada Guitars, and Electric Masada, not to mention The Gift performance, the Zorn String Quartets, and even the Frith and Zorn improv session. And about the fact that it's unlikely all of this will ever be offered in one short month again. Perhaps the most poignant thing about it has been the way these musicians have gotten back together in these groupings and churned up all the old chemistry, with more brilliance in these performances than ever.
The night before the Bar Kokhba show Ribot had been on fire during the performance of The Gift, so my first impression was of the mellowness of the "chamber Masada" music. Joey Baron took a drum solo that was a treat, and the slow, minor bowed string chords that opened another piece brought out an abstract, contemplative side of the material. Mark Feldman's solo was beautiful - he can make a violin sound like a wooden flute when he wants to. Percussionist Cyro Baptista came in with a jingly child's wheely toy behind him, followed by what looked like a twisted flexible brake line that he managed to get a lot of high notes out of; this morphed into the bird calls and jungle noises he used during The Gift, and of course it all worked. There followed a quicker, tighter piece reminiscent of the precision and cleanness of the Masada String Trio. The craftsmanship on this one was lovely, from the open-voiced duet work of Feldman and Friedlander to Ribot's Postizo-reminiscent sound.
The seventh chart started with some nice bass from Greg Cohen, Ribot playing over it. This was purely evocative - there were elements of surf guitar and some lounginess, but without the self-conscious irony you might expect from others; the evocations were kept at arm's length. Greg Cohen's solo work on this one was a treat - in fact, throughout the month he's been consistently marvellous. The minimalism of their work together on this piece was the jewel of the set, although the finale wasn't anything to scoff at: a fast 6/8 over drums and a repeating bass figure, in which Feldman and Friedlander spazzed off each other before Baron demonstrated, with his inimitable precision, how to go through drum skins. The guy can hit.
One of my most cherished downtown memories is of a night some years back at the Knit, sitting on one of their terrible chairs down in the front row, literally toe-to-toe with Dave Douglas when he took a solo during a Masada show that was staged on the floor. Good solos have a way of building on themselves for a while, but even the best of them tend either to lose their steam or to get sewn up with a resolution before they have a chance to. This solo didn't do that - it just took off from its deceptively mellow, warbling beginning and kept building and building, carrying its themes to the next level and the next, and Zorn recognized what was going on and let it ride. I held my breath for a lot of it, unable to believe that this could go on much longer. But it went on a long time, and by the end of it Douglas was grinning around his mouthpiece, and he kept grinning for pretty much the rest of the night.
Something similar happened to Greg Cohen during one of the quartet sets, the only substantive difference being that I don't know if Zorn had planned to let him ride all along. When he started a solo during their fifth piece, I found myself hoping he'd play on - extended bass solos arent' heard often enough - and he did, a long excursion with impressive thematic unity, great force, and enormous creativity. He grinned, too. I expect this one will hang in my memory next to the Douglas solo.
There were, of course, other musical biscuits during the night. The set opened with Zorn blowing a smooth, lyrical solo that for the longest time was entirely lacking in squawks and his other trademark elements, so much so that I might not have have recognized the player if I'd had a blindfold on (though I couldn't have missed the composer) - or so I thought, until he broke loose and Zorned, just in time to be joined by a screaming Dave Douglas. Their playing was as dynamic and give-and-take as ever, full of the way-too-late-20th-Century counterpoint peculiar to these two. The kind of stuff we'd be tempted to trot Bach out to see if he were to reappear, just to get his take, though I suppose if he did come back he'd be worn ragged by all the demands of cliché-prone reviewers who wanted to bring him along - but still, he should hear this stuff.
The whole group was in similar top form, guiding a warm full sound through the songbook: a tight, driven, whaling Baron/Cohen exchange before the head chart of the second tune; a nice Baron brush solo in the third (one that the String Trio had also done); free-form, all-out Zorn and Douglas solos in the fourth. The sixth was all about the drums, and there was another excellent sax solo in the improvisational seventh. We even clapped an encore out of them, an atmospheric tune that grew out of dirge-like opening chords.
I would have liked to review Electric Masada, but the sound knocked the pen out of my hand. All that percussion: Joey Baron, Cyro Baptista, Kenny Wolleson, plus Ikue Mori on electronics. Just watching Baptista was worth the price of admission. Everything he picks up, in his disarming way, he turns out to be a master of. You could hand the guy two packets of sugar and a Dixie cup and he'd outperform most musicians on their chosen instruments. The comparable night had been The Gift, with Joey, Cyro, and Roberto Rodriguez. That material is much more repetitive, but repetition is sometimes a big part of what percussionists do, and if you listened to any of the musicians in either of these combos playing over one rhythm all night long - or one chord, for that matter - you'd never get bored. Electric Masada charts are more rhythmically and harmonically complex, of course, and Zorn and Ribot, along with Jamie Saft and the apparently-born-with-an-electric-bass-in-his-hands Trevor Dunn, delivered a musical Cuchulainn's Warp Spasm, a full-spectrum exploding train wreck of sound. Wish I could have held on to my pen.
continued...
---
Kristallnacht (Tonic)
Tonic September 23, 2003
Kristallnacht was "the night of broken glass," November 9, 1938, when German troops unleashed a wave of pogroms against Germany's Jews. In a matter of hours they destroyed thousands of synagogues, Jewish businesses and homes. Kristallnacht takes its name from the smashed windows of Jewish storefronts throughout Germany, and is generally considered the start of the Jewish holocaust. It was a brutal act of terror and opression that stands in the memory of the Jewish people.
John Zorn credits the writing of this piece as one of many ways he began his particular Jewish odyssey, and much of the radical jewish culture that is associated with him and his Tzadik label begins around this period. Zorn doesn't perform this piece often, perhaps most recently ten years ago at his 40th birthday celebration at the Knitting Factory. His reticence to present this work is understandable as it's a gut wrenching, terrifying work, physically and emotionally demanding. It also requires a Jewish ensemble of musicians, this evening faithfully reassembled from the 1992 recording with Mark Feldman on violin, Marc Ribot on guitar, David Krackuaer on reeds, Anthony Coleman on keyboard and sampler, Mark Dresser on bass, William Winant on percussion and Frank London on trumpet, with Zorn conducting.
The premier of this piece at the Knitting Factory in 1992 was an experience this writer will not soon forget. The room was blackened, all chairs and tables had been removed and the crowd stood sweating and shoved together as though they were in a cattle car on their way to a concentration camp. The presentation at Tonic was somewhat less physically intense. The audience was asked to stand due to the full house, and the lights and air were shut off as Coleman's recording of a train began its long journey, but with windows admitting dim light and in a more spacious room the claustrophobic sense was lessened, allowing more focus on the music.
continued...