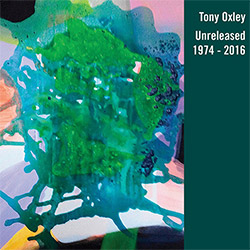 This is an archival release of sorts: five tracks, four of which were recorded in 1974, one in 2016. It's a little unclear what was done to the first three from 1974, which bear the inscriptions, 1974/2020, 1974/2005, 1974/2019. In the brief notes, we read, "Some of the pieces were edited into their final composed form over many years. The dates following each track show the recording date followed by the completion date, if later." So we know editing was done but I also suspect some remastering, as the sound on those tracks is exceptionally brilliant.
Those first three pieces (compositions, though perhaps in the "guided improv" vein) feature an impressive quintet: Oxley (drums, electronics, sounds), Barry Guy (double bass, bass guitar (! a rarity!)), Dave Holdsworth (trumpet, sounds), Howard Riley (piano) and Paul Rutherford (trombone). The first piece, "The Embrace", leaps forward with a held brass note and electronics, immediately beguiling, then winds its way through a thicket of percussion, inside-piano and bass, all very vibrant, a kind of heightened reality reminiscent perhaps of Tudor's "Rainforest". The piece, as well as the subsequent two from the same session, possess a certain volubility, a roundness of sound that's very engaging, the musicians clearly in an excited, investigatory mode. It's especially enjoyable to hear Holdsworth, likely better known for his participation in the somewhat more staid groups of Mike Westbrook, playing so freely and imaginatively. All three of these pieces are gems, fine representations of both the free spirit of the early 70s and Oxley's semi-compositional take on same.
"Frame", also from 1974, is a quintet retaining the services of Riley (Oxley adding some violin) , but otherwise with Hugh Metcalfe on guitar and cymbal, Larry Stabbins on saxophones and Phil Wachsmann on violin and electronics. The latter's presence quickly adds a distinctive flavor to the proceedings. As with much freely improvised music of the period (and, indeed, before and since) there's a decided horror vacui aesthetic in operation, but these musicians manage to keep things from getting too over-busy or frantic. Oxley's bell-like electronics play off the violin in a very juicy fashion, laying the groundwork from some (appropriate) overblowing from Stabbins and, later some fine duo violin interplay.
The odd one out here, in a way, is the final track, a 2016 duo performance from Oxley (electronics) and percussionist Stefan Hoelker. It's a decent enough performance of its kind, there's just a small sense, at this late date, of essential matters having long ago been decided and revisiting them lacks the necessary feeling of urgency apparent in the earlier tracks. Listeners, especially fervent fans of Oxley, may well disagree.
Overall though, a fine document and one hopes for more treasures to issue forth...especially from early on.
Comments and Feedback: