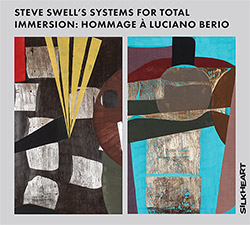 The Swedish Silkheart label commissioned composer and trombonist Steve Swell to write Hommage à Luciano Berio, the third in a series of odes to composers who had a significant influence on 20th-century sound. The preceding Music for Six Musicians: Hommage à Olivier Messiaen was well received here, but this writer hasn't yet heard the first volume of the trilogy, Hommage à Bartok. I anticipate having to correct my ignorance relatively soon given the undeniable merits of the material contained on the other two CDs.
"It's just not in me to sit still, wearing blinders, keeping me looking in one direction when there exists so many available options in expressing oneself as Berio did himself during his lifetime," Swell writes in the introduction to his approach to the piece. It would take too much time to go into detail as to why Berio stands among the select few principals from his own country that your reviewer really likes and admires. But this mixed cycle of compositions and improvisations does a commendable job of capturing the spirit of cunning invention and reverence for earlier traditions typical of a master who could boast students of the caliber of Steve Reich and Louis Andriessen. Oh, and Phil Lesh from the Grateful Dead.
Together with Ellen Christi (vocals, effects), Marty Ehrlich (flute, alto sax, bass clarinet), Sam Newsome (soprano sax), Jim Pugliese (marimba) and Gerald Cleaver (drums, percussion), Systems For Total Immersion features the nominal leader on trombone and pocket trumpet. The arrangements allow the musicians' unique talents to shine in the context of a sonority that is both uniform and translucent, as they demonstrate their skill throughout. "Lose And Find," a track where metrics, counterpoints, and timbral elements seem to turn every performance obstacle into a wink to informed listeners, is a noteworthy example of this. The latter are encouraged to participate in the piece's frequently dissonant flow without losing a single bit of intuitive awareness, which is a quality that should always exist when one actively observes instrumentalists at work, and is shared in the performer/audience axis. Christi interprets the lyrics using a combination of declamatory modern jazz-cum-avant theater. Based on key quotations from Berio's renowned wisdom coupled with snippets of Swell's experimental poetry, their content has a remarkable incisiveness. A distinct sense of humor does, however, breathe beneath the music's surface; it is closely related to a collective intelligence that maintains balance between it and the interaction's more dramatic constituents.
In order to avoid lying to my kind readers, I'll say that listening to the program in its entirety calls for mental acuity at its highest levels. While reading the written documentation in the interim, I occasionally took advantage of the chance for additional in-depth analysis by taking breaks between tracks to better digest what my ears had finished storing moments earlier. In fact, weighing the momentum of each individual segment can also be used to determine the record's total worth. Nonetheless, the outcome — namely, excellence — remains the same whether one listens to it from A to Z, in little bits, or in shuffle mode.
Comments and Feedback: