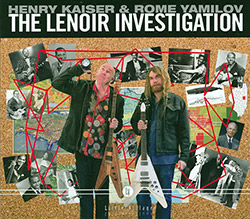 J. B. Lenoir was a (predominantly) Chicago based blues artist. Both his penchant for overtly political song writing and premature death means that Lenoir's name is recognized only by those with esoteric blues interests. Nonetheless, Kaiser and Yamilov are examples of such individuals; they both share an interest in Lenoir, albeit in his acoustic work. And this manifests itself in The Lenoir Investigation. Note: the title of this album somewhat belies its content. Far from strictly being an investigation, Kaiser and Yamilov use Lenoir's oeuvre as a stimulus for their own playing. This means that the ripples of blues can be heard in diametrically opposed sounds.
The opener, "The Whale Has Swallowed Me," is a fitting introduction to the genre melding that comprises much of this album. The first form that this musical chameleon assumes is that of Biblical Blues: shrill harmonica sequences underscore lyrics about every child's favorite Bible story, that is, Jonah and the Whale. Frantic drum fills serve as a distraction whilst a metamorphosis is occurring. The second form that this musical chameleon assumes is that of dub: delayed guitar lines circle around to form feedback ouroboroses.
Before anymore of this, though, there is a break by way of "People Are Meddlin' In Our Affairs." Rather than meticulously stitching together distinct genres, Kaiser and Yamilov said that they simply wanted to "...go nuts." And this they do. Guitars engage in repeated paroxysms, spitting and sputtering in numerous attempts to shake off intransigent blues rhythms.
Break over, "Round and Round" returns to the aforementioned genre blurring. Emulating the Malagasy dance style called 'BAOEJY,' peppy, organ-like, passages that are attuned by jubilant tempos kick things off. Lueschner's sensuous vocal lines then slowly seep their way in; here, the groove of this track grows to the point that it becomes undeniable. Fulfilling Lueschner's prophecy, you find yourself "...wigg[ling] like an earthworm."
Earlier, it was said that Kaiser and Yamilov use Lenoir's musical legacy to facilitate their own playing in The Lenoir Investigation. "Rollercoaster / Mojo Boogie" is the sole exception; it is a musical conjoined twin in that "Rollercoaster" was written by Bo Diddley whilst "Mojo Boogie" was written by Lenoir. Midway through this track, trippy guitars redolent of Taureg acts, such as Mdou Moctar, jostle and wrestle into the fore. A climax is reached when flares of psychedelic scales radiate outwards, eventually coalescing to form nebulae of notes. Simply stunning.
Another anomaly follows. In "God's Word," a somber, slowcore, guitar drags its feet as it trudges behind some despondent vocals. Yet, this forlorn feeling is thankfully fleeting; for, seemingly on a whim, this song collapses in on itself to engender a sonic supernova. Like a pulsar, efflorescent sequences palpitate; they twinkle and twitch all the while they are the subject of our fixated gaze.
Kaiser and Yamilov do two things in The Lenoir Investigation. Firstly, they show the pertinence of Lenoir's work by illustrating how it can figure into practically any sonic context. Secondly, in doing this, they demonstrate their ability to cut loose from the shackles of genre. And, far from creating grotesque Frankensteins, The Lenoir Investigation boasts alluring musical mosaics.
Comments and Feedback: