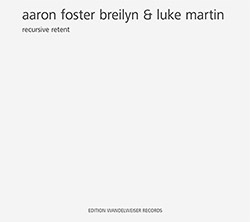 Recursive Retent is a score "for two pianists, with one piano, for a long time". This realization, by Breilyn and Foster, took place in Seattle in 2018 and the disc presents seven extracts from an eight-hour event. The instructions and rules for the piece emphasize the interactivity between the players, setting initial parameters and describing how the performers might react to what each other does: how they play a phrase, what to do if a mistake is made, etc.
The work is dedicated to Michael Pisaro and one can immediately hear the affinity: the notion of soft, spare, long-held notes embedded in (in this case) an urban soundscape filled with car engines, people talking, airplanes overhead, buses braking etc. The piano takes on a certain presence: not an obtrusive one but one that makes itself known now and again, perhaps like a bird or a gentle breeze. The phrases played, while always slow, have a range of dynamics, sometimes emerging into a kind of brightness, as though reflecting a sudden shaft of sunlight, more often settling into half-shade. What we hear over the course of the release is generally self-similar though, between the played score and the surrounding environment, subtly ever-changing. The liner notes mention an "unforeseen situation' that the pair had to accommodate, but this listener could discern no particular sense of interruption.
Like many a "classic" recording from the Edition Wandelweiser label, Recursive Retent is sumptuous and rewarding to bathe in, to vicariously transport oneself to, imagining lying on a nearby plot of grass, absorbing the just barely tinged atmosphere. A very beautiful work.
Comments and Feedback: