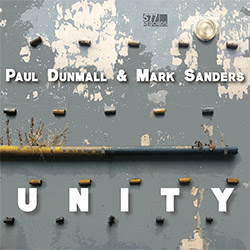 One of the very special periods in the music we're still fumblingly calling "Free Jazz" involves its first large-scale flowering, that fertile stretch between 1955 and 1962, or thereabouts. To suggest that the music transitioned from metric to non-metric, or tonal to its supposed opposite, is to impose a partially false duality on many more complex manifestations. Both Paul Dunmall and Mark Sanders live at the most fruitful point of those continua and have done so for many years. Unity, their first duo album, could not have been given a more apt title for those very reasons.
The lovely opening moments on "The Quiet Mind" indicate precisely the erasure of those boundaries which, frankly, never really existed in the first place. Sanders is playing time, swing-time in fact, but it's extraordinarily subtle, just sneaking out through his brushes! The bell-like tone inaugurating the track lends an air of mystery to what is really grounded, though only just, in earth and groove. When he brings other skins and metals into the equation, the new rhythm grows organically out of the first, like the pivot to a perfect modulation. Dunmall's minor-modal tenor comes in at a whisper, but immediately and repeatedly its microtonal inflections point toward other variables, like the blues, which actually foregrounds itself only minutes later. The sounds of the instruments themselves bespeak multiple historical points, suggesting something conjoining romantic ballad and an anticipatory prelude to the roiling "New Thing" explorations of which much of the disc is comprised.
Maybe it's all about implication, an art of which both musicians are masters. Even to suggest that Sanders slides in and out of time is to impose false constructs on what is clearly a playing style built on subtlety. Hear his melodic and polyrhythmic interplay on the duo's homage to Henry Grimes, one of those pioneering masters so integral to the early 1960s music and its various iterations. I well remember Dunmall and Andrew Cyrille performing with Grimes during a Vision Festival, an astonishing concert all around, and this is a more than fitting tribute. Listen at around 2:45 to hear the arpeggios in motivic development that have been a mainstay of Dunmall's aesthetic for more than four decades. His approach to tonality is innovative, inclusive and expertly delineated, possibly an inheritance from Coltrane or Sam Rivers but which he makes his own at those points where every phrase and line converge. Here, he is playing C-melody saxophone, but his alto and usual tenor inhabit similar territory. His sound on alto is as colorful, as timbrally rich, as the kit Sanders has assembled for the occasion. The have fashioned a duo album of stunning power, extraordinary depth and, above all, a beauty equaling or surpassing anything else in their respective discographies.
Comments and Feedback: