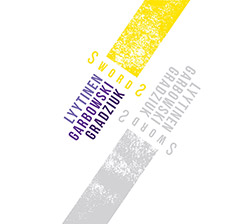 This is the first meeting of bassist Maciej Garbowski and drummer Krzysztof Gradziuk, both from Poland, with Swedish saxophonist Pauli Lyytinen, and what a meeting it is! The sharp precision expressed in the double-disc's title is complemented by vast inflection, infinite articulation and endless invention, drawing on and expanding the various traditions and attendant histories at the heart of this trio's combined perspective.
Most important to any group project hoping to achieve synergy, room is always left for interplay. The beginning of "Durendal" tells the tale, as Garbowski kicks things off in rhythmically expansive free flight. The others don't so much enter as glide in, especially Gradziuk, whose gentle pulses and delicate timbres fill spaces while never overfilling them, a concept from which many an experienced drummer could learn. Even more surprising is Lyytinen's contributions to this beautiful moment of interaction, at first linear but then fragmented, dividing those lines into proportional phrases that spark and spear but with gentility. Even better, as things start to cook, is the point right around the seven-minute mark when the saxophonist and drummer get downright funky, injecting everything with some streetwise rhythmic intrigue, even a bit of polyrhythm! It would even be forgivable to mistake the saxophone for a guitar, so percussive are the attacks. If the heat isn't quite enough, dig in about five minutes into "Narsil" for some incendiary back and forth that simultaneously centers and destroys a tonal area, just as all three musicians push time way out in front of them while slicing and dicing it. Despite the occasional rush and roar, much of the music inhabits a subtle space of anticipation, or maybe it's more that each gesture could thrust its way toward an explosion but doesn't. "Anduril" is a case in point. The saxophone, sounding a whole lot like a trumpet, grinds and growls, the bass is exquisitely bowed, and again, percussion is stark but spare, a model of improvisational interaction.
Verbiage won't cut it. This concert performance really needs to be heard to be appreciated, and not just because the musicianship is superb. What is so remarkable about it all is that this trio has learned the lessons associated with "new thing" aesthetics but also assimilated them. Just as the modern orchestra can now play Wozzeck with relative ease, so the various vocabularies of improvised music over the last half century are developing. To this trio, freedom is obviously more than an end to justify any means. It is a way forward, and each musician is leading and following in excellent proportion.
Comments and Feedback: