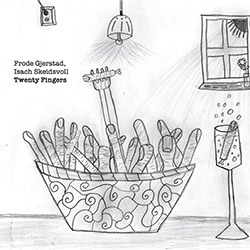 Nearly a half century separates saxophonist/clarinetist Frode Gjerstad (b. 1948) from pianist Isach Skeidsvoll (b. 1996), but on this spontaneous first-time recording the two Norwegians improvise as if they're a long-established duo. For many years the sole standard bearer for Free Music in the country, Gjerstad nurtured local players like drummer Paal Nilssen-Love and is appreciated internationally; Skeidsvoll is just finishing his academic musical studies.
This background is helpful because it means that the pianist can use everything from kinetic Free Jazz clusters to pounding near honky-tonk basso rumbles to connect with the reedist's idiosyncratic tones and interpretations. Whether it's the spate of wide glissandi Skeidsvoll unleashes to intersect with Gjerstad's pennywhistle-like squeaky split tones and moderated flattement on "First hand. Third finger" or the squealing flutter tonguing and sudden reed swells that are matched by repetitive clips and keyboard swaying on the concluding "Third hand. Fourth Finger", complementary fusion is always present. The closest Skeidsvoll comes to a piano solo is on "First hand. First finger" where he moves from a dynamic player-piano-like introduction to a moderated exposition built around distinctive repetitive patterns. The saxophonist is present too but his hollow and woody blowing is mostly accompaniment to the keyboard. Cognizant of the effect of introducing the unexpected, both players get to express strategies at greatest length on the nearly 18½ minute "Fourth hand. Second finger", which ironically was the first track recorded. Filled with bubbling excitement, the extended track speeds from pushing keyboard glissandi and reed split tone squeaks to move resolutely up the scale exposing thematic twists and turns that lead to new motifs. This is followed by pedal-pushed piano rumbles and thick chalumeau reed bites and then back to throat clenching and note swallowing saxophone squeals backed by near-robotic metronomic accompaniment. Hard core, this track and many others also include an undercurrent of lyrical swing.
A four-hour bus ride from Skeidsvoll's home in Molde to Gjerstad's in Stavanger resulted in this disc. On the evidence here it was a trip well worth making and hopefully one that will be repeated often.
Comments and Feedback: