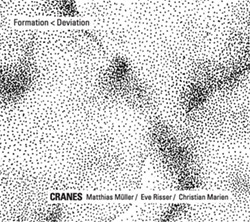 Referencing both the life-celebrating beauty and mating dance of aviary cranes and the heavy lifting and transporting power of mechanical cranes is this French-German trio of improvisers. Paris-based pianist Eve Risser has been involved in numerous small and large ensembles like the Orchestre National de Jazz and with singer Sofia Jernberg, who has also worked with German drummer Christian Marien. He and fellow Teuton, trombonist Matthias Müller, are part of an equivalent number of collaborations in Berlin with players like saxist Frank Gratkowski and trumpeter Axel Dorner, among others. Together the three Cranes concentrate on pulling unexpected timbres from their instruments during the CD's two extended tracks.
Comfortable plucking, stroking and twanging the strings of her instrument's internal piano-harp, Risser clips and clicks these treble tones when not implanting keyboard glissandi or intense note chiming in the narratives. Marien subtly rolls mallets or sticks on wood, metal and skin, while Müller's interface is a combination of basso lowing, plunger expulsions and restrained tongue stops. Often subdividing their work into duos, brass puffs go up against cymbal buzzes at points; pressurized string strums meet stretched tongue vibrations elsewhere; and often intermittent key slaps and woody drum resonations define both piano and drums as percussion instruments.
The three often skirt cacophony, especially at the beginning of "Illusion of Innocence". But there and elsewhere, skill and smarts still allow the trio to express tonal extensions that arise from watery brass bluster, continuous player-piano-like pumping and shaking drum ruffs without neglecting episodic forward motion. With the expression of nearly limitless individual techniques while projecting a continuous narrative, the jagged and judicious program is a satisfying compromise between sound deviation and formation.
Comments and Feedback: