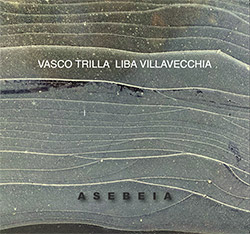 A carefully organized suite utilizing only two instruments, on Asebeia Catalan tenor saxophonist Liba Villaecchia and percussionist Vasco Trilla frame an eight-part program where each track builds logically to and from the next. The two, who have worked with innovators like Agustí Fernández among others, produce unexpected and unusual timbres to interpret the title which translates from the ancient Greek as a criminal charge for mockery of and irreverence towards state gods.
Mockery and irreverence are part of the duo's genetic code as free improvisers. But rather than critiquing the Asebeia concept with anarchistic cacophony, Trilla and Villaecchia progress logically from light toned individual idiophone shakes and reed squeals on the introductory "Koinos_what is shared" to the dusky drones and pointed bites that define the concluding "Theión_the Devine, that which transcends man." Reed vibrations and multiphonic glissandi are gathered into honks and snarls in the first sequences with treble tones met with hard drum smacks and rumbles plus tensile cymbal scratches. Trilla lays down a steady carpet of rolls and ruffs on drum rims and sides on the title track as Villaecchia's altissimo stutters and bitten off yelps define his strategy. By the time the final pairing is heard, textures close to basso electronic processes vibrate with deeper and darker buzzes brightened only by strained split tones until completion.
Previous to that the two have individually experimented with disassociating timbres from intense polyphony, expressing their parts by melding key percussion and the sizzle of unattached cymbal pressure. But it's the extended "Ataraxia_freedom from perturbation, complete absence of desires or fears" which truly marks the disc's turning point. Suggestions of electronic drones and slurping tongue stops unite into crepuscule emphasis, finally coalescing and inflating to the solid but linear interchange that defines the remainder of the disc.
Asebeia is more connected and suite-like than many sessions that use phrases like freedom in their titles. Moreover the saxophonist and percussion have created enough exploratory motion and resolved dissonance with minimal instrumentation to keep interest high from start to finish.
Comments and Feedback: