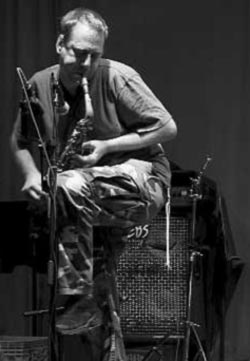 Photo: Peter Gannushkin

The American assessment of art and artists has always put a weighty premium on age. That an artist turns 50 is a huge thing in terms of our view of him and his art. It gives us a chance to salute him for outliving Charlie Parker, Anton Webern, Hank Williams or Jimi Hendrix. And it gives us a chance to level condemnation on him for no longer being a source of constant surprise.

This month, John Zorn turns 50. He is no longer The Angry Young Man, and critics from publications that cater to a different segment of the world's cultural community will try and elucidate what his work has meant up to now, who he has influenced, how he has influenced them, and what it means.

This society generally, and the subculture Zorn represents specifically, each have age issues. The unwritten law seems to be that progress is the purview of the young, and that brevity of vision is exclusive to those who still have youthful folly going for them. In the avant garde, there is always a need for whatever is supposed to be next.

This youthful folly factor frequently results in shallow music characterized by a disregard for history. Not always, but often. Zorn, on the other hand, is soaking in history. From re-introducing Sonny Clark's Blue Note recordings through Mancini and into Jewish literature, Zorn is forever seeking precedent and tradition, often aligning himself with musicians not inherently loved within his community. Blue Note house organist Big John Patton leaps to mind.

The avant garde also has a definite "fuck the blues" faction in its midst, which Zorn has never bought into. And it usually takes a Zorn or a box set from Revenant to introduce these noodleheads to this most enduringform. I doubt they get it (the recent scholarly essays on Charley Patton are a fucking joke). But Zorn gets it.

Another interesting mountain on the Zorn map is his embrace of certain postwar/pre-Kennedy instrumental popmusic. In the 1980s, few things could have been less fashionable than to embrace the exotica of Les Baxter or the lite jazz of Henry Mancini, but there was Zorn (along with the unsung WNYC DJ David Garland) mounting on-air marathons of the stuff, doing more to lay the groundwork for the rediscovery of that music than any of the fez-wearing lounge-oid hipsters could ever know or will ever admit. To that crowd, "loungecore" represented another clothing fad and excuse for knowing irony.

But one listen to Zorn's record Spillane tells us that he saw it as music, real music that rated better treatment than irony. I get the sense that he saw it as a postwar expression of national optimism, but with a kind of deep, dark question attatched.

I doubt that most of the people reading this have an extensive background in the 1950s Mike Hammer novels (actually, take that up to 1966 to include The Twisted Thing, the last of the classic Hammers, seeing as the two '90s comeback novels, The Killing Man and Black Alley, really sucked). Those of the academe tend to single out Spillane generally and I, The Jury specifically as junk.

Piss on that and piss on them. Mickey Spillane was a great storyteller, and he had the concerns of his audience very much at heart. When Jury went into its first printing in 1948, it addressed a very specific need. His readers were men, men who had just come back from World War II. They had just been part of the largest thing they would ever be part of and were collective heroes. Their struggles and victories were celebrated in songs, films, on billboards, and more. They had been to places many of them could not even have dreamt of previously, had made love to French prostitutes, shot enormous guns, kicked Hitler's ass, and struggled daily to stay alive in the most threatening conditions known to humankind. Then they came back home to Sandusky, Ohio (or places like that), to regular jobs behind the wheels of trolley cars or on factory assembly lines. Yes, they were happy to see their loved ones again. But being shrunk back down to normal life-size after having been huge and heroic created a spiritual itch in their collective sense of self and few authors scratched it. Spillane was probably the only novelist who wrote in their language, and who gave them a larger than life hero -- Mike Hammer -- with whom they could identify. He talked the way they talked, fought and fucked the way they felt they fought and fucked. He gave them a Walter Mitty outlet that suited their self-image as big tough guys who lived honestly in a brutal and dishonest world. Reading a Mike Hammer book, you were no longer just some guy who pulled the lever on a piece of equipment in some tuna cannery. You were the guy men wanted to be, the guy women wanted.

I think Zorn understood this aspect of Mickey Spillane. In fact, I'm sure of it. I read all the Hammer novels when I was in high school (usually with the Peter Gunn soundtrack playing in the background). What Mike Hammer prized above all things was humanity, friendship, and justice. And, looking back on Spillane the album, which came out in 1987, I see it now as a very brave work.

I don't think its bravery is in the jump-cut construction for which Zorn was celebrated at the time. I see it as brave in its loving attitude towards Spillane and the world he represented. Looking back at 1987 and thereabouts, I see a lot of alienation in popular American culture. Sam Kinison was probably our most famous comedian, and he was definitely loud and alienated. The emergent songwriter du jour was Lyle Lovett, whose penchant for ironywas as notable as his haircut. Jim Jarmusch had become everyone's darling. It was the time of guys like Oliver North, and being detatched was probably our best defense as smart people.

But Zorn's clear affection for Spillane was not detached, nor was it at all ironic. It was real. His love for Spillane's New York glistened like holy water. And there was something about the quickness and toughness of the piece, with its myriad of music bursts, text, noise, and sound effects, that said "We can all have big dicks and fists of steel if we only believe." Spillane was about the American ideal of pioneering spirit, toughness, and compassion as much as it was ever about Mike Hammer.

As great as many of Zorn's subsequent records were, most notably those with Naked City, I don't think he got as personal again until Masada. Somehow, I see Naked City as the brainchild of a guy who had discovered and was comfortable with himself. There's a confidence there that somehow only comes with being a journeyman. With NC, I think it became official that Zorn was no longer in a formative period.

But Masada is different. I think largely because Zorn was rediscovering himself through Jewish music, which I get the feeling was something he had not yet absorbed as thoroughly and as internally as he had absorbed, say, Charles Ives or Carl Stalling. So he took us on that journey with him, to discover that music his way with him.

More than at any time in his career, I've gotten the sense that Zorn has let the music take the wheel. The thoughts and emotions expressed in the Masada music - and Kristallnacht, which can likely be taken as an orchestral outgrowth of those same emotions - sound to me like the most basic ones in his heart and mind. They're the largest canon of pieces in his catalog at this point.

Zorn has said he conceived the Masada music as "a book of tunes the way Thelonious Monk had a book of tunes," andI believe it. No music he's ever made has had more immediacy and universal flexibility than the Masada music.

The development of Masada seemed to coincide with the 1995 formation of Tzadik, Zorn's American record label.The marketplace was suddenly flooded with discs that gave us a view into seemingly every aspect of Zorn's musical universe. About the only musician of concern to Zorn absent from the roster seems to have been Phil Woods. Everything from Asian bar bands to Milford Graves to Radical Jewish Culture was represented with a prolific release schedule. And Zorn himself started releasing more of his own music than anyone since Frank Zappa. As I write this, the All Music Guide lists 58 Zorn releases on Tzadik and seven on Avant, plus about ten Masada's on DIW. Few people own the entire Zorn-releated catalogue, and fewer still like all of it. Like Zappa's, the diversity and sheer size of Zorn's catalogue is daunting.

Masada has been the most enduring Zorn project, probably because it's the most stripped-down and, on that level, immediate from a compositional standpoint. Also, it seems to give Zorn the most facets for his expression.

Recently, I saw Masada play a benefit for Tonic in New York's Lower East Side with Ben Perowsky filling in for Joey Baron. My wife and I took a cab down to the club. I had never seen Zorn live before this night. I had listened to a ton of his records, had spoken to him on the phone a few times, whatever. But I had never seen him in the flesh. Greg Cohen introduced us, and we embraced, and immediately started jabbering enthusiastically about Les Baxter. A few minutes later, my wife and I went into the main room of the club. I've seen Dave Douglas a bunch of times, ditto Greg Cohen. Perowsky was wonderful, which I expected.

The real shock of the evening was the saxophonist. We've all hit ourselves over the head with "Zorn as icon" so many times that it's almost like an ambush when we're confronted with Zorn the player.

I will say this: I think the reason he's been so successful is that no other avant garde musician has been nearly so able to get down. I'm not talking about note-per-second(although he's in pretty good shape there). I'm talking about something that has been forgotten in the saxophone mainstream since the post-Trane advent. I'm talking about something Gene Ammons understood but that Wayne Shorter probably wouldn't. I mean, Zorn can get up in a bar and get it over, the old way.

Composition - not spontaneous composition, but finite composition (i.e. dots on paper) - gives you a chance to rethink and retool your way to your ideal conception. Taking a solo in the moment doesn't. You're exposed for who or what you are in the moment, even if you're John Zorn. Especially if you're John Zorn. Game theory this, index card that, Radical Jewish the other -- nobody gives a rat's ass in the moment. You put the horn in your mouth, that's what it is.

And you could tell it all came down to Zorn playing the alto saxophone. There were the snorks, squeaks, sputters, and screams that we all know and love. There were long, beautiful lines, spiked with blues and Jewish motifs. And, in all that, there was a command of music and sonic language, a real sound, and the ability to get it over in a way that says more about Maceo Parker than John Coltrane.

It was a wonderful little set. I'll spare you any review past that.

That night, I thought about the way we spoke of Baxter and Mancini, as excited fans. And I thought of the exuberance of Zorn's playing. It's clear to me that what John Zorn primarily wants to do, at least with Masada, is make music that will excite him as much as those Baxter records excite him.

Les Baxter turned 50 in 1971, largely forgotten by an industry in which he was once a giant. He was still prolific, but was tethered to the world of B-movies, and had just made his last album Que Mango. He watched Henry Mancini's continued success with some bitterness, and took his comfort in material success. All those B-movies landed on the Late Late Show, and his broadcast residuals from that action were quite considerable.

Dizzy Gillespie turned 50 in 1967. For many of today's young listeners, it's hard to think of Diz as a guy on the cutting edge of the music, but he was the subject of much debate through the '40s and '50s. By 1967, he had become a personality. He still had great albums in him, but the perception of him had more to do with him on the Muppet Show, joking around with Kermit the Frog, ending his punch lines by puffing out those fabled cheeks. It was almost forgotten that he had forged a path for new harmonic language, that he introduced so much world music to the jazz mainstream, and more. He was in better shape than Baxter in most ways, but like the Godfather of Exotica, his greatness was so totally taken for granted that it was rarely imparted to new listeners.

I doubt that Zorn will have these problems. His work has outclassed that of most of his contemporaries and all of his detractors. The sheer amount of it, the overall quality both of concept and imagination is pretty impressive.

But at the heart of it all sits John Zorn, leading the band, playing the saxophone and making it exciting. Seeing that shuts away any concept of him as an old general who won his best wars all those years ago.

Mark Twain remarked that longevity has ruined as many great men as it has made. Anyone who has ever watched Louis Armstrong sing "Hello Dolly" to Barbra Streisand knows how true that is.

But I don't think Zorn has that in him. And the qualities he embodies - pioneering cosmopolitan spirit, tolerence, humanity, self-examination, inner growth, the desire to keep himself surprised, vulgarity - represent the best of America. Zornhas never been afraid of his own vulnerability, and he's certainly not afraid of vulgarity.

But we Americans are a vulgar bunch with hearts of gold. And Zorn wouldn't still be around if we didn't need him to representfor us. And, frankly, neither would Mike Hammer.