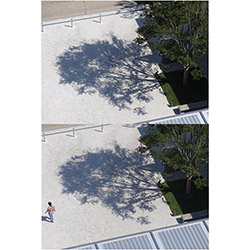 Bertrand Dupleix plays electronics, vibrating speaker, and floor tom; Denzler plays the alto saxophone. By harmonising their respective domains, 'Plateaux' features a myriad of sonic landscapes which the two interrogate, ranging from the forlorn to the downright disquieting. Denzler and Dupleix give a new sense to the term 'atmosphere.'
The first track, 'Plateaux', can be thought of like a sonic bog. Dupleix's digital organ oozes ominously throughout the track, behaving like a sonic quagmire. The languid and beleaguered notes produced by Denzler's alto saxophone harmonise and intertwine with the digital organ to create a soporific spell. This spell envelopes the alto saxophone, which begins to acquiesce to the sonic sludge. Yet, mirroring the absurdity of Baron Munchhausen escaping a bog by lifting himself by his own hair, Denzler (somehow) wriggles free. Buoyed by the escape, Denzler explores a series of sonic domains by way of various key changes. These domains, however, are just as treacherous as before. Dupleix's digital organ still looms ominously in the background, modulating the musical milieu. In a series of vicious circles, Denzler's alto saxophone falls foul to the sonic quagmire again and again. Eventually, these cycles and epicycles can no longer be repeated. Denzler's alto saxophone becomes more mutated and virulent as the track reaches its conclusion, bellowing atavistic growls. These frustrated spurts transpose to forlorn whines: the battle is lost. The sonic quagmire claims its newest victim.
The next track, 'Positif', despite behaving like a homonym for 'positive', is anything but. This track is epitomised by various capricious and whimsical key changes. The mercurial temperament of this track allows the sombre and the jubilant to coexist in one mosaic of sonic moods. Denzler's alto saxophone alternates between rich, voluptuous assertions and shrill atonal shrieks. Dupleix's electronic ensemble oscillates indecisively between various keys and registers. The final track, 'Tessiture,' gives total primacy to that which 'Positif' expressed in ephemeral paroxysms. 'Tessiture' begins with the construction of various monoliths of cacophony. These monoliths of noise then go under a Kafkaesque metamorphosis into something grotesque; noise mutates into a zoic and bestial form. The uncanny begins to become palpably ominous. As soon as this musical Mephistopheles begins to grin beguilingly at the listener, the track ceases. Having scared the listener stiff, the sounds move onto more important matters.
Plateaux provides a set of vivid and lucid sonic atmospheres that envelope the listener and transport them to new sonic territories, perhaps making them turn around just to make sure there is nothing hiding behind them.
Comments and Feedback: