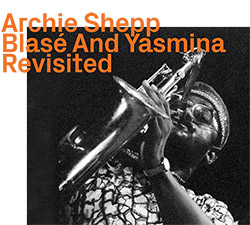 These two 1969 recordings reissued on CD by Hat Hut are rich with musical creativity of a highly sensitive and interactive kind. The album features the leader's tenor saxophone voice at its most lyrical and fluent, but also includes the impressive talents of other musicians, the most outstanding of which, to these ears, is vocalist Jeanne Lee, who brings a voice that is paradoxically both raw and highly sophisticated. Also at work on these tracks are pianist Dave Burrell, bassist Malachi favors, trumpeter Lester Bowie and drummer Philly Joe Jones and Sunny Murray, to name but a few.
The bulk of the total 61 minutes is devoted to the Blasť album, recorded on August 16, 1969 (over 40 minutes), and the 20-minute Yasmina follows this. The first album is the centerpiece and what a centerpiece it is! It has the suppleness of "My Angel & Blasť" with its soulful lament by Jeanne Lee that seems to cry from the heart of an imitate relationship in the throes of abuse and disappointment, to the soothing spiritual tones of hopefulness in "There is a Balm in Gilead", to the silky saunter of "Sophisticated Lady" (one of the best renditions of this elegant Lawrence Brown-Duke Ellington song that I have ever heard), and the funky, tumultuous "Touareg" to close that first section of the album. An interesting added sound spice to the mix is the harmonica playing of Chicago Beau on the first track.
The closing track is a full-length jam on Yasmina, which features several of the budding luminaries of the day from the Chicago creative scene, including Roscoe Mitchell and the aforementioned Bowie. They stand shoulder to shoulder with some of the veteran players like Philly Joe Jones and Art Taylor. A total of 11 musicians are present here, all in service to Shepp's vision, which they realize with beauty and extraordinary aplomb!
Comments and Feedback: