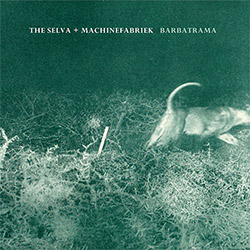 The Selva is Ricardo Jacinto on cello, Goncalo Almeida on double bass, and Nuno Morao on drums. Machinefabriek is Rutger Zuydervelt on post-production and electronics. Three Creative Sources, Clean Feed, and Shhpuma veterans teamed up with the one-man sonic-sorcerer Zuydervelt. The resulting release, Barbatrama, is a wild romp through the intersection between contemporary chamber jazz (an augmented string trio), percussion-driven fire-side ritualistic performance, and Machinefabriek's explorations in ambience, beats, and soundsculpting. The intersectional space is vast and deep, and this group fills it well.
The Selva have a long history together, and this shows as they wend their way through new music structures (complete with jumpy dynamic changes and some free jazz pulses), ceremonial repetition, Krautrock-layered accumulations, and achingly plaintive string passages. These elements are essential to tracks such as Babarmatra and Mabartrama, where Jacinto and Almeida create moods that blur the concert hall-countryside divide as Morao lends his deliberate, understated polyrhythms and pre-industrial-heartbeat, stomp-around-the-hearth percussive rites. (All song titles are anagrams of the album title.) The second track, Ramatarba, moreover, is a perfect example of the hypnotic balance that these three musicians strike so expertly and repeatedly. Ramatarba also showcases Zuydervelt's contributions ranging from background hisses and clicks to drum-n-bass thuds to, in one foggy passage much later, a well-placed foghorn. Indeed, Zuydervelt is always there, sometimes out front but mostly charting the cavernous sound environments that engulf that front. Indeed, this album sounds as if it has captured some liminal, forested space of congruence between the ethereal and profane, between the natural and supernatural, and between homo industrialis and an ancestral presence.
Through it all, Zuydervelt plays companion to the Selva, rather than inserts himself as a temporary fourth member. The Selva create their own sonic space and, given the translation of their name is "jungle," one might be tempted to consider Jacinto, Almeida, and Morao the trees, and the discrete units of the larger ecosystem. Zuydervelt, meanwhile, is the wind, rain, sunlight, and fog that weave through it, laying club beats into chamber exchanges, gooey textures and dense decays into the more biting free string explorations, and, in several tracks, a dreary haze to ensconce the Selva's hypnotic atavistic churn. This is a meeting of sounds dense and rustic, ancient (strings and drums) and new (electronics and production). Although much of the music is polished, this convergence lends itself to the feeling of mystery and tension that pervades the album and which the final track, "Bamartaba", emphasizes and, quite convincingly, concludes.
Comments and Feedback: