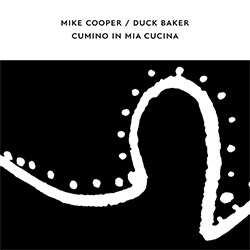 From the first notes, it is clear that Cumino in Mia Cucina is going to be an spirited romp through a colorful landscape characterized by supple romanticism, dark deconstructed folk melodies, and a post-Bailey thicket of scrapes, creaks, pings, and other guitar oddities. Additionally, all of this is concocted on the spot in Mike Cooper's kitchen and performed on two nylon-stringed Spanish guitars. No effects. No feedback. Just straight up peripatetic acoustic bliss.
There is something idyllic about Cumino. Here are two of the guitar mavens — Cooper and Duck Baker — who have spent their careers studying guitar music across various cultural and stylistic traditions, meeting for an intimate session which feeds on those influences but is rooted, above all, in experimentation. Although a few cuts are clear nods to the musicians' youthful forays into a more doggedly noisy free improv, most rely on fragmented rhythms and implied but stifled melodies to cohere. In some pieces, such as Dragoncello, Fieno Greno, and Canella, one hears outlines of blues bends and country twang entangled with brief forays into staggered jaunts. Others, such as the opener Aglio Selvatico and the closer Chiodi di Garofano, embed wisps of Iberian classical runs into the soft improvisatory ruckus. On tracks such as Zafferano Saraceno, moreover, Cooper and Baker seem to reference Django Reinhardt, though obliquely. The traditions are there, beneath the surface. They are, however, decontextualized, transformed, and redeployed almost, and just almost, beyond recognition.
I do not want to over-categorize this music, though I guess I already have. All of these influences are caught in the stew of snap pizzicato, glitchy glissades, and finger-picking rattle that a listener might expect from a collaboration sparked by a common appreciation for Eugene Chadbourne, Randy Hutton, and Henry Kaiser. Nevertheless, this blending of specific elements — Spanish classical, blues and jazz, folk and country, and genuine experimental improv — sounds fresh, in part because of the impeccable responsivity and common directionality these two musicians show. As far as I understand, this album was completely improvised with little if any planning beforehand. Each track, however, holds in a way that would imply one pair of hands knew beforehand what the other pair would do. And, partly because of this apparent telekinetic connection, they capture moods in nuance and variety and in a way that free music, spontaneously created, rarely does.
This is not an opus, nor one of those lost tapes from that storied performance from years long past. This is not studio session years in the making, nor even dramatic turn in either guitarist's oeuvre. But, damn, does it sound nice to hear these guys jam.
Comments and Feedback: