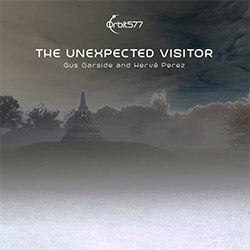 One of the first of the Covid-19 affected discs, the dialogue on The Unexpected Visitor was improvised either together or using telematics from their own homes by bassist Gus Garside and alto saxophonist Hervé Perez. The 10 muted interpretations of "The Guest House", a 13th Century poem by Persian Sufi Rumi, were recorded over a three-month period in Brighton, UK, though it's impossible to tell which were created face-to-face and which use wireless digital technology.
With the horizontal narratives low key and closely controlled Perez interjects brief reed barks and Garside string power pumps at appropriate junctures to make the program avoid sameness and soporific pulses. But with the tracks ambulating in increments, the two have to meet and overcome the challenge of too smooth consistency. They do so as the duets evolve so that the disc's second half is livelier than the first tracks. Following the saxophonist straining growls through his horn without key motions, the bassist elongated string strokes meet them and vibrate in double counterpoint. Squeaky and speedy, "The Maker" is the liveliest track as Perez's wide drones and sul tasto buzzes from Garside push the sequence to its furthest, most multiphonic reaches without losing close communication. From that point on the duo alternates between stretches of barely-there sequences to lyrical motifs that feature clarion reed peeps and cello-pitched string rubs in sequence exploration.
The program's disparate sound motifs are wrapped up neatly during the climax of the protracted, concluding "The Poet". With the tempo moving from allegro to andante and then back up again, echoing string pumps and emphasized timbres scooped from the saxophone vibrate dissonantly at intervals to connect in a final fully rounded, polyphonic climax. Overall, The Unexpected Visitor proves that thanks in part to modern technology, an unexpected visitor like a global pandemic doesn't have to prevent inventive improvisers from creating a notable program.
Comments and Feedback: