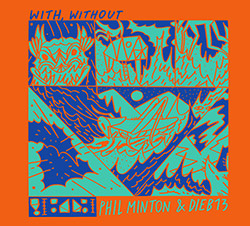 Phil Minton's first experiments with extended vocal techniques were inspired by a desire to imitate the spirit of Jackson Pollock's "Action" paintings. In the late 1950s, he adopted the physicality of the painter's process by rolling around on the floor and making "a big racket" while a visual artist friend tossed paint around a room with equal fervor. Minton refers to his output there as "acrobatic break dance," an appropriately ambiguous way to describe someone contorting his face and speaking in tongues like he's being exorcised in an 1820 snake oil grift.
Minton's conscious tics began through attempts to mimic Louis Armstrong, opera singers and Labour Party politicians with his mouth. Decades later, Minton's amalgam of consonant and vowel groupings and the building blocks of word and sentence structure — while appearing to also communicate in both hungry bear and ghost — produces what one imagines came to pass minute one after the Tower of Babel confounded the peoples' tongue; there may be some interspecies humanoid vocabulary in there, as well.
Taken from six concerts — the earliest from 2009 — With, Without finds Minton in duet with dieb13, a capable manager and handler of Minton's arguable spotlight. Born Dieter Kovačič, the Austrian sound artist relies on a case of machines he refers to as the "klopfer" in concert and in the studio. Similar to his contemporaries and occasional sparring partners, erikM and Martin Tétreault, his turntablist method has nothing to do with idiosyncrasy — neither the intended purpose, where the appliance has landed in hip-hop or even in the hands of a Christian Marclay — as Kovačič is more about using the instrument and its accoutrement as something that can open and close dimensions. That is, while thoroughly stocked up on recordings of environments, his job is to create a habitat where Minton, curled up to a mic in this instance, can work. He also likes to turn that world upside with panning and filtering in ways that move and transform hiss, hum and controlled feedback across monitors with upending effects; further, he will often lure the listener into intent focus on the subtle development of a gesture before suddenly tilting the mix to the left and letting it dissolve around Minton, who often reacts as someone startled awake too quickly.
But With, Without isn't only about guttural, primordial groaning and whooshes. Sometimes jets circle, a human conversation playing at twice Chipmunks speed drifts by, trombonists playing from a car trunk, quasi-throat-singing, hands cupped to produce owl calls, infantry marching from or to war, etc. Half-way in, Kovačič begins a steady thump which Minton accompanies with a parched whistle until sinking into the impression of a dog giving chase to its tail. While the listener is distracted by the vocalist, Kovačič slips in a virtuosic clarinet run, repeated and edited into a remarkable clone that eventually wobbles and collapses, Kovačič back-spinning the record to remind the audience of the illusion. He augments the pattern with a repeating, Moogy bloop and the sound of a concrete slab being dragged (sealing you inside your mausoleum?) which all translates to something near the boggy likes of Throbbing Gristle's "Convincing People." Though wordless, the feeling is smarmy with the same tension of a Poe essay.
I'm picking on Minton, as his oeuvre — and the Jandek album that likes to come up on shuffle — is in a select list I don't often share for fear of changing family and friends' timid admittance that my music is not relatable. With, Without is difficult and might not be something you listen to out of enjoyment as much as respect; with the same reverence displayed when handing off an Olympic torch, it's a CD an educator will pull off a CD for advanced students looking to move (far) beyond lyrics and melody in writing for voice. Not bad for two guys with a stool and a sawhorse.
Comments and Feedback: