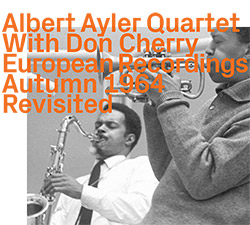 There is a common phrase about how someone's reputation can precede them. Jazz, more than any other genre, dismantles this ubiquitous mantra. The seemingly unfulfillable aura that some names possess is always followed by an individual who is — somehow — befitting of this aura. Albert Ayler and Don Cherry are tokens of this phenomenon. Ayler's presence in the jazz zeitgeist is a soup of superlatives and hyperboles: a jazz avant-gardist who used his tenor saxophone to 'speak in tongues'; a man who dismantled and deconstructed melody itself. Cherry's status borders on mythical also: a trumpeter (primarily) who stuck two fingers up to formalism; a trumpeter who was panned by critics for not adhering to notions of technique and for making jazz that only jazz-ignorant white people would enjoy.
This is quite a reputation to fulfill, and the music contained in this album does. In the liner notes of this album, there is a passage from Brian Morton. There are appeals to how Ayler and Cherry locate the "here-ness" of music, and how these two did not hide behind a veil of technique or formalism to justify the use of musical platitudes and cliches. Initially, these sentences seem fanciful and borderline unsubstantial. However, upon listening to this album, I understand Morton. Ayler and Cherry's complete rejection of technique and formalism is what provides the "here-ness", the unorthodoxy. Their music is wholly sui generis. These two cannot even be captured as outsider artists; their music is so eclectic and free it belies any appeal to genre. The music just "Albert Ayler and Don Cherry." Much of this album defies quantification: I'll focus on tracks that I can (even vaguely) describe and capture.
Disc 1 provides a set of recordings from November 6th, 1964. 'Angels', the opening track, is typified by the driving drums of Murray which augment the space. Ayler plays cascading crescendos and soaring arpeggios which helps beget a peculiar sonic landscape. The peculiar and singular playing of Ayler is contrasted with, and underscored by, Peacock's anemic and feeble sounding bass. This meeting between vitality and infirmity, musical wealth acting against musical paucity, is curious. Cherry joins Ayler in occasional moments of unity. They join in song through a unity-in-opposites. This moment of sonic bliss is equally charming as it is fleeting.
In 'Ghosts', Cherry contains his particularly free playing. The cornet becomes more staccato and stochastic, rather than sprawling and flowing. Cherry works in tandem with the rhythm of this track, which is tenuously upheld by Peacock and Murray. The voluptuous cornet teases and toys with the disparate rhythm section, lending its hand in aid to only snatch it away. Cherry continuously pulls away from, and then marries himself with, the rhythm section. The track is a salacious sonic equivalent to a will-he-wont-he narrative arch. Harmony continues to arrive momentarily only for Ayler and Cherry to decide that it's too boring and formulaic. Upon making this decision, they resume their venture into the familiar sound of the unfamiliar atonal.
'Spirits' is the musical equivalent of the uncanny. You recognize what you hear but can't locate it in your memory, much like how a doll's face is so uniquely familiar, yet also wholly inhuman. The skeleton of previous tracks is there, but the soul has been replaced. Only Ayler and Cherry, in my eyes, could construct such a piece: a track that lends itself to what you've previously heard on this album, but whose features you cannot identify. 'Spirits' contains a motif which pervades the album.
On Disc 1 there is then a separate section for tracks recorded on September 10th, 1964. 'Vibrations' is the first of this set, which features a sprawling and crawling bass scouring the landscape for a sonic partner to join in arms with. Eventually discovering the drums and becoming in phase with each other, they locate and attempt to contain Ayler's saxophone. Again, Ayler's playing defies the notion of restraint and capture. It dips and glides, evades and hides. The motif found in 'Spirits' begins to reify and become discernible. The use of this motif has the effect of teasing a semblance of structure, some idea of refuge. Ayler enters the rhythmic cage that Peacock and Murray desire only for him to escape like a wily coyote. These islands of structure and harmony are taken back and sullied; fervid playing once again takes a hold; Ayler and Cherry dictate the scene.
'Saints' provides a particularly precipitous change in tone. Far gone are the atavistic scales of before; roaring notes are replaced by sonic splutters. Perhaps, finally, the volcanic playing has lost its spark; perhaps the wily coyote is emaciated and disheveled. There is a languid hesitancy which permeates this track. Intrepidation becomes caution. For the first time, there are occasional pauses; moments of silence even. The saxophone wains and weeps in mourning. The track acts like a lament, bemoaning the inevitable denouement. 'Spirits' puts these worries to sleep. It provides the rebirth, the new ascendancy. The music will never stop. Freedom will never go unrealized.
Disc 2 provides a set of recordings from September 26th, 1964. The first song, 'Spirits', provides a new take on the song from the previous disc. Spluttering saxophone arpeggios act like an exasperated bull in a china shop, elbowing and barging the sonic space. This boisterousness is underpinned by microtonal notes, which carve and cut steep sonic peaks. Ayler finds notes that are out of the rubric of jazz. There is an indescribable absence of melody. It's not 'atonality' because that implicitly accepts that what is being heard can be captured by a term. This is the privation of melody, a negation of melody: un-melody. A percussive interlude introduces Cherry's cornet which only mirrors and compounds the fervid, virulent playing of Ayler. Somewhat aptly, as soon as a melody becomes discernible, the song ends.
'Vibrations' contains circular and reflexive motifs. These motifs are afforded to the listener by Ayler, while Cherry does his best to sully this moment of structure; Cherry augments the motifs with occasional bellows and belches. Both instruments lament and celebrate, their moods are capricious and equally volatile. The drumming and bass playing provide a fitting container for the liquid playing of Ayler and Cherry to fill; these are the stationary riverbanks for the flowing river. There is once again a unique unity-in-opposites.
'Saints' is the most perplexing track on the entire album. Structure collapses into total free verse. Even calling it free verse belies the playing; I cannot describe what I have heard. 'Autonomous' is the only word which suffices here. This music is not of a natural kind. This is Ayler and Cherry at their best, their most indescribable. The motif rears its head at the end of the track; an island of sonic familiarity in a sea of otherwise obfuscated notes. Teasing the listener like an oasis to a parched traveler.
'Children' continues this inexplicable streak. Polyrhythmic paroxysms juxtapose finely articulated scales. An increasingly agitated rhythm section drives the flurry onward, egging on these paroxysms towards their explosive conclusion. Ayler's saxophone verges on atavism at certain points: it occupies the liminal space between object and animal. Cherry joins to stir this musical storm into an even more fervid mess. No note is left untouched; no space is left uncovered. A writhing bass marks the shift from the protasis to the epitasis. Rhythm and sound reach its apotheosis. The denouement is provided through 'Spirits'. The motif once again plays, hinting at this record's circular, reflexive and infinite nature. The only concept that this music can be linked to is itself. It is entirely and wholly self-referential.
This album is unlike anything. It defies description most of the time, and when it is describable, you're left scratching your head like an idiot. There is a total lack of genre or form. However, that "...was their genius, and it suffuses everything you will hear on this disc."
Comments and Feedback: