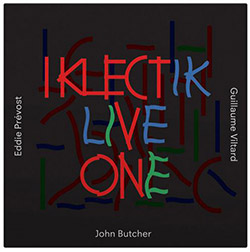 Long-time followers of the innovative reductionist sounds made by the UK's tenor and soprano saxophonist John Butcher and especially drummer Eddie Prévost as part of his singular AMM group are going to be thrown for a loop with this release. Improvising alongside French bassist Guillaume Viltard, who moves in the same free music circles, the four live tracks on Iklectik Live One are the sort of go-for-broke Free Jazz concepts from which all three usually steer clear. That said this vigorous and multiphonic program could convince any Energy Music fan with its quality.
From the first double pumps from Prévost's kit and widened harsh buzzes from Butcher's saxophone on the opening "Electric" the collective sound exploration explodes. For his part although Viltard usually supplies the fluid pulse that keeps the tracks from descending into Free Jazz incoherence, he also contributes upfront to the group timbral explorations. On "Light 3" for instance and elsewhere, Viltard creates flute-like spicatto squeaks that are almost indistinguishable from the soprano saxophone's altissimo bites before he downshifts to swift strums and Butcher to gravelly hollers and honks at the climax.
That's one key to this session's appeal. While more conventionally pulsed than out-and-out Free Music, the trio members also use extended techniques to liberate what elsewhere could have been conventional sounds. For example Butcher's connected theme variations are as prominent as when he exhibits his repertoire of reed kisses, tongue slaps, reflux stutters and thin shrills played by separating the mouthpiece from the saxophone's goose neck. Viltard's sul tasto string scrapes are often paired in double counterpoint with Butcher's slurping trills. And Prévost's solos are also louder and more overtly rhythmic than they would be with AMM or in other reductionist settings. When not filling the expected role as accompanist with hi-hat clanks and press rolls, his playing includes power pops and cross pulses that make their points by simultaneously stretching the rhythms while maintaining a comprehensive and anchoring beat.
Creative and conventional in equal measures, this is the perfect disc to play for those who fear the languor of absolute minimalism or those who need a jolt of stimulating free improvisation.
Comments and Feedback: