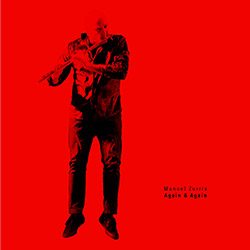 This 2-CD set of (mostly) solo flute works can be divided into three general areas. First are pieces by the "big three" of Minimalism: Terry Riley, Philip Glass and Steve Reich. Next are compositions by composers tangentially related in one way or another to Minimalism: Kevin Volans, Howard Skempton and James Tenney. Lastly are works by perhaps lesser known composers from Hungary, Lithuania and Slovakia: Lászlo Sáry, Adrián Demoč, Rytis Mažulis, Tobor Szemző and Ričardas Kabelis. The set includes a booklet that contains an interview with Zurria (in English and Spanish).
The flutes are often augmented or overdubbed. For example, two of Glass' "Dances" (1979) are heard, #2 and #4, where the flutes, essentially playing the overlapping lead lines, are accompanied by field recordings and toy percussion. They flesh out the pieces — for this listener, some of the last Glass really worth hearing — very well, giving a somewhat fresh, sometimes amusing angle on them. "In Again Out Again" (1968), originally for two pianos, here for two flutes and toy percussion, also benefits from the additional instrumentation, resulting in a light and spritely work, what sounds like a mini-glockenspiel providing excellent frissons in the upper registers. Reich's well-known "Clapping Music" (1972), is rearranged for "handclappers and electronics", though it sounds like popping flute keys, and not much is gained by the alterations. His "Reed Phase" (1966), originally for saxophone and tape is nicely transformed in Zurria's version for three piccolos and toy percussion, in a manner similar to the high-pitched Glass transformation. The step from saxophone and delays to flute and delays for Riley's "Dorian Reeds" (1965) isn"t so extreme and the result is a track as engaging as the original, creamy and lovely.
Both discs end with brief "Bagatelles" from Skempton, one from 1985 and one written for Zurria in 2019. The earlier one is your basic, delightful Skempton while the latter is quite plaintive, a bit sad and very beautiful. Volans" "7 Flutes" (2015), is quasi-minimalist in its layering of various rhythmic patterns, some rapid, others slower, generally recalling Reich but with a looser feel. Zuria ups the ante to twelve flutes (plus sine tones) for his rendition of Tenney's "Harmonium #1" (1976). The mystery and sense of almost extraterrestrial wonder generated in this subtly fluctuating, drone-like piece make it this listener's personal highpoint of the collection.
Each disc begins with a short piece by Sáry, 'számzene I & II" (1995), odd, staccato works for, respectively, counting voice (the work is dedicated to Tom Johnson) and seven flutes, both with toy percussion and both kind of zany fun. Demoč's "Canon" (2017), for four alto flutes and written for Zurria, is quite enchanting, the lines weaving and bobbing like fish in a stream, surfacing for air now and then, returning to the flow. Concise and beautiful. Scored for ten flutes, Mažulis" "Carduelis", though consisting of iterated lines, sounds somewhat less minimalist than dreamily neo-Romantic, but is otherwise unremarkable. A Reichian/Rileyesque sound resurfaces in Szemző's "Water-Wonder" (1981-83), for four flutes and delays; pleasant enough, but maybe a bit overly indebted to those composers, though the blurring effect toward the end works very well. Finally, Kabelis" "Kalno Sutartinė" (2015) for...72 (!) flutes generates a reed organ world of sound, shifting groups of four notes (de facto chords), in descending patterns, one after another, a kind of sonic waterfall, mesmerizing, rich and evocative.
Comments and Feedback: