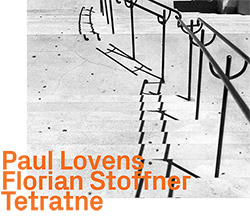 A snappy set of four shortish guitar/percussion blurts recorded in Ljubljana in 2019. These improvisations are extremely well-recorded, allowing you to hear every knock, swizzle and plunk in very high definition. There's a lot of flinty scrambling at the outset, rising and falling repeatedly and punctuated by very well-placed bass drum booms (BOOMS!). Stoffner spends a lot of time in front of the nut and behind the bridge of his instrument, and uses his array of effects pedals sparingly. A beautiful metal-istic recital opens up around the 9-minute mark, sporting one loud cough that seems to have been on purpose. Flappy scrabbling and knocking. Lots of indeterminant notes, the guitar must've been melting or at least sprayed with some evil lubricant. This stuff makes so much sense it makes me laugh. Out loud. If these gentlemen haven't been playing together for ages it certainly seems otherwise.
The second foray leaves more space and thus the sounds are free to linger a bit. This is the ballad, obviously. Stoffner begins speaking early on, I mean actual words are coming out his guitar, before the slipperiness returns and then Lovens throws several spanners into the works. Thankfully they both recover. And stroll on with spurs attached. Ping and ring and clack and hum.
You know how there often seems to be a lull during a lot of improvisations where everyone involved is kind of head-scratching and at a loss as to what to play next? That doesn't seem to happen here. Every tiny stall or pause gets quickly plastered over with some bit of spackle or framer's tape and before you can say "hesitation" it's back to the job-at-hand with a wry smile and nimble digits. Both players seem to have an inexhaustible supply of building materials, and they obviously know how to use them. We're all the better for it.
The biggest surprise here is the snippet of popular song that starts off the last piece. You'll know it and maybe wonder why. It seems to add a tiny bit of nonchalance to the proceedings, whether we think it was needed or not. Incidentally, there's a great video of this duo floating around the internet, just in case you happen to need more.
Comments and Feedback: