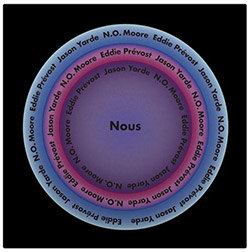 At first the flashes of three-part energy heard on the introduction to "Attunement" Nous' first track which encompasses the guitar frails and effects of N.O. Moore, the skronking saxophone split tones of ex-Jazz Warrior Jason Yarde and the crashes and splashes from drummer Eddie Prévost suggest that in his late seventies the long-time AMM percussionist may at have at last recorded a "rock" record. However as the disc unfolds, the five tracks recorded at London's Vortex jazz club show that it's the younger players, influenced by the drummer's writing and playing with the minimalist AMM, who are actually elevating his improvisational concepts in pitch and power.
This is most clearly demonstrated in the second part of the program when the exposition of unison soprano sax trills and clenched guitar vibrations on top of ceaseless rim shot patterning stretches out to expose oscillating whooshes and hisses from Moore's amp, slap tone bites from Yarde and churning drum rhythms. This leads to the sardonically titled "Impossible Meaning", the CD's centerpiece, which etches the improvisational strategy in its most acrid form. A do-see-do of protruding and contrapuntal impulses the extended track is filled with barbed guitar flanges pressing up against jagged reed flattement and harmonica-like tremolo puffs that squeak and spew animated textures forward as Prévost's drum top hand pats and cymbal clashes retreat to the background. Eventually the forward impelling textures from all connect into a horizontal line that brings the piece to its definite stopping point. From that moment on the set wraps up its textures as energetic drum clatters, inflated reed squeaks and shaking guitar frails ping pong into a variant of triple counterpoint which is as chipper as it is conclusive.
Expressing his percussion adaptability outside of his long-standing pure improvised affiliations, Prévost also offers an object lesson on how his musical ideas can be adapted by other and younger players without any attempts at rote emulation.
Comments and Feedback: