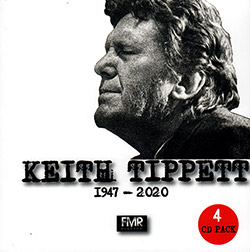 On June 14th 2020, the extraordinary British pianist and composer Keith Tippett died, aged 72, leading to outpourings of grief and sympathy from musicians and devotees across the world. Tippett had been active since the sixties, gaining widespread recognition after he moved from Bristol, his birthplace, to London in 1967. Across a recording career spanning five decades, Tippett played on too many great albums to mention all of them, but particular favourites are his contributions to three early-seventies King Crimson records, his fifty-member supergroup Centipede, all of his Mujician albums, his solo work, duos with other pianists and, of course, recordings with his wife of fifty years, the vocalist Julie Tippetts (aka Driscoll).
As a memorial, the four-disc set 1947-2020 will do very nicely, despite it having all the hallmarks of a rush job. Its four discs were all previously issued on FMR — The Bern Concert in 1994, Linückea in 2000, The Dartington Trio in 2003, and Live at the Priory in 2005. Here, all four discs come in plain white sleeves, not the original artwork. No personnel details, recording information or commentary of any kind are included. Fortunately, the music on the four discs more than compensates.
Recorded live in December 1993, in the city of its title, The Bern Concert features the duo of Tippett and Howard Riley playing two Steinway grands, on a vibrant extended improvisation which lasts just over an hour. Having achieved prominence at about the same time, the two had first recorded together as a duo in May 1981, and continued to do so. With similar playing styles, they meshed together well, each of them remaining identifiable while displaying a near-telepathic understanding of one another.
In complete contrast, Linückea, studio-recorded in London, in March 2000, finds Tippett at the piano in the company of a string quartet, performing a piano quintet which the Kreutzer String Quartet commissioned him to write in 1995. The piece had been performed several times before this recording. A testament to Tippett's talents as a player and a composer, "Linückea" successfully combines composed passages with freely improvised sections, the whole being laden with poignant emotion and drama.
Different again to the above two discs, but more similar to each other, the remaining two discs both feature the trio of Tippett on piano, Julie on voice (usually wordless vocals), percussion and other instruments, and Paul Dunmall (also a member of Mujician) on saxophones — collectively known as the Dartington Trio because the threesome originally came together and developed its improvising sound at the Dartington Summer School in Devon, where the three had teaching posts. The two albums feature three performances, totalling two-and-a-quarter hours -- "Live at the BBC" and "Live at the Vortex", both recorded in 2003, and "Live at the Priory", recorded in August 2004, at the Southend International Jazz Festival. On all of them, all three improvise freely together as equals, with their individual parts melding together into a coherent collective whole in which each part can be heard clearly but no-one obviously leads; there are changes of tempo, volume and mood but these never sound premeditated or forced, instead emerging organically from the interactions of the three players. A fine finale to a first-rate tribute.
Comments and Feedback: