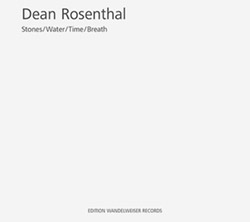 Five different performances of Rosenthal's piece, which instructs people to "make percussive sounds on the water". The recordings of these versions were made by ensembles varying between one and eight players and they range in length between just under two minutes and slightly over twenty. The surprising thing here is the variety of approaches and the resulting sounds they produce.
The first version, performed by Gayle Young and Reinhard Reitzenstein in Duntara Newfoundland, gives the idea of fairly shallow water. Stones can be heard sliding or banging against others under the surface. There's a bit of wind and the constant sound of rushing water. Simple and wonderful and all over in one minute and fifty six seconds.
This is followed by the longest version here, performed at Prospect Park Lake in Brooklyn NY by Jen Baker, Kelsey Bell, William Lang, Stephanie Richards Sara Schoenbeck, Ezra Teboul and Lucie Vitkova. This version sounds more like people playing the surface of the water, with periodical rhythms starting and stopping and the sounds of children and planes included. It is reminiscent of the Jon Hassell piece which used a recording of Senoi women playing water with the flats of their palms. I must admit that's the first thing I thought of upon reading the description of this disc. Toward the end there are a couple of splashes. Lots of birdsong as well.
Russell Craig Richardson's solo turn from Cooper Lake in Woodstock is altogether more raucous, with large splashes augmented by what could be a semi-constant flow of traffic and some fairly violent wind gusts. Rosenthal's own version from Nine Mile Pond in Wilbraham, Mass. is the most sparse. Occasional small splashes are set against wind or far-off traffic, with occasional unidentifiable small sounds.
Aside from being a nice listen, this disc also adds to the ever-growing collection of music written for natural objects and is a reminder to keep our ears open when we're outside. There is also a companion website wherein one can check out other recordings of the piece and watch videos (stones on frozen water!) as well as contribute your own recording, should you be so inclined.
Comments and Feedback: