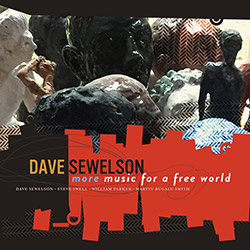 The freedom principle is an essential ingredient in jazz, but many people when confronted with Free Jazz hear just a jumble of sounds and rhythms in chaotic flux. The cause of that misunderstanding is not in the music but in the listeners' expectations of the music. In More Music for a Free World, baritone saxophonist Dave Sewelson, trombonist Steve Swell, bassist William Parker and drummer Marvin Bugalu Smith combine their articulate voices to the cause of clarifying just exactly what it is that free jazz can accomplish.
A triptych of tunes titled "Memories," "Dreams," and "Reflections," convey the message loud and clear right out of the gate, as "Memories" bursts out in an inspired flood of ideas tumbling and swirling, coalescing and dispersing, in a colorful kaleidoscope of sound. The memories incurred here could be those of the sounds of past free jazz masters whom these musicians absorbed coming up and have built a lifetime of practice on the foundation they set. This 23-minute walk down memory lane turns up some especially fiery baritone-trombone lines, while drums and bass work like an insistent undertow.
"Avant-garde" is one label often applied to the kind of free improvisation found here which has always been a key ingredient in the jazz idiom but especially more so with the "New Thing" in the revolutionary 1960s. The 27-minute "Dreams" is a beautiful example of this strain in the molecular structure of jazz. It unfurls with a tasty drum intro into which bass and then trombone slip in sympathetically in a quietly lyrical Afro kind of way, drums pulsing freely. When the baritone sax comes in, the plot thickens and the sonic R.E.M. that happens for the long ride of this piece is epic and transformative.
"Reflections" is a curiously understated but intense coda, starting with a solo baritone plea that makes gorgeous use of the altissimo register, urging a textural contribution from the other musicians, as Parker takes up the bow and Swell and Bugalu Smith chip in smears, screeches, and beautifully loose fills and rolls, reminding the listener that in a free world, sounds as well as people can be liberated, and that the free-spirited interfacing of the two makes for a sublime experience.
Comments and Feedback: