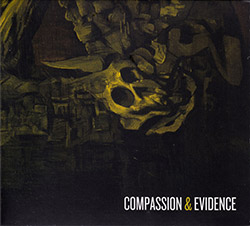 I am going to go out on a limb, here, so please bear with me. Compassion & Evidence is an album that is unapologetically secular and refreshingly atheistic but is also deeply and darkly humanist. Just read the titles: "Meaning Is Something That Is Ascribed". "Nature Is The Objective Reality". "The Universe Was Not Created". "Nothing, By Definition, Does Not Exist". Greg Graffin himself could not have written more wonderfully and pithily combative titles.
If the tracks names and the forbidding cover art by Mark Rudolph were not indicative enough, the very first electronic glitches and acoustic scrapes make it clear that this album will be a strange listen. After several spins, I still cannot shake the feeling that it could be a fitting soundtrack to a more sinister version of Lost in Space. Some of the sounds — Dominic Cramp's lyra, Mike Khoury's viola, and Phillip Greenlief's reeds — are familiar and musical. Robair's synthetic bubblings, disquieting rings, and other blustery effects, however, turn these the acoustics toward alien purposes. As do many soundscapes, Compassion & Evidence maps a world in intricate detail. Though odd, dystopic, and, at times, almost desolate, there is still a human presence in all of this. But that presence is dark and most apparent in its traces and its implication, its having been there or potential to be there, rather than its physical being-there.
This album is cold. Even as it abounds with activity, it negates pretensions of innate or divine purpose for such movement, change, evolution, and clatter. Forget hollow ontologies, Descartes' bourgeois "cogito ergo sum" and the postmodern impossibility of certainty, Compassion & Evidence declares. What is out there, whether in cosmic realms or mundane nature, exists because it is there, rather than because of any grand anthropocentric plan. Hence, the titular evidence. And simply because of its actuality, what exists should be acknowledged, studied, charted and celebrated. Whether life or non-life, whether ongoing, passed, or potential, existence is strangely beautiful, and humanity is one present but non-essential part of that beauty. Hence, compassion.
It would be somewhat silly to take this point about the incidentiality of humanity to this album too far. After all, Compassion & Evidence is music, a uniquely human creation not only because of its practice and intentionality, but because the performer and listener (and reviewer) necessarily and constantly imbue it with subjective meaning. That very fact complicates the ability for this album's performance to accurately reflect its objectivist message. Nevertheless, these four musicians have really achieved something here. Compassion & Evidence is full of movement and life, but not joy. It is full of compassion and evidence (two concepts which make no sense without human consciousness) but also hints that humanity may ultimately be irrelevant to anything but itself, at least in the grandest scheme of things. I am not sure if this album offers much comfort or resolution in the end, but it is calmly and candidly provocative. And, isn't that what good contemporary experimental music is supposed to be, even if it offers more bleak questioning, and truly compelling and disciplined playing, than catharsis?
Comments and Feedback: