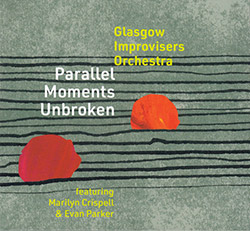 Formed in 2002, the Glasgow Improvisers Orchestra (GIO) is a large ensemble with a fluid membership which is centred around a core of long-standing members and others who attend regularly. In common with the London Improvisers Orchestra, which slightly predates it and with which it has played and recorded, GIO regularly welcomes guest players to join its ranks. The ensemble's music includes "conductions" led by members, freely improvised pieces and compositions by members. The music on the double-album Parallel Moments Unbroken is one such piece, the title composition by founder-member and saxophonist Raymond MacDonald, which was commissioned by the BBC and broadcast on Jazz on 3. Macdonald began work on the composition in the summer of 2013 and the recorded performances featured here took place in December 2013 and June 2014.
For the first of those performances, GIO was joined by pianist Marilyn Crispell who was previously heard with GIO on The Word for It Now (FMR, 2017); for the June 2014 performance, saxophonist Evan Parker joined GIO, having first played with them in 2003. At the Crispell performance GIO had twenty-seven members, at the Parker one it had twenty, fifteen members playing both performances, which gives some idea of GIO's fluid membership around a stable core. Lest anyone thinks Crispell and Parker were stellar presences to be gigging with GIO, it should be noted that their past guests included such notables as Lol Coxhill, Rhodri Davies, Barry Guy, Maya Homburger, George Lewis and Maggie Nichols among others. According to MacDonald's own sleeve notes, his composition comprised "a collection of graphic scores, through-composed sections, photographs and artwork, all based on past musical experiences and relationships with the musicians involved."
Given the subjective nature of some of the content of MacDonald's composition, such as photographs and artwork, it was sensible to record two realisations of it with different guests — and different GIO line-ups — then to include them both in a double-album so that listeners could compare and contrast, to gain a perspective on the composition; to maximise the contrast between the two realisations, the choices of Crispell and Parker made good sense. In the event, the two guests ended up performing slightly different versions, Crispell only playing two (e and f) out of six parts (a to f) called "Parallel Signs" whereas Parker played all six of them; five other parts were all played by both players. Crispell's version of "Parallel Signs (e)" lasts over four minutes while Parker's is under two minutes long — not the only difference between the versions. In each realisation there is a good balance between the guest and GIO itself, with the guest being afforded ample solo space to showcase their talents but also playing as a GIO member. Compared to free improvisations which can become cluttered when played by an ensemble as large as GIO, MacDonald's composition provides much-needed organisation without ever sounding as if it is stifling anyone's creativity or imagination.
Comments and Feedback: