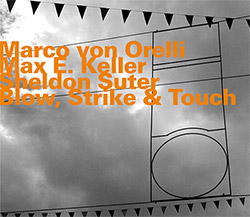 hatOLOGY and related labels set the bar for excellent sound many years ago, and this border-blurring trio session continues the trend of excellence. The three players have been captured live, and their placement along the soundstage is perfect either for speaker or headphone listening. There is enough isolation to trap every nuance but enough ambiance to allow each sound to breathe and to elucidate its relationship to its surroundings.
All of this would be for naught if the music failed to compel. Fortunately, each track blazes with a mixture of subtlety and raw power, often held in check but occasionally let loose. Sample the fiery moments of "Jagdhund," where trumpeter Marco von Orelli screams, growls and cajoles from a point just left of center stage, pianist Max E. Keller and drummer Sheldon Suter interjecting, punctuating and generally egging the trumpeter on to new heights of raw expression. Those brimstone-laden passages stand in direct contrast with much more delicately balanced portions of the "Miniatur" series. The last finds Keller stating stark thirds in the piano's lower register, while the fifth has him inside the piano in long passages of pseudo-drone. By contrast to both of these, there is von Orelli's wistfully gorgeous and dynamically diverse solo work on "Albero Genealogico." In a similarly reflective vein, Suter gets his chance to stretch on "Nacht Schichten." His drum dialogue uses pitch as its unifying factor, the many and nuanced changes complemented by von Orelli's low-register growls.
Most of the interaction is pointillist, in true European improvised music fashion, but certainly not all. There is sustain to spare and a constant juxtaposition of sound and space that keeps the music fresh as it ultimately resolves anything approaching macrocosmic resolution. This is an addicting set, and, unlike so many live recordings that simply don't work on record, it must have been just as powerful in concert as it is for home listening.
Comments and Feedback: