History cut in line on May 24, when Henry Grimes took the stage two days prior to his much anticipated spotlight during the 2003 Vision Festival.
The festival was bookended by a couple of lost ESP artists, with vocalist Patty Waters (now living in Hawaii) on opening night, and bassist Grimes playing with William Parker's Jeanne Lee Project closing the fest.
But on Saturday night, just before a duet by Parker and Rob Brown, festival organizer Patricia Nicholson announced that a "very special guest" would be joining the two. With no more hype than that, the legendary bassist, who played on some great sides in the late '60s and disappeared from public view shortly thereafter, took the stage.
Grimes presumably had little time to rehearse, not having played in roughly 30 years. Parker sent him a bass this spring, after articles announcing that Grimes had been found, alive and well in California, appeared in Signal to Noise and The Wire. Grimes played a gig with guitarist Nels Cline in San Francisco before heading east for his New York re-debut.
Like a modern day Mississippi John Hurt, the resurgence of Henry Grimes is the stuff of legend. He received a standing ovation before playing a note that night, and sat in the front row throughout the six-night festival. He already has a gig booked for July at the upscale club Iridium in midtown Manhattan.
No doubt many in the audience were wondering, miraculous as his return was, how his playing would be. As it turns out, Grimes was fast and nimble, quiet but assured; he clearly remembers his Juilliard schooling. He and Parker began as two of a kind, opening arco, their hands moving nearly in unison, Brown's searing alto soaring above. The set progressed, Brown dropping out at times to allow a bass duo, and was rewarding if not entirely remarkable. Parker is always amazing and Grimes more than held his own.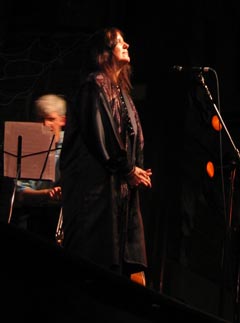 Patty Waters

    

[Photo by M.P. Landis]

Waters, too, proved an elder but rewarding version of the youthful exuberance documented on her two ESP releases. She opened with a shaky voice and a sweet smile, saying simply "Thanks for coming. Let's all hope for world peace and justice." Then, ably backed by pianist Burton Greene (with whom she recorded those early sides) and bassist Mark Dresser, she launched into a stirring version of "Strange Fruit," a song that not only mirrors her plea for justice but perhaps represents a woman whose voice shows her years. Seamlessly they drifted into a lyric version of Ornette Coleman's "Lonely Woman" and, later, Holiday's "Don't Explain," "Nature Boy" and Waters' "Moon Don't Come Out Tonight." She might not have had the range or the power she once demonstrated, but she still carried every bit of the drama, standing in repose during instrumental segments, and leaving the stage during some of Dresser and Greene's own compositions.

The Vision Family

Family comes in different forms, and family is what the artist-run New York City institution is all about. If that's a little corny, then it's the kind of corniness William Parker, Patricia Nicholson and their growing list of sympathizers embrace. More musicians each year add their names to the list of those traveling (at their own expense) from near and far to be a part of the venerable shoestring operation. Grimes is no doubt part of the clan now, and Waters may prove to be as well.
The 2003 Vision Festival Schedule

Wednesday May 21

Joe Maneri Trio (Matt Maneri / Randy Peterson / Christine Coppola)
Carl Hancock Rux / DJ Spooky
Billy Bang Sextet (Frank Lowe with Todd Nicholson, Andrew Bemkey, Tyshawn Sorey, and Tatsuya Nakatani)
Patty Waters / Burton Greene / Mark Dresser

Saturday May 24

Amina & Amiri Baraka with Blue Ark: The WordShip (Dwight West / Rahman Herbie Morgan / Andy McCloud / Vijay Iyer / Rudy Walker)
Rob Brown / William Parker / Henry Grimes
Milford Graves / Peter Brotzmann
Jin Hi Kim Trio (Billy Bang / William Parker)
Louis Belogenis / Roy Campbell / Hill Green / Michael Wimberly
Improvs: Tatsuya Nakatani, Roy Campbell, Lewis Barnes, Jonathan LaMaster and others

Thursday May 22

Bill Cole Project (Warren Smith / Cooper-Moore / Patricia Smith)
David S. Ware Quartet (Matthew Shipp / William Parker / Guillermo E. Brown)
Fred Anderson / Harrison Bankhead
The Jemeel Moondoc / Connie Crothers Quintet (Nathan Breedlove / Adam Lane / John McCutcheon)

Sunday May 25

Thomas Buckner / Roscoe Mitchell / Jerome Cooper / Harrison Bankhead
Masada String Trio (Mark Feldman / Erik Friedlander / Greg Cohen, John Zorn conducting)
Matthew Shipp Quartet (Daniel Carter / William Parker / Gerald Cleaver )
Whit Dickey / Rob Brown / Roy Campbell / Joe Morris
Patricia Nicholson's PaNic (Joseph Jarman / Cooper-Moore)

Friday May 23

Edwin Torres / Sean G. Meehan
Kali Fasteau / Mixashawn / Maria Mitchell / Newman Taylor-Baker
Roy Campbell / Joe McPhee, Warren Smith, William Parker
Andrew Cyrille / Kidd Jordan / William Parker
Raphe Malik Quartet (Sabir Mateen / Larry Rolands / Warren Smith)

Monday May 26 ~ Jeanne Lee Memorial

Steve Dalachinsky / Treva Offutt / Frederico Ughi
Gunter Hampel Galaxy Dream Band (Perry Robinson / Lou Grassi / Mark Whitecage / Ruomi Lee Hampel / Hershel Silverman / Prince Alegs
Amina Claudine Myers
William Parker's Jeanne Lee Project (Thomas Buckner / Ellen Christi / Jay Clayton / Lisa Sokolov / Rob Brown / Lewis Barnes / Joe Daley / Cooper-Moore / Gerald Cleaver / Henry Grimes)
So what better way to open the festival (after illness canceled Joseph Jarman's traditional opening invocation) than master of microtones Joe Maneri with his son and daughter-in-law, violinist Mat and dancer Christine Coppola and their longtime collaborator, drummer Randy Peterson. The three musicians played as one, tenor saxophone, electric viola and percussion in tight-sync improvisation Coppola opened with the two Maneris, adding a surprising energy to their slow, taut lines. When she left the stage, the elder Maneri took over the dance, slowly rocking in his chair, eyes closed, arms akimbo, whenever his reed left his lips.
Fred Anderson was one of the first out-of-towners to commit to the annual trip, usually appearing in a remarkable quartet with Kidd Jordan, William Parker and Hamid Drake. But this year the tenor twins were bifurcated (and Drake, touring Europe, not on the bill), so he brought along one of his Chicago compatriots, the great bassist Harrison Bankhead.
Chicago's AACM boasts many great players (specifically saxophonists) too little known outside their hometown, and Bankhead is one of the best. They played a beautiful duet of lyrical, fast-paced ballads, simmering but never boiling over.
With the Anderson/Jordan/Parker/Drake quartet out of commission this year, it was left to Parker, Joe McPhee, Roy Campbell and Warren Smith to rock the roof off the house. Other regulars also delivered pieces of what the festival has become known for. Davis S. Ware brought his firestorm groove. Kali Z. Fasteau told musical tales of world travels. Brotzmann and Graves went 0-60 in zero seconds, hitting hard and not backing down, Brotzmann blowing clarinet with enough force to make it sound for all the world like an alto sax. Matthew Shipp was in rare, free jazz mode, laying out with Parker, Daniel Carter and Gerald Cleaver, not relying on formalist, geometric structures but instead playing the sweet, hard stuff.
Guitarist Joe Morris has also been a recurring part of the festival, but this was the first year for Morris the bassist. When he started picking up the banjo a few years ago, he sounded very much like himself on banjo. His more recent upright bass playing has been that much more of a surprise as a result. Far from the fast lines he favors on the smaller strings, on bass Morris tends toward simple, heavy, repeated lines, sounding something like hislong time partner Parker. Whit Dickey led a set with Morris on bass, Brown on saxophone and Roy Campbell on trumpet. Like Dickey's recent recordings on Aum Fidelity and Riti, the set was a satisfying, cogent statement.
Although Jarman gave a scare when he missed the opening invocation, leaving Nicholson to lead the festival blessing, he was in fine form four nights later, dancing across the stage, playing sopranino, bells on his ankles. He went through a variety of settings withCooper-Moore providing percussive basslines and momentary blasts from a strung and heavily amplified table.Nicholson danced and sang, breathily invoking the "Vision for Peace" mantra that reverberated throughout the festival. "So much sadness and a few moments of unbounded joy," she sang, whispered and screamed as she spun across the stage. "Rise UP!" It was captivating enough that painter Jeff Schlanger, another Vision regular and self-proclaimed "Music Witness" was still, not painting a stroke.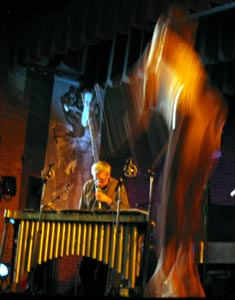 Steve Dalachinsky & Treva Offutt




[Photo by Kurt Gottschalk]

The festival occurs over Memorial Day weekend every year, and the final night appropriately serves as a memorial for a musician who died during the previous year. This year's closing night commemorated the vocalist Jeanne Lee, who died in October 2000. Poet Steve Dalachinksky read a long piece capturing her passion for life, with drummer Federico Ughi and the remarkable dancer/singer Treva Offutt. Lee's husband, reed player and vibraphonist Gunter Hampel, played a set of strong jazz complimented by poetry from their son Ruomi Lee Hampel and some rambunctious street dance by Prince Alegs.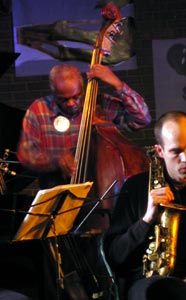 Henry Grimes & Rob Brown




[Photo by M.P. Landis]

Parker's Jeanne Lee Project, a 14-piece band with four vocalists,was similar to his Little Huey Creative Music Orchestra. The long piece opened with cutely boppy four-part vocals that morphed into swirling vocalese and then into an extended solo by Grimes who, thanks to the attention of The New York Times and other local media, was responsible for packing the house. To say his playing is strong does not require the caveat "four months practice after 30 years of not playing." Grimes and second bassist Nick Rosen, along with four percussionists (Parker being among the latter) laid down an earthy groove, and the six horns swelled in shining fanfare. If there's anyone who can surf that sort of wave, it's Billy Bang, who rose with his violin from center stage and tore through the funk. It was pure Parker, grand and great Parker.

Parker is a jazz master. He's not just a great bassist and a masterful improviser, he's a keeper, and updater, of tradition. He's a powerful composer and has a gift for using vocals. This ensemble didn't have the rebellious group-within-the-group nature of the Little Huey band. Rather, it was a bright and brassy big band, strong, contained, and swinging, with some screaming and sermonizing by singer Lisa Sokolov. She, Buckner, Ellen Christi and Jay Clayton made a fine gospel choir in miniature (even if Buckner's vibratic operacisms felt out of place).

Seeing past tradition

While the festival leans heavily toward the free jazz mode, the organizers do travel a few other avenues every year. With DJ Spooky's recent forays into jazzy turntablism (as documented on two Thirsty Ear releases), he was a clear candidate for the schedule. He mixed jazz and ambient grooves while poet/rapper Carl Hancock Rux laid down a cynical, acidic news report from about the year 2070.

Poetry de la Barrio was brought to the stage by Edwin Torres with the fascinating minimal percussionist Sean Meehan playing an oversize kit (he actually had two cymbals in addition to his usual snare drum). Verses of righteousness and languages and sound were filtered through Meehan's humming and ringing playing.

A more overtly class-conscious verse waspresented by Amiri and Amina Baraka, who opened with a rewritten "Motherless Child" to set the stage for sung poems about lynchings, heathens and race relations against a solid bop backdrop, and interlaced with updatings of "Strange Fruit" (performed for the second time in the fest) and "I Got a Right to Sing the Blues." Perhaps in light of recent controversies, Mr. Baraka lobbed charges of anti-Semitism in his scathing poems more often then he referred to Jewish people. Still, to call Baraka himself anti-Semitic would be to short-sheet the breadth of his anger.

Jin Hi Kim has played in Billy Bang's jazz-leaning groups, including a set at last year's Vision Festival, but this time she fronted a group with Bang and Parker following her lead, and brought a more traditional playing style to the music. Her komungo (a Chinese instrument similar to the Japanese koto, or slightly like an oversize dulcimer) mixed beautifully with Parker's kora (a sort of African harp with a similar timbre to the komungo). Bang's playing was still on the jazzy side, making him stand out as the solo voice, but with a fascinating pair of accompanists that pushed him away from snappy and right up to beauty. The fellas did overpower a little once Parker switched to bass, but Kim presented some breathtaking, delicate music.



Roscoe Mitchell

    

[Photo by Kurt Gottschalk]

Thomas Buckner's operatic improvisations have grown stronger in recent years, as evidenced by recent recordings in duet with Roscoe Mitchell and Jerome Cooper (both released by Mutable). He's learned toback off the profundo vocalizations, dominating less and acting more as an ensemble player. Those lessons paid off in a set with Mitchell, Cooper and Harrison Bankhead. The instrumentalists mostly staggered in staccato, Mitchell switching between flute, saxophones and percussion and Cooper handling drums and synthesizer (sometimes simultaneously).

Of the many Masada permutations, the string trio is certainly the richest. They're plenty strong on their own, but all the more alive with Zorn conducting, as he did during their set at the fest. His guidance of the trio is light; he's not creating fast shifts so much as building texture. With him sitting cross-legged on the stage in front of them, the trio played music all the more beautiful for its familiarity.

Ultimately, what the Vision Festival is about is creative music, as a tradition and a motivation. Like any genre name, of course, "creative music" means nothing once it's challenged. ("All creative music?" "What kind of music isn't creative?") But if there must be an Exhibit A, perhaps it's a blues band comprised of didgeridoo, homemade banjo, drums and Gil Scott Heron-inspired vocals. Bill Cole's piece of turf in the musical terrain is defined by indigenous instruments, particularly double-reed horns, in traditional jazz formats. His larger projects have revved with Mingusesque horsepower, but stripped to the rhythm section of drummer Warren Smith (who provided vocals and lyrics) and the ever-inventive Cooper-Moore, he kicked up some serious dust. Cole is an important historian as well, who has combined music theory with biography in books about Miles Davis and John Coltrane. It could be argued that creative musicians look toward the future with an eye on the past. If that's the case, Cole is an excellent example, bringing the new into the familiar.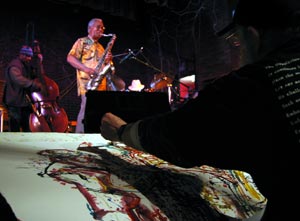 Jeff Schlanger, William Parker & Kidd Jordan




[Photo by Kurt Gottschalk]

But the Vision Festival is also about work. It's agroup of artists who, as others have at other times in other places, founded their own forum when others weren't presenting their art. Like Mingus' Newport Rebels and What is Jazz? before it, it's grown from being viewed as a reactionary festival to an attraction with i's own mission and record of success. It might be that they present over six nights what could, for the most part, be seen over any sixty nights in New York. But the festival represents a tradition, and artists who know their place in tradition. At the end of the penultimate night, Parker addressed the audience. "This is an important phase," he said. "People are dying, people who were thought to be dead are coming back to life." While the festival remembered Lee and reintroduced Grimes and Waters, Parker intoned the names of other great players, like Fred Hopkins, Wilbur Morris and Jimmy Lyons, who are no longer here to play.

"If you didn't see them, you're not going to," Parker said, not needing to remind the audience further that other great players will someday be gone. "They're not coming back."