Dolphy, Eric

Outward Bound To Out To Lunch Revisited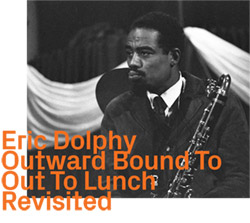 Arriving in NY in 1959, saxophonist, flute & bass clarinetist Eric Dolphy joined some of the finest avant jazz players, releasing his 1st album as a leader in 1960--Outward Bound--with Freddie Hubbard, Jaki Byard, George Tucker & Roy Haynes; subsequently tagged as an anti-jazz musician, it would be 4 years before his masterwork Out To Lunch would be released, both albums here reissued & remastered.


Sample The Album:


product information:

Personnel:


Eric Dolphy-alto saxophone, flute, bass clarinet

Freddie Hubbard-trumpet

Jaki Byard-piano

George Tucker-double bass

Roy Haynes-drums

Bobby Hutcherson-vibraphone

Richard Davis-double bass

Tony Williams-drums

Click an artist name above to see in-stock items for that artist.
---


UPC: 752156114321

Label: ezz-thetics by Hat Hut Records Ltd
Catalog ID: ezz-thetics 1143
Squidco Product Code: 33073

Format: CD
Condition: New
Released: 2023
Country: Switzerland
Packaging: Cardboard Gatefold
Track 1-6 recorded at Van Gelder Studios, in Englewood Cliffs, New Jersey, on April 1st, 1960.

Tracks 7-11 recorded at Van Gelder Studios, in Englewood Cliffs, New Jersey, on February 25th, 1964.

Outward Bound originally released in 1960 as a vinyl LP on the New Jazz label with catalog code 8236. Out To Lunch originally issued in 1964 as a vinyl LP on the Blue Note label with catalog code BLP 4163.


Descriptions, Reviews, &c.
"Eric Dolphy is so closely associated with the New York avant-garde of the early 1960s that his formative years in Los Angeles are discounted, if not overlooked. Dolphy brought a wealth of experience with him when he relocated in late 1959. In the legendary garage his father converted into a practice room for the prodigious teenager, Dolphy hosted Clifford Brown, Max Roach, and others, and woodshedded with Buddy Collette and Harold Land. He then spent a decade in the bands of Roy Porter (drummer on Charlie Parker's Dial sessions), Gerald Wilson, and Chico Hamilton, playing everything from straight-up bebop, high-octane big band charts, and proto-chamber jazz. While he did not play with Ornette Coleman, Dolphy knew him in the mid-1950s and heard his original music at its embryonic stage. Dolphy also befriended and aided John Coltrane when he was stranded in LA in 1954.
Upon his arrival in New York, Dolphy almost immediately began playing with another Los Angeles colleague, Charles Mingus, who held forth at the Showplace in Greenwich Village from December through most of 1960. It was probably there that Dolphy was heard by Ira Gitler, who lobbied Prestige to give him a date. By the time the session had been scheduled for April 1, Dolphy had moved into Slide Hampton's brownstone at 245 Carleton Avenue in Brooklyn, the site for the rehearsals for Outward Bound. Freddie Hubbard also lived there, as did Charles Majid Greenlee, who composed "Miss Toni," and cover artist Richard "Prophet" Jennings, who became the dedicatee of "The Prophet," first recorded during Dolphy and Booker Little's historic Five Spot stand.
Rehearsing at Hampton's contributed to Dolphy's quintet sounding more like a working band than an ad hoc group. A lot could have gone wrong. Hubbard later referenced the difficulties of Dolphy's unusually structured compositions. There were also the contrasting sensibilities within the group: the recently emerged trumpeter exuded swagger and explosive power; Jaki Byard was a mercurial pan-stylist (which later made him the perfect pianist for Mingus); while Roy Haynes and George Tucker were steadfast and polished. However, Dolphy catalyzed this potentially unstable chemistry in a diverse program of originals and chestnuts, with the quintet nailing close-order ensembles and taking bold solos.
Dolphy's Los Angeles roots are reflected in "G.W." and "Les," respective dedications to Wilson and trombonist Lester Robertson, who played in the envelope-pushing band Dolphy led at The Oasis in '58 - he later joined the Pan Afrikan Peoples Arkestra. Both compositions countered the then prevailing cool white narrative of West Coast jazz, as Dolphy compacted angular materials into irregular forms that promoted a palpably urgent swing, exemplified by the exchanges between the horns on "Les." The influence of living at Hampton's is evidenced by the laid-back blues of "245" and the convivial "Miss Toni" (which Greenlee brought to Archie Shepp's mid-1970s quintet). Rounded out by a lithe "On Green Dolphin Street," a fine example of the lyricism Dolphy coaxed from the bass clarinet, and two flute features - a melancholy "Glad to Be Unhappy" and "April Fool," a nimbly swinging blues - Outward Bound is an album that is alternately warm and fiery.
Outward Bound was the first of several iconic recordings Dolphy contributed to in 1960, including Charles Mingus Presents Charles Mingus, Jazz Abstractions, a primary document of the Third Stream, and Ornette Coleman's Free Jazz. The latter two were recorded in a two-day period in addition to Dolphy's Far Cry, his first with Booker Little. Dolphy would experience similar concentrated periods that yielded enduring recordings in 1961. Between early May and early June, Dolphy played on George Russell's Ezz-thetics, and began what became a notorious collaboration with John Coltrane, joining the saxophonist's front line for Olé and writing charts for Africa/Brass. In mid-July to early August, Dolphy's quintet with Little made their historic stand at The Five Spot, followed by the making of Max Roach's Percussion Bitter Sweet.
Dolphy's extensive touring with Coltrane and the release of Coltrane at the Village Vanguard prompted virulent criticism beginning in late 1961 that culminated in a series of articles branding them "anti-jazz." While Coltrane and Dolphy acquitted themselves in an April 1962 Down Beat interview, the controversy arguably had a significant impact on Dolphy's career. Apart from Conversations, the 1963 album for the obscure FM imprint - the last issued in his lifetime - Dolphy would not get another date for a leading US jazz label until Out to Lunch in February 1964.
In his comprehensive 1966 Jazz Monthly article, "Eric Dolphy," Jack Cooke reported that the advance buzz about the Blue Note recording signaled a possible "new upward trend in Dolphy's recording career." This notion is supported by the substitution of Blue Note regular Hubbard and teenage phenom Anthony Williams for Woody Shaw and J.C. Moses of the Conversations quintet - by then, members Bobby Hutcherson and Richard Davis, with whom Dolphy had recorded the enduring duet version of "Alone Together," were also recording for the label.
The album also benefited from Blue Note's knack for sequencing tracks into two flowing, complementary sides, which explains the album opening with the Monk-inspired "Hat and Beard," even though its jaunty mood was quickly atomized by Dolphy's squalling bass clarinet solo. Despite deeply shaded duet passages for bass clarinet and bass, "Something Sweet, Something Tender" approximated the hinge-like ballads that were a perennial feature on Blue Note A sides. Given its dedicatee - the flutist renowned for recording works like Varèse's "Density 21.5," which Dolphy performed at the Ojai Festival in 1962 - "Gazzelloni" is surprisingly boppish, ending the side with exuberant energy.
A presumably unintended consequence of the sequencing is that Dolphy's bass clarinet and flute were front-loaded on the A side, while his alto saxophone was relegated to the B side, where Blue Note also tended to place a session's longer performances. Cooke contended that the title piece and "Straight Up and Down" made the case that Dolphy could no longer be considered a transitional figure, that the harmonic freedom and rhythmic displacements of his music essentially placed him in a new context. This necessitated new approaches to interactivity within the ensemble, where lead and support roles merge and mingle. Dolphy had the right colleagues for this endeavor, as they constantly enhanced the music by communing in this middle ground.
The winding path between Outward Bound and Out to Lunch is easily explained, given the exigencies of a freelance musician blazing trails few were ready or equipped to follow. This is what led him to his fateful trip to Europe two months after making Out to Lunch. Had he returned after his projected one-year stay, married to Joyce Mordecai, Dolphy may well have picked up where he left off. But we will never know."-Bill Shoemaker, December 31, 2022

Artist Biographies

Track Listing:


1. G.W. 7:59

2. Green Dolphin Street 5:46

3. Les 5:14

4. 245 6:51

5. Glad to Be Happy 5:29

6. Miss Toni 5:42

7. Hat and Beard 8:26

8. Something Sweet, Something Tender 6:05

9. Gazzelloni 7:23

10. Out to Lunch 12:08

11. Straight Up and Down 8:22

Related Categories of Interest:


Hat Art
Improvised Music
Jazz
Free Improvisation
Quintet Recordings
Jazz Reissues
Staff Picks & Recommended Items
New in Improvised Music
Recent Releases and Best Sellers

Search for other titles on the label:
ezz-thetics by Hat Hut Records Ltd.
---

Recommended & Related Releases: