MONK SPECIAL OFFER - Save $6!

"Celebrating 75 Years Of His First Recordings" & "Live Five Spot 1958, Revisited"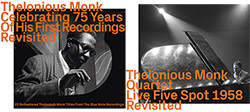 Buy both Thelonius Monk albums on ezz-thetics by Hat Hut, Ltd — "Celebrating 75 Years Of His First Recordings" & "Live Five Spot 1958, Revisited" — for one special price and save $6!!


product information:



UPC: 752156114123

Label: ezz-thetics by Hat Hut Records Ltd
Catalog ID: ezz-thetics 1141
Squidco Product Code: 32769

Format: CD
Condition: New
Released: 2022
Country: Switzerland
Packaging: Cardboard Gatefold
The Thelonious Monk Sextet

Idrees Sulieman,trumpet; Danny Quebec West,alto saxophone; Billy Smith, tenor saxophone; Thelonious Monk, piano; Gene Ramey, bass; Art Blakey, drums at WOR Studios, NYC, October 15, 1947 recording the compositions 1 Thelonious & 9 Humph.

The Thelonious Monk Trio

Thelonious Monk, piano; Gene Ramey, bass; Art Blakey, drums at WOR Studios, NYC, October 24, 1947 recording the compositions 3 Well You Needn't, 4 Off Minor, 7 Ruby My Dear & 22 Introspection.

The Thelonious Monk Quintet

George Taitt, trumpet; Sahib Shihab, alto saxophone; Thelonious Monk, piano; Robert Paige, bass; Art Blakey, drums at WOR Studios, NYC, November 21, 1947 recording the compositions 2 'Round Midnight, 5 In Walked Bud, 12 Monk's Mood & 13 Who Knows.

The Thelonious Monk Quartet

Milt Jackson, vibes; Thelonious Monk, piano; John Simmons, bass; Shadow Wilson, drums at Apex Studios, NYC, July 2, 1948 recording the compositions 6 Epistrophy, 8 Evidence, 10 Misterioso & 11 I Mean You.

The Thelonious Monk Quintet

Sahib Shihab, alto saxophone on *; Milt Jackson, vibes on *; Thelonious Monk, piano; Al McKibbon, bass; Art Blakey, drums at WOR Studios, NYC, July 23, 1951 recording the compositions 14 Four In One*, 15 Straight No Chaser*, 16 Criss-Cross*, 17 Eronel*, & 18 Ask Me Now.

The Thelonious Monk Sextet

Kenny Dorham, trumpet; Lou Donaldson, alto saxophone; Lucky Thompson, tenor saxophone; Thelonious Monk, piano; Nelson Boyd, bass; Max Roach, drums at WOR Studios, NYC, May 30, 1952 recording the compositions 19 Skippy, 20 Let's Cool One, 21Hornin'In &23Sixteen.


---
Personnel:


Thelonious Monk-piano

Idrees Sulieman-trumpet

Danny Quebec West-alto saxophone

Billy Smith-tenor saxophone

Gene Ramey-bass

Art Blakey-drums

George Taitt-trumpet

Sahib Shihab-alto saxophone

Robert Paige-bass

Milt Jackson-vibes

John Simmons-bass

Shadow Wilson-drums

Al McKibbon-bass

Kenny Dorham-trumpet

Lou Donaldson-alto saxophone

Lucky Thompson-tenor saxophone

Nelson Boyd-bass

Max Roach-drums



Johnny Griffin-tenor saxophone

Thelonious Monk-piano

Ahmed Abdul-Malik-double bass

Roy Haynes-drums

Click an artist name above to see in-stock items for that artist.

Sample The Album:


Descriptions, Reviews, &c.
Two CD special offer: "Celebrating 75 Years Of His First Recordings" & "Live Five Spot 1958, Revisited"
"He has written a few attractive tunes, but his lack of technique and continuity prevents him from accomplishing much as a pianist."
The fatal flaw in Leonard Feather's 1949 assessment of Thelonious Monk (from the book Inside Bebop) was a then relatively common, albeit insidiously superficial and short-sighted, perspective: jazz as an interpretive, and not a fully integrated compositional, discipline. From this point-of-view, the improvisational skills of a jazz musician were seen as a way to exploit, and at best enhance, the familiar aspects of popular song form, while simultaneously displaying their digital virtuosity. At this point in time, the avatar of piano technique put to the use of flamboyant ornamentation was Art Tatum; other notable figures, like Earl Hines and Teddy Wilson, brought melodic ingenuity and elegance to their performances. Even the emerging Bud Powell could be rationalized as a boppish reconfiguration of Tatum's keyboard prowess.
But instrumentalists of even their stature did not compose the bulk of their repertoire. And those few pianists who had established an early reputation in jazz composition - primarily Jelly Roll Morton and Duke Ellington (or, slightly later, a Tadd Dameron or George Russell) - were misunderstood to be players within a functional, if not intentionally crowd-pleasing, role. (We can argue Morton's exceptions to this description at some later date.) On his own, however, Monk devised a new theoretical basis for his compositional aesthetic, an unorthodox, deconstructed and reinvented pianistic approach that defined his music's unique rhythmic and melodic parameters. Simply put, by 1949 (and thereafter) his idiosyncratic piano technique and his radical compositions were cut from the same cloth, fully integrated as to form and function. The piano was the vehicle of expression for his compositional mindset, which explains his various surgical confrontations with "standards," which he was not interpreting but re-composing from the inside-out, and the resulting misconception of his "lack of technique and continuity."
The evidence is here, on this disc, which collects the twenty-three original pieces he recorded in the six studio sessions for Blue Note from 1947 to 1952. It's especially revealing that so many of these remarkably creative pieces - far from being the merely "attractive tunes" that Feather scarcely acknowledged - came to comprise the foundation of Monk's canon, revisited often throughout his performing career, suggesting that the composer selected them specifically to elaborate new variation upon variation, spontaneously, of their rhythmic and harmonic eccentricities, very much as J.S. Bach did two centuries earlier.
In fact, the majority of these compositions are probably better known in other, later, frequently live, versions than these first releases, which nevertheless allows us the opportunity to re-experience the jolting effect of their initial impulse. As Gunther Schuller has suggested, at their best they are no longer "tunes" but tone poems; drama and design are indivisible. Monk's complex, intrinsic sense of detail and construction take precedence over instrumental application. In the widely spread intervals and cascades throughout "Ruby My Dear" or the insistent chords and repeated notes of "Well You Needn't" the choices seem more ear-oriented than pianistically practical. Likewise, the asymmetrical patterns in "Straight, No Chaser," the circuitous line of "Criss Cross," and the absurdist melodic shape of "Four in One" are clearly outside of keyboard conventions, the product of pure imagination. It is precisely the unfamiliarity and seeming incongruity of Monk's technique that articulates the tension necessary to confirm the sublime. As the British philosopher Francis Bacon offered nearly four hundred years earlier, "There is no exquisite beauty without some strangeness in proportion."
There's something to be said about the unusual ensembles employed in these sessions as well. Names like Danny Quebec West, Billy Smith, and George Taitt may mean nothing to us today, and the reputations of Idrees Sulieman or Sahib Shihab may fade over time, but they provided Monk with a fascinating broader palette as he developed these pieces for recording than he was later accustomed to work with. Thus we have the strange horn voicings of "Thelonious" (followed by Monk's cubist phrasing and revealing stride episode), the tangy out-chorus of "Skippy," and the almost claustrophobically dissonant harmonies of "Hornin' In" and "Sixteen" - arrangements not to be repeated, and which induce some regret that Monk limited his working group to a single saxophonist over the years. (On that point, Misha Mengelberg loved to pronounce Lucky Thompson as the most compatible saxophonist that Monk ever had, however briefly.)
Truly creative artists have greater insight into the process and necessity of their efforts than do we mere mortals, which may be why Gertrude Stein's statement (from Composition as Explanation, written in 1925-26), having nothing to do with Monk, may have everything to do with Monk; that is, "Everything is the same except composition and as the composition is different and always going to be different everything is not the same." "-Art Lange, Chicago, September 2022
---
"Monk is Monk, was and ever shall be, according to the recordings and films that have survived him, and secure our experience of his unique and consistent creativity. Nevertheless, as the context changes our perspective shifts, given the interactive qualities and individual contributions of the participants in any jazz ensemble. In this case, we have a one-time document, the only known recording of Monk working in a live performance with these particular musicians. How did it come to be, and what makes it special?
Over the years, it seems Monk chose the members of his working bands for reasons of comfort and contrast, familiarity and availability. If we pick up his story in 1957, Monk had been recording for Riverside for two years, his Blue Note and Prestige days behind him, and he had recently regained his cabaret card, necessary for performing in New York City clubs - although offers for appearances were at first few and far between. A fortunate long-term gig began in July 1957 at the Five Spot, which had initially opened as a small neighborhood hangout for artists and writers, but by this time had presented Cecil Taylor (unknown and just beginning his career), the equally youthful pianist Randy Weston, and Charles Mingus' Jazz Workshop. Monk's quartet consisted of the still-impressionable John Coltrane on tenor saxophone, bassist Wilbur Ware, and drummer Shadow Wilson. Ware was Monk's first-call bassist, but when he failed to show one night, he was replaced by Ahmed Abdul-Malik.
Ahmed Abdul-Malik was a converted Muslim and Brooklyn native who had previously played with Randy Weston, and shared with him an interest in North African and Arabic music and culture; he learned to play violin, cello, and oud, and later in 1958 recorded the first of two albums that brilliantly combined jazz with African and Middle Eastern sources. He was still a part of Monk's band when it was re-hired at the Five Spot in June 1958. This time, Monk chose Roy Haynes to play drums. Haynes, then 33 years old, was already established as one of the most dynamic drummers of his generation, having worked with Lester Young, Charlie Parker, Bud Powell, Stan Getz, and Sonny Rollins prior to this. With both of his preferred saxophonists, Rollins and Coltrane, unavailable, Monk turned to Johnny Griffin, who proved to be the group's wild card.
Griffin was no novice. Starting out in the rhythm-and-blues-fueled bands of Lionel Hampton, Joe Morris and Wynonie Harris, Griffin released his debut discs for Blue Note and Argo in 1956 - the latter with Wilbur Ware on bass, who was to use Griffin on his own exciting album, The Chicago Sound, for Riverside the next year. 1957 found Griffin in demand and among fast company; he recorded his second quartet album for Blue Note and was the nominal leader of A Blowing Session, a combustible three-tenor excursion with Coltrane and Hank Mobley; and joined Art Blakey's Jazz Messengers, as part of no less than seven recording sessions that year - most notably one for Atlantic that featured guest artist Thelonious Monk.
Monk's familiarity with and appreciation of Griffin playing his compositions so well on the Atlantic date no doubt led to his being called for an ill-fated studio session nine months later, in February 1958, which Monk cancelled after the band struggled with a single tune, the newly composed "Coming on the Hudson" - and then again in June, for the Five Spot residency. (These experiences left a permanent mark on Griffin, as he frequently dropped Monk tunes into his repertoire for the rest of his career; recorded an entire Monk program (Lookin' at Monk for the Jazzland label) in 1961 during his popular partnership with fellow rambunctious tenorman Eddie "Lockjaw" Davis; and reunited with Monk for a series of European concerts in 1967.)
Griffin came to Monk with a reputation as a speed demon - double-timing the tempo was his default mechanism, elaborating melodies with a mixture of mellow swing and complex bop phrasing, and impishly inserting song quotes a la Rollins and Dexter Gordon. "Rhythm-a-ning" here becomes a quote-fest: "Love in Bloom," "Jumpin' with Symphony Sid," "Fascinatin' Rhythm," "Swingin' on a Star," and Mendelssohn's "Wedding March" are tossed into the fray, colliding with Monk's wry solo construction on his opening theme and repeated descending lines. Their contrasting nature - Griffin's fluid extravagance and Monk's percussive dissections - intensified by Haynes' forceful divisions of the beat, generate a tension unlike any of Monk's subsequent groups. "Let's Cool One" is a case in point; Griffin concocts a shrewd solo that pushes the unassuming melody to extremes, and the entire rhythm section drops out, allowing the tenor saxist to hover, freely, out in empty space.
Alas, the summer ended and Griffin left the band, citing financial woes. He was replaced, briefly, first by Coltrane, then Rollins, until October 1958 when Sonny suggested a new replacement, Charlie Rouse, and the next chapter in the Monk saga was written."-Art Lange, Chicago, October 2022

Artist Biographies

Track Listing:


1. Thelonious 3:02

2. 'Round Midnight 3:13

3. Well You Needn't 2:59

4. Off Minor 3:03

5. In Walked Bud 2:58

6. Epistrophy 3:09

7. Ruby My Dear 3:10

8. Evidence 2:34

9. Humph 2:54

10. I Mean You 3:23

11. Misterioso 2:46

12. I Mean You 3:10

13. Who Knows 2:45

14. Four In One 3:30

15. Straight No Chaser 2:59

16. Criss-Cross 2:57

17. Eronel 3:06

18. Ask Me Now 3:16

19. Skippy 3:02

20. Let's Cool One 3:50

21. Hornin' In 3:14

22. Introspection 3:14

23. Sixteen 3:30

Related Categories of Interest:


Hat Art
Improvised Music
Jazz
Melodic and Lyrical Jazz
Trio Recordings
Quartet Recordings
Quintet Recordings
Sextet Recordings
Jazz Reissues
Staff Picks & Recommended Items
New in Improvised Music
Recent Releases and Best Sellers

Search for other titles on the label:
ezz-thetics by Hat Hut Records Ltd.
---

Recommended & Related Releases: