Mollestad, Hedvig / Trondheim Jazz Orchestra

Maternity Beat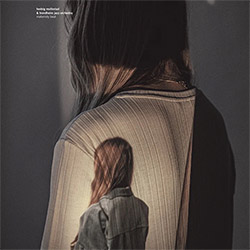 A large work composed and arranged by Norwegian guitarist Hedvig Mollestad Thomassen for the 12-piece Trondheim Jazz Orchestra, this album shows Mollestad's increasing range in expressive work that extends boundaries between composed, improvised and rock music, with authoritative playing balancing serious concepts from pandemic or motherhood with playfully whimsical moments.

Price:

$15.95






In Stock
Quantity in Basket: None

Log In to use our Wish List Shipping Weight: 2.00 units


product information:


Sample The Album:


Descriptions, Reviews, &c.
"With Maternity Beat, Hedvig Mollestad has surpassed herself, most significantly as a composer and arranger, and delivered her most ambitious work to date. And that's not a proclamation to be taken lightly. Mollestad, after all, has been one of Norway's most adventurous and hardest-working musicians since the Molde International Jazz Festival named her the Young Jazz Talent of the Year in 2009.
Recorded with the 12-piece Trondheim Jazz Orchestra (who have previously worked with legends like Chick Corea and Joshua Redman), Maternity Beat is a sprawling double album and true career milestone. The sheer sonic and emotional scope of this album required Mollestad wear multiple hats: guitar explorer, composer, arranger, improviser, collaborator, and, as the striking title implies, mother. In addition to encompassing the full evolution of her sound to date, it offers deeply personal meditations on the nature of family and pressing social justice issues."-Rune Grammofon
"Hedvig Mollestad's music is like a particularly extravagant geyser that spews periodically when not bubbling away underneath the surface. Her sound sits at the heavier end of the metal-jazz continuum, a space the Norwegian guitarist has explored extensively with her eponymous trio on seven albums over the past 11 years. Maternity Beat, Mollestad's latest collaboration with Trondheim Jazz Orchestra, continues the narrative experimentation of her recent solo releases Tempest Revisited and Ekhidna, this time making motherhood the object of focus.
Writing and arranging a double album of compositions for the 12 players of Trondheim Jazz Orchestra, plus Mollestad herself, is a significant undertaking, but it's also ambitious in the range of themes it incorporates: parenthood, the global migration crisis, and the impact of the COVID-19 pandemic. What groups the various ideas in Maternity Beat together is, unsurprisingly, motherhood-particularly its connection to emotional states. From there, Mollestad digs deep in her toolkit for interesting ways to convey her concerns-take the slightly disconnected voices on "Her Own Shape," a parable of parenthood, or the urgency of an onlooker's cries going head to head with passive drones on the striking opener "On the Horizon Part 1." Rather than distilling her ideas too neatly, Mollestad leaves them murky, making her socially engaged themes inextricable from their musical surroundings.
The sound of Maternity Beat is similarly knotty, exploring dissonance, harsh noise, and crunching grooves on nine action-packed compositions. Mollestad described creating the project as being "as thrilling as jumping off a cliff," and the feeling of inching your toes over the edge is clear from the first listen. In "On the Horizon Part 2," a multitude of instabilities-uneven meters, warring counterpoint, thumping grooves, and overdriven guitar riffs-loosely connect to create a landscape constantly moving in different directions. Frenzied figures balance on top of that unstable ground, with scorched-earth improvising from saxophonist Martin Myhre Olsen, and, on "Donna Ovis Peppa," violinist Adrian Løseth Waade.
Balancing the full-blooded moments are more tranquil corners like "Little Lucid Demons," a quaint étude for small ensemble and Laurie Anderson-like automaton voices; it expands out into a luxurious groove with a stretched melody that nods to John McLaughlin's Mahavishnu Orchestra. "Look for swing, look for flow, look for beat, then take it away," the voices half-sing in stereo. But rhythm never totally disappears in Mollestad's music, which maintains a constant heartbeat even in minimal moments.
Mollestad's pieces fare best when they marry dark and light in one picture, like the bizarre gothic dirge "Do Re Mi Ma Ma," with its surreal touches of cartoonish humor, weary whole-ensemble exhalations, and dense trio improvisations shared between Mollestad, organist Ståle Storløkken, and drummer Torstein Lofthus. It's the most vivid of Mollestad's musical portraits, throwing strong colors onto her massive canvas; less convincing are the pieces rendered in pastel ("Her Own Shape") or monochrome ("All Flights Cancelled," borrowed from Mollestad's 2021 trio album Ding Dong You're Dead). The latter song's immediacy-as Mollestad faced the prospect of an international touring season scuppered by COVID-19-fades as it's translated across projects and timeframes.
The album's two framing tracks, "Maternity Beat" and "Maternity Suite," come right at the end, and travel to the project's extremities. "Maternity Beat" sits in a calm yet eerie space, where Mollestad delivers prolonged harmonic trickles, waiting for ensemble respite that only appears in snippets. "Maternity Beat" follows abruptly with big rock textures, Mollestad's raucous soloing, and general noisy joy, as the band gets its chops around busy, boppish lines. Heard as one continuous 19-minute piece, the two songs encapsulate an artist whose most interesting work resides at the edges."-Hugh Morris, Pitchfork Media
Get additional information at Pitchfork Media

Artist Biographies

Track Listing:


1. On The Horizon Part 1 2:49

2. On The Horizon Part 2 3:56

3. Do Re Mi Ma Ma 9:59

4. Donna Ovis Peppa 7:43

5. Little Lucid Demons / Alfons 7:33

6. All Flights Cancelled 6:49

7. Her Own Shape 5:24

8. Maternity Beat 9:24

9. Maternity Suite 9:44

Related Categories of Interest:


Vinyl Recordings
Rock and Related
Jazz
Improvised Music
European Improvisation, Composition and Experimental Forms
Guitarists, &c.
Large Ensembles
Unusual Vocal Forms
New in Rock Forms
Recent Releases and Best Sellers

Search for other titles on the label:
Rune Grammofon.
---

Recommended & Related Releases: