Cameron, Allison / Apartment House

Somatic Refrain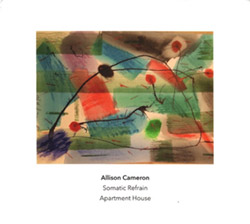 A diverse set of compositions from Canadian composer Allison Cameron showing the breadth of her interests across experimental and compositional forms, including a solo multiphonic work for bass clarinet; a guitar trio with the Allison Cameron band of Cameron, Eric Chenaux & Stephen Parkinson; and Apartment House performing quintet and sextet compositions.


product information:



Label: Another Timbre
Catalog ID: at196
Squidco Product Code: 32223

Format: CD
Condition: New
Released: 2022
Country: UK
Packaging: Cardboard Gatefold
Track 1 recorded at St James' Church, in Midhopestones, Sheffield, UK, by Simon Reynell.

Tracks 2 and 4-6 were recorded at Goldsmiths Music Studio, London, UK, by Simon Reynell.

Track 3 recorded at Hallamusic, Toronto, Canada, by Jeff McMurrich.


---
Personnel:


Allison Cameron-banjo, bass harmonica, composer, acolyte bells, toy piano

Heather Roche-bass clarinet, clarinet

Anton Lukoszevieze-cello

Kathryn Williams-flute

Mira Benjamin-violin

Mark Knoop-piano

Simon Limbrick-vibraphone

Eric Chenaux-guitar

Stephen Parkinson-electric guitar

Click an artist name above to see in-stock items for that artist.

Sample The Album:


Descriptions, Reviews, &c.
Another Timbre Interview with Allison Cameron
What is your musical background, and how did you come to experimental music?
Although I studied classical piano as a child, as a teenager I really took to improvising and then composing. I was lucky that in my high school there was a composer, Lloyd Burritt, who taught the equivalent of a first year university course in Western/European music history. He also taught electronic music. So I was introduced to contemporary music when I was 15 and it was then I knew I wanted to be a composer.
I think that when you experiment on your instrument and listen to lots of different kinds of music you become more interested in so-called experimental music. I always listened a lot when I was a kid but when I went onto university things just exploded in terms of the kind and variety of works I listened to.
Tell us about studying at the University of Victoria. It seems to have been an incredibly fertile period, with several strong young composers studying there around the same time.
In retrospect, it was really a special time at UVic. Serendipitous I suppose. Martin Arnold and I came to the school in the same year but at different levels, I was just starting my undergrad and Martin his masters degree. Then John Abram arrived from England and Stephen Parkinson was back from teaching at San Diego to start his Phd. I can't recall exactly the first time I met Mark Ellestad but it was around the same time he had come to do his masters degree. My older colleagues were all interested in studying with Rudolf Komorous, whom I didn't know much about at the time but he soon became a mentor for me. And he wasn't the only gifted instructor at Uvic. I also studied with Michael Longton and Douglas Collinge (electronic music) who were wonderful. Together and between my instructors and colleagues there was a tremendous amount of listening, analysis, discussions and playing together as well. It was an incredibly fertile time for all of us I think.
When and why did you move east to Toronto?
I recall that there was a plan with my UVic colleagues and I to move to Toronto after our studies were finished. At the time Toronto was a very busy new music centre in Canada and it seemed to make logical sense to move there to continue not just our own work but work we wanted to do together. The Drystone Orchestra was our first new music 'band' back in the early days. Then came the Arcana and Burdocks ensembles. All of which were short-lived but did important work which resulted in some stellar compositions being written and performed.
The pieces on the CD cover quite a long period of time. Tell us first about the title track, "Somatic Refrain", which dates from the mid-90's. How did this come about, and was it unusual at the time to compose for solo bass clarinet? You wrote it over 25 years ago: does it still feel like your own work, or have you moved on?
"Somatic Refrain" was written at the request of bass clarinetist Ronda Rindone. Ronda, an incredibly gifted bass clarinetist, had moved to Toronto from California and was very active in the Toronto music scene in the 1990's/2000's. She specialized in performing multiphonics on her instrument and wanted a piece that would focus on some of her extended techniques on the instrument. So I went to her flat to listen to some of the different textures she could produce, which were amazing, but she also had an incredibly noisy refrigerator. In fact, her fridge was so loud it was creating some of its own 'multiphonics'. I loved the sound and asked if she could replicate it on her instrument, which she then did without batting an eyelid. So some of the creation of the composition's sound world came from that 'noisy' object in her house. Of course, I meant no disrespect in asking Ronda to 'sound like her fridge.' But it was amazing to me how the textures from her clarinet and the sound of her fridge intertwined. It's a big credit to her to have premiered this work, as I wasn't sure it was exactly what she had in mind.
Obviously, multiphonics on the bass clarinet are particular to a player's skill and instrument. They are so often unpredictable that it takes a special kind of dedication to be able to shape them. I was aware that when I created this piece, I wasn't notating precisely what the player played. The notes I wrote and the instructions I gave were really a kind of conduit for what an individual player could create on their instrument within my framework. On the new Another Timbre CD, Heather Roche's performance is a wonderful re-creation of "Somatic Refrain" which she truly makes her own.
I think "Pliny" is a strange but really beautiful piece. Why the title, and how did it come about?
It's probably actually the wrong title for this piece. I can't remember how I decided on 'Pliny' but I know where it came from which was from reading a translation of 'Funes, the memorious' by iconic Argentinian writer Jorge Louis Borges. The character Funes was a 'savant' in Borges' story. But he didn't just have an incredible fixation on memorization, he was also very affected by language. It's an amazing story in the way that it takes something seemingly infinite and expansive such as language and memory and tells the tale of how it can become reductive, confining, destructive and even perilous. Somewhere in the story the naturalist Pliny gets a nod but I can't remember the details. I guess my memory isn't so good. But I figured I could use the form of the Borges story in a musical work and "Pliny" is the result. In fact, musically I was playing around with the infinity series (famously discovered by Per Nørgård) but I wasn't getting along very well with my results, so I wound my own way through some melodies and harmonies trying make a puzzle of some more traditional sounding phrases.
Tell us about 'H'. Stylistically it seems very different from "Pliny" and "Retablo", and relates to folk or popular music as much as the classical tradition. Is this a feature of all the work you do with the Allison Cameron Band, and how did that start?
'H' was written essentially as a guitar solo for Eric Chenaux. My colleagues in the AC Band were he and guitarist Stephen Parkinson and I was using specific tunings for each of them. Stephen's was a traditional alternate tuning but Eric's I invented - I think. At least, I'm not familiar with anyone else's usage thus far. In any case, we had been working through some traditional English and Scottish folk music songs as a starting point for some of the band's music and I wanted to write my own 'folk tune' for guitar, so that's how it came about.
The Allison Cameron Band started in the basement of my old house one day when I was improvising with Eric and Stephen and they said they wanted to play some of my compositions. It was in 2007 and I was playing banjo, Eric played acoustic guitar and Stephen, electric. I wanted to explore writing music for a consistent group - more like a rock or folk group might. It was more intimate and familiar than composing for groups of essentially strangers and I really wanted to try it out. Working with Eric and Stephen meant that I could explore a different kind of music making with them, which also meant they could (and did) give me feedback about what I was writing for them. I'm still grateful to both of them for this experience which, in an ideal world, would be a great thing to be able to do consistently, but then we'd all need to be paid living wages as musicians. After Eric moved to France, the band went into hiatus but has continued from time to time in various formations, most recently with Thom Gill and Kurt Newman in Toronto.
Again, please explain the title of "Retablo" (including the movement titles). Like "Somatic Refrain", this is quite an old piece. How did it come about? And was it unusual for contemporary composers to use melody so prominently at this time?
"Retablo" was commissioned by Martin Arnold for the Burdocks ensemble (with financial assistance from the Canada Council for the Arts). This piece is dedicated to Rudolf Komorous whose Sinfony no. 4 "la tireuse de cartes" from 1997 inspired its title and movement titles. The word retablo (Spanish) often refers to a small folk art like devotional painting. It is sometimes used as a kind of memorial for those who have passed away. Rudolf once told me "la tireuse de cartes" means the fortune teller or one who reads Tarot cards. So from this I got the title "Pentacles" for the third movement. Both "Passamezzo" and "Almayne" are old names for Renaissance dance movements, and since many of Rudolf's compositions refer to older European musical forms I followed his lead. I have so often been inspired from listening to Rudolf's music I wanted to dedicate a work to him.
I don't think it was unusual at all to use melody as a focus for a composition in the late 90's. I was also inspired from some medieval music I had been studying at the time and was especially interested in how melody continues in a work. Or how our ears put melodies together.
This album has been reviewed on our magazine:




The Squid's Ear!

Artist Biographies

Track Listing:


1. Somatic Refrain (1996) 15:11

2. Pliny (2005) 16:55

3. H (2008) 13:05

4. Retablo (1998) Passamezzo 5:40

5. Retablo (1998) Almayne 11:14

6. Retablo (1998) Pentacles 7:30

Related Categories of Interest:


Compositional Forms
Large Ensembles
Recordings by or featuring Reed & Wind Players
Solo Artist Recordings
Guitarists, &c.
Trio Recordings
Quintet Recordings
Sextet Recordings
Large Ensembles
Canadian Composition & Improvisation
New in Compositional Music
Recent Releases and Best Sellers

Search for other titles on the label:
Another Timbre.
---

Recommended & Related Releases: