Mitchell, Roscoe / Sandy Ewen / Damon Smith / Weasel Walter

A Railroad Spike Forms The Voice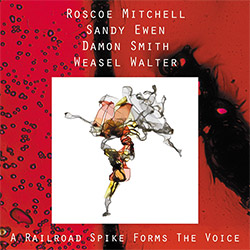 The first meeting between Art Ensemble of Chicago saxophone legend Roscoe Mitchell and the long running improvisational trio of Sandy Ewen (guitar), Damon Smith (double bass) and Weasel Walter (drums), in an epic 72-minute recording captured live at Duende in Oakland, CA in 2014, an amazing display contrasting control & chaos, form and deconstruction; exemplary!


product information:



6-panel digipak features artwork by Sandy Ewen and extensive liner notes by Clifford Allen.

UPC: 198000057220

Label: ugEXPLODE
Catalog ID: ugEXPLODE 82
Squidco Product Code: 30464

Format: CD
Condition: New
Released: 2021
Country: USA
Packaging: Digipack
Recorded Live at Duende in Oakland, California, on April 11th, 2014.


---
Personnel:


Roscoe Mitchell-saxophones

Sandy Ewen-guitar

Damon Smith-double bass

Weasel Walter-drums

Click an artist name above to see in-stock items for that artist.

Sample The Album:


Descriptions, Reviews, &c.
"This recording features the first time meeting between Art Ensemble of Chicago saxophone legend Roscoe Mitchell and the long running improvisational trio of Sandy Ewen (guitar), Damon Smith (double bass) and Weasel Walter (drums). This 72 minute piece is a no-holds-barred display of musical abstraction, savagely deconstructing both form and instrumental technique in equal amounts.
Mitchell's signature flinty, probing reed outbursts poke with persistence through the unpredictable chasms created by the extreme counterpoint of the ensemble interplay.
Ewen, who prefers to eschew electronic gadgetry to concentrate on new means of coaxing unknown timbres from her guitar, speaks in alien tongues teased out by friction and interference from foreign objects and her stereo deployment adds a spatial element to the soundscape.
Damon Smith is a staunch modernist. His deployment of the contrabass as a means of deliberately brusque deconstruction offers constant tension against the pointillistic warfare of Weasel Walter's idiosyncratic percussion assault.
This is not a free jazz record. Nobody plays all the time. Surprise and contrast run rampant. The group is available for parties and bar mitzvahs. "-ugEXPLODE
"Don't follow."
That's the admonition saxophonist and composer Roscoe Mitchell (b. 1940) was known to give his students at Oakland's Mills College in one-on-one sessions. In musical communication and creation, not following or directly responding to others is central to Mitchell's philosophy and approach. As he said to me in a recent conversation, "I just let things develop with my intent, with my work, and I've never been a person that went around looking for people to play with. I mostly just work on my music and let things unfold, being that I'm a true believer in that you set your own environment and then you let it unwind on its own. I think the main thing is to concentrate on your music and the various ways that you develop it." Building on a decades-long tenure as one of creative music's leading minds, Mitchell began teaching at Mills in Fall 2007 and retired in 2019. He also taught at CalArts, the University of Wisconsin in Madison (where he now lives), and the University of Illinois. Spurred by artist-educators like Mitchell, Mills' graduate program in Performance and Literature, which includes Improvisation as a core tenet, has been a key component of the Bay Area music community.
Mitchell is unflaggingly focused on his own practice as a soloist and composer, the latter often including large-scale works for orchestra. His predilection for collaborators that he can regularly practice or study with results in fewer one-off meetings that could shake things loose. That said, he is adamant about "always learning" and the importance of constant reflection and growth cannot be understated. Therefore, this collaboration with the working trio of guitarist Sandy Ewen, bassist Damon Smith, and drummer Weasel Walter is among the more intriguing meetings to emerge in his discography. It presents a situation that is both new and an example of each musician's devotion to their art, spurred on by curiosity and conviction. A Railroad Spike Forms the Voice (its title drawn from a poem by late and longtime Mitchell collaborator Joseph Jarman) was recorded in April 2014 at Oakland's Duende, a restaurant and venue run by free music connoisseur and chef Paul Canales. Smith and Walter had been part of a workshop performance Mitchell directed at Mills (though neither attended the school). The saxophonist reconnected with Smith and was introduced to Ewen's music at a 2012 workshop in Houston. As the bassist relates, "Roscoe criticized everyone there except for Sandy. She was doing her thing, and he said to a saxophone player 'why don't you play like her? I can listen to what she's doing for hours, this is great.' When he asked what Weasel and I were up to, I told him that we just made a trio record with Sandy and he said he'd like to hear it." According to Ewen, Mitchell played their first trio album (ugEXPLODE ug53) for Mills students as an example of quality improvised music, and that sowed further seeds for an eventual meeting.
The Ewen/Smith/Walter trio came about in 2011; Smith had relocated to Houston and linked up in a duo with Ewen, subsequently bringing Weasel to Texas for a series of concerts from which the trio concept would take root. Since that time they have recorded three CDs (two eponymously titled albums on ugEXPLODE and Live in Texas, a split release on Chiastic Society and Balance Point Acoustics) and performed live on numerous occasions, including expanded lineups with trumpeter Peter Evans, trombonist Jeb Bishop, or saxophonist Jim Sauter, as well as with Mitchell. As a result of this work, their identity as a unit has become quite singular if somewhat fluid within its circumstances. As Ewen tells it, "I can't tell if it's evolved or if it's the fact that when we record it's always going to be different. I don't know if the group is actually shifting or if it's just random snippets of what we sound like on any particular day." Walter opines that "it's interesting to think that there would be an expectation of what our trio sounds like - it's kind of terrifying to me. I think part of our mutual interest in playing with each other is that each person has a very distinctive musical personality, and that individuality and the counterpoint that results is really important to us."
The environment around the Duende concert was positive - Smith and Walter were in the Bay Area recording with guitarists Henry Kaiser and Ray Russell while Ewen had gigs nearby, and as the bassist puts it, "we were all in a good mood and it was a fun trip. We were excited to play with Roscoe and even Weasel, when the prospect of playing with him came up, was excited - and he doesn't get excited very easily!" The concert itself was very well attended, in part because the combination of musicians was somewhat unexpected. Guitarist/composer Karl Evangelista, who studied with Mitchell at Mills and attended the performance, recalled that "you had two people who were really deep in the free jazz vernacular and they knew what Roscoe did, which is that Roscoe just plays, and Sandy's also kind of solipsistic - not in a negative sense but she's also not going to trade free jazz licks either. That was the interaction or the potential that I think everyone was fascinated by." The set consisted of one long piece without breaks or interruptions and no encore, introspective and churning through events, actions, and inquiries.
Though on paper A Railroad Spike Forms the Voice might look like a guest soloist with free improvisation rhythm section, the session does not operate that way, either on disc or as an event. Significant space is given to solos, duos, and trios, and the piece is as much about, as Smith says, the fact that "we felt obligated to give him our music, which is a little bit different than a meeting with an old master in that sense." It is a collective sharing of information and approaches, responses and diversions that spiral off into alternate paths or worlds, with silence just as valid an interpretation as sparks that fly. Known for his wide palette of horns, Mitchell here favors sopranino, soprano, and alto saxophones and exalts in closely valued hues and narrowly demarked areas, further accentuating the isolation or apartness of his music. One focus of his instrumental research is Baroque and early music, its crotchety intonation and perceived stasis an unsurprising affinity.
This is a recording that is monumental in scope, singular but also parsable. There are sections that hark back to the disjunctive spars of early Art Ensemble of Chicago recordings - at 26 minutes in, Smith walks alongside laconic, acrid alto saxophone tendrils, their movements punctuated by kit jabs and gradual guitar creep. Unhurriedness is not something one expects with Smith and Walter, and it's not deference either. Their ears put the proceedings into a state of mindful creation and allow any ensuing fireworks a sense of necessity and logic. As Mitchell untethers long soprano lines and puckered subtones, a froth of allover patter and meaty scribble emerges underneath and around him, but one can parse the latticework of activity into numerous converging (or parallel) threads and components. A tug-of-war between low bass gurgle, crinkling guitar strings, and high-pitched, hoarse sopranino cries acts as both one and three organisms in gloriously present interaction, nodding at one another but tending a greater fire. Not only do Ewen, Smith, and Walter not follow or ping-pong off of Mitchell, but they don't do this with one another, either. A Railroad Spike Forms the Voice is a sprawling essay on communication and connection, its title apt: these four creative minds have set forth on a unified steely path, punctuated by decisive beauty and realness. We're lucky to be able to participate from our vantage point."-Clifford Allen, Brooklyn, March 2021
6-panel digipak features artwork by Sandy Ewen and extensive liner notes by Clifford Allen.
This album has been reviewed on our magazine:




The Squid's Ear!

Artist Biographies

Track Listing:


1. A Railroad Spike Forms The Voice 1:12:23

Related Categories of Interest:


Improvised Music
Jazz
Free Improvisation
West Coast/Pacific US Jazz
Quartet Recordings
Staff Picks & Recommended Items

Search for other titles on the label:
ugEXPLODE.
---

Recommended & Related Releases: